Jump to: player bio | view more cards | tour stops | view random player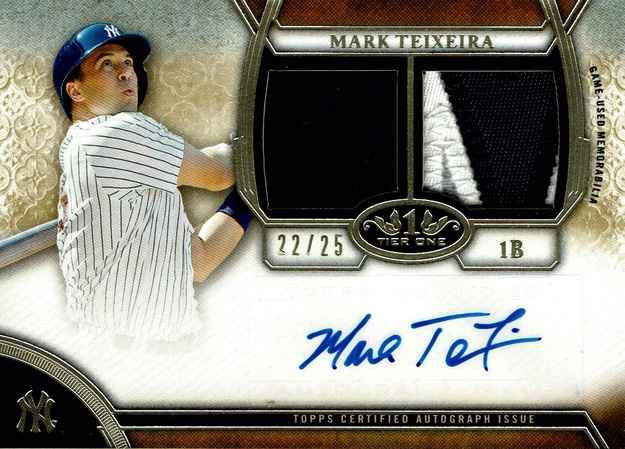 Player:Click Player's Name to Visit their Baseball Reference Page Teixeira, Mark
Card: 2015 Topps Tier One Dual Patch #22 (Autographed)
Position: 1B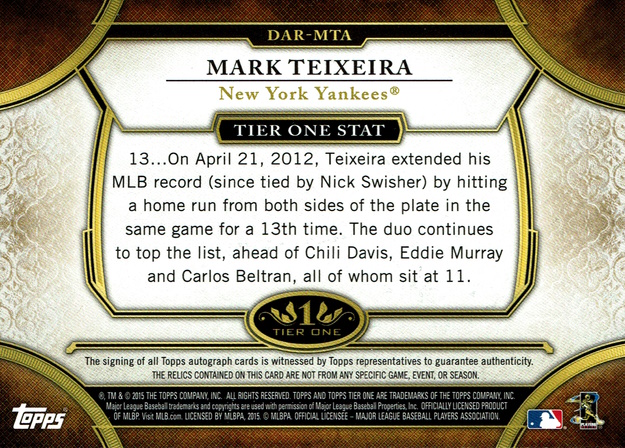 playerbio
"I was definitely happy and excited inside (after hitting for the cycle on August 17, 2004), but you don't want to be celebrating in a situation (winning 16-1 at the time) like that. Triples are a weird thing, especially for a guy like me. You need some bounces, you need a big outfield. For me, they're few and far between. They (his teammates) were kidding me, telling me to trip over first base (to get the single) if I hit one into the gap." - Mark Teixeira (Associated Press, August 18, 2004)
Mark Charles Teixeira (born April 11, 1980 in Annapolis, MD), nicknamed "Tex", is an American former professional baseball first baseman who played 14 seasons in Major League Baseball (MLB) for the Texas Rangers, Atlanta Braves, Los Angeles Angels of Anaheim and New York Yankees.
Mark grew up in Severna Park, Maryland, the son of Margaret "Margy" Canterna and John Teixeira. He attended Mount Saint Joseph High School in Baltimore, where he played for the school's varsity baseball team, and was teammates with Gavin Floyd. His paternal grandfather emigrated from the South American country Guyana, and he has English and Portuguese ancestry through his father. Teixeira's mother was of Italian descent.
Before his professional career, he played college baseball at Georgia Tech, where in 2000 he won the Dick Howser Trophy as the national collegiate baseball player of the year. One of the most prolific switch hitters in MLB history, Teixeira was an integral part of the Yankees' 27th World Series championship in 2009, leading the American League (AL) in home runs and runs batted in (RBI) while finishing second in the Most Valuable Player Award (MVP) balloting.
Teixeira was a three-time All-Star, won five Gold Glove Awards and three Silver Slugger Awards, and also holds the all-time major league record for most games with a home run from both sides of the plate, with 14. He was the fifth switch hitter in MLB history to reach 400 home runs.
Drafted fifth overall by the Texas Rangers in 2001, Teixeira made his MLB debut on Opening Day in 2003, and hit 26 home runs as a rookie. He hit career-highs of 43 home runs and 144 RBI in 2005. The centerpiece of consecutive mid-season trades in 2007 and 2008, the Rangers first sent him to the Braves for a prospect package centered around Elvis Andrus and Matt Harrison.
He was later traded in July 2008 to the Los Angeles Angels, where he played for half a season and lost to the Red Sox in the first round of the playoffs, although Mark hit .467 in the 2008 American League Division Series which the Angels lost to the Boston Red Sox.. In December 2008, he agreed to a lucrative eight-year contract with the Yankees, contributing his most productive season with the team the following year. Injuries limited his effectiveness afterward, including a calf strain in 2012, early season-ending wrist surgery in 2013, various ailments in 2014, a shin fracture in 2015, and neck spasms and torn cartilage in 2016. Teixeira retired at the conclusion of the 2016 season and contract with the Yankees. In each season from 2004 to 2011, Teixeira hit at least 30 home runs with 100 RBI.
(excerpted from Baseball Almanac, BR Bullpen & Wikipedia)
morecards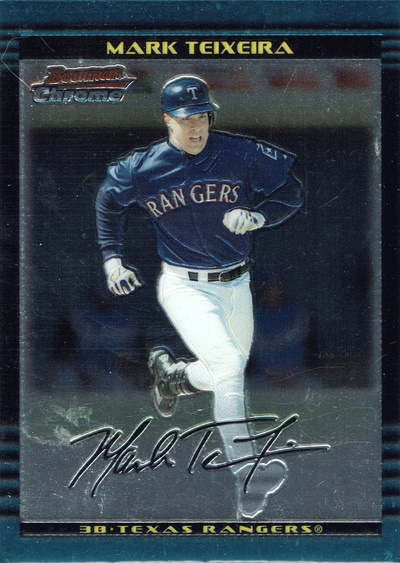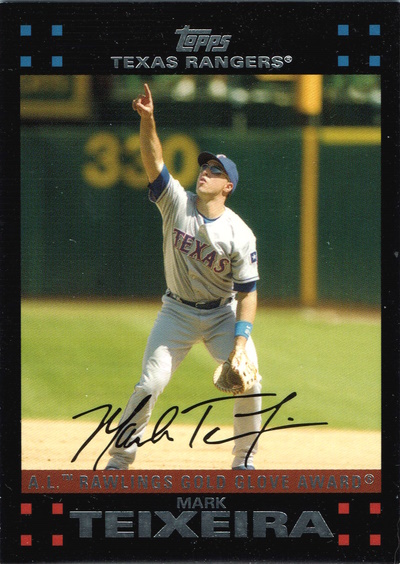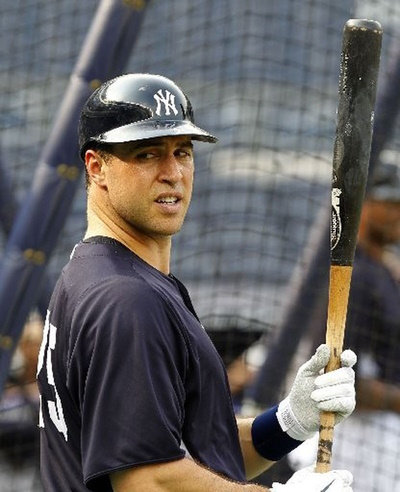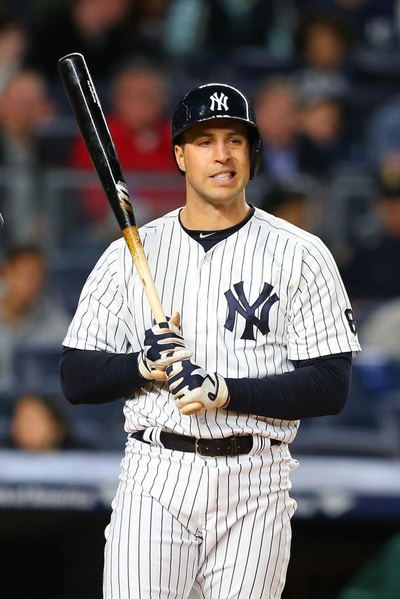 tourstops
---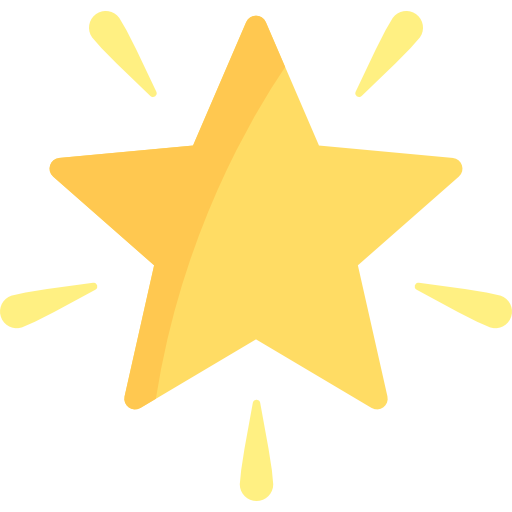 Tex is part of the All-Star Players Tour – Go To the Next Stop
---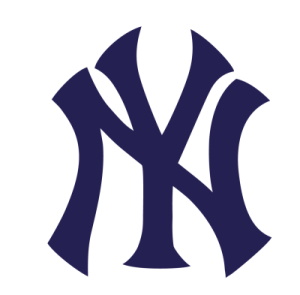 Mark Teixeira is also part of the New York Yankee Players Tour – Go To the Next Stop
---

Mark is also part of the Braves Players Tour – Go To the Next Stop
---
See all Tex's baseball cards at TCDB
---
---
randomplayer
Visit a random Italian American MLB player: