Jump to: player bio | view more cards | tour stops | view random player
(click the card to view the next player in the series)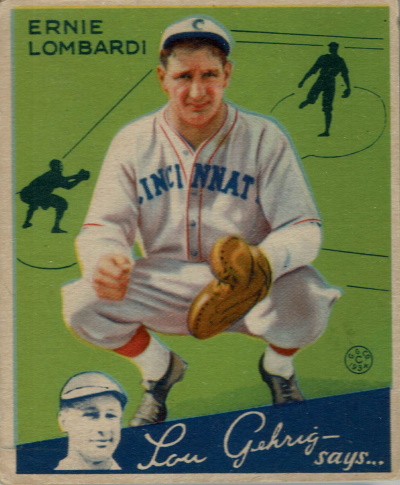 Player:Click Name to Visit Player's Baseball Reference Page Lombardi, Ernie
Card: 1934 Goudy #35
Position: C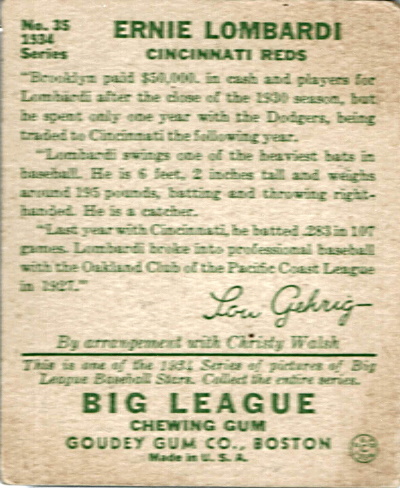 playerbio
Lombardi was known to hit the ball hard, really hard. About Lombardi, Cubs third baseman Stan Hack said "His line drives had death written on them." Teams moved their infield back when Ernie hit, prompting Lombardi to say about Brooklyn shortstop Pee Wee Reese "He was in the league for a couple of years before I realized he wasn't an outfielder."
In fact, in 1937 a line drive by Lombardi broke three fingers on Cub pitcher Larry French's right hand.
"He was the best righthanded hitter I ever saw. And he was an exceptional player in every way except running. If he hadn't been so slow, he would have had an even better batting average." - Harry Craft
"You almost come to the conclusion that he was the greatest hitter of all time. Every hit he made . . . was an honest one." - sportswriter Arthur Daley
Born in Oakland, CA, Ernesto Natali Lombardi was an All-Star for seven seasons, he hit over .300 for ten seasons and finished his major league career with a .306 batting average despite infields playing very deep for the slow baserunner. He was in the top 10 in MLB in Adjusted OPS+ for 5 seasons. Ernie was the NL MVP in 1938, and led the Cincinnati Reds to a World Series victory in 1940. He also won two batting titles (1938, 42).
His lack of speed led an opposing manager to quip that he was so slow, he ran like he was carrying a piano - and the man who was tuning it. He had several nicknames, including "Schnozz", "Lumbago", "Bocci", "The Cyrano of the Iron Mask" and "Lom".
Lombardi was a superstar on both offense and defense. He won two batting titles, and threw out an amazing 47% of baserunners trying to steal on him. Ernie also caught (and called) the two consecutive no-hitters thrown by Johnny Vander Meer in 1938, a feat that has never been matched. Said home-plate umpire Bill Stewart: "Give some credit to Lombardi. Sure, Vander Meer had to pitch perfectly to get his no-hitters. But what about the guy who told the kid what to pitch? If Lombardi had guessed wrong on one hitter, if he had called for a fastball when a curve was the smart pitch, Vander Meer never would've made it."
Ernie was haunted by the notion that he was the goat of the 1939 World Series in the "Lombardi's Big Snooze" play - though a sober analysis indicates this is absurd.
Unfortunately for Lombardi, his life after baseball was not a comfortable one. He held different jobs on the West Coast, unable to settle into a steady profession. He lived the life of a recluse, still haunted by the "Lombardi Snooze" moniker.
In April of 1953, he and his wife were visiting relatives in Castro Valley, California. Ernie used the bathroom, said he was not feeling well, and went to lie down in a bedroom. Bernice, his wife, checked on him a short time after and discovered that he had cut his throat with a razor he found in the bathroom. He struggled with emergency personnel, saying that he wanted to die. Lombardi was saved from his suicide attempt and entered a private sanitarium.
His gentle demeanor was wildly popular among Cincinnati fans, and the Reds have placed a bronze statue of Lombardi outside the Great American Ballpark. Lombardi was inducted into the Cincinnati Reds Hall of Fame in 1958, and into the National Baseball Hall of Fame in 1986.
Ernie was mentioned in the Dave Frishberg Jazz song "Van Lingle Mungo."
(excerpted from SABR, BR Bullpen, Reaching for the Stars, and Wikipedia)
morecards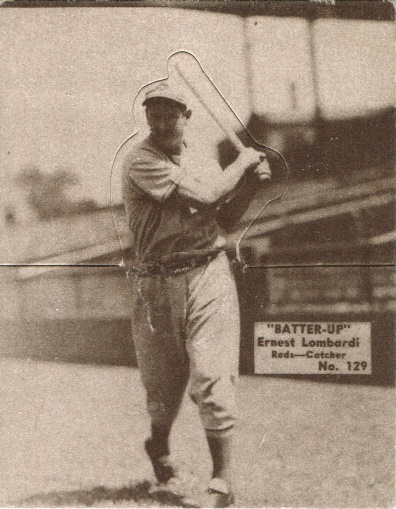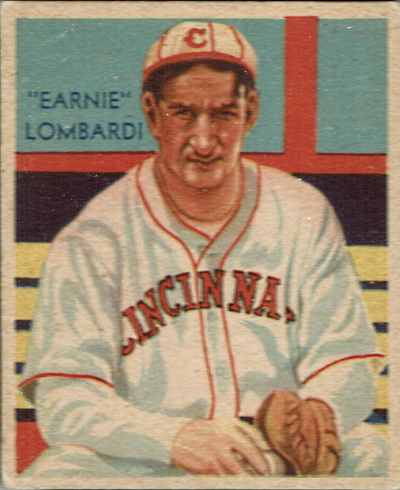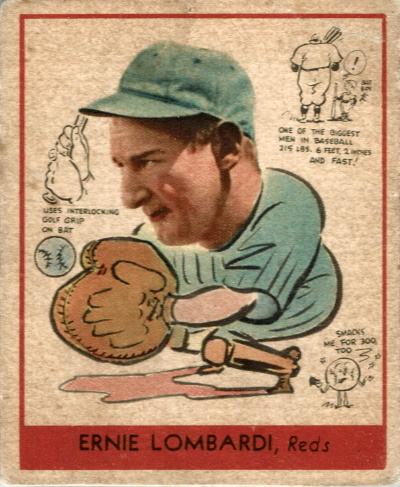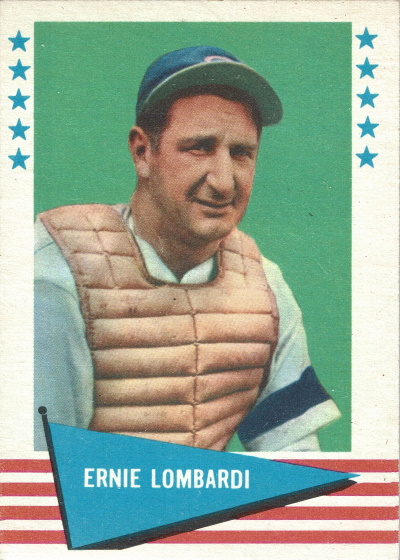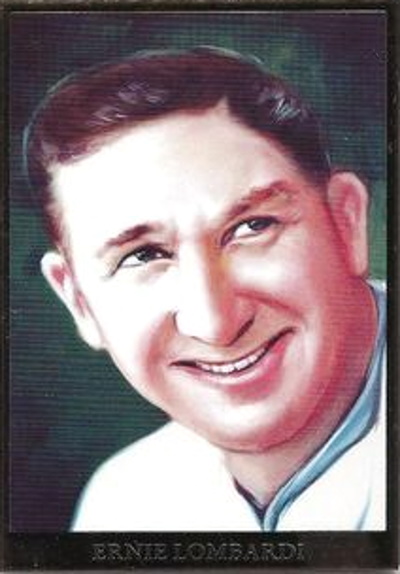 tourstops
---

Ernie Lombardi is part of the Hall of Fame Player Tour – Go to the Next Stop
---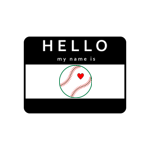 "Lumbago" is part of the Great Italian American Player Nicknames Tour – Go to the Next Stop
---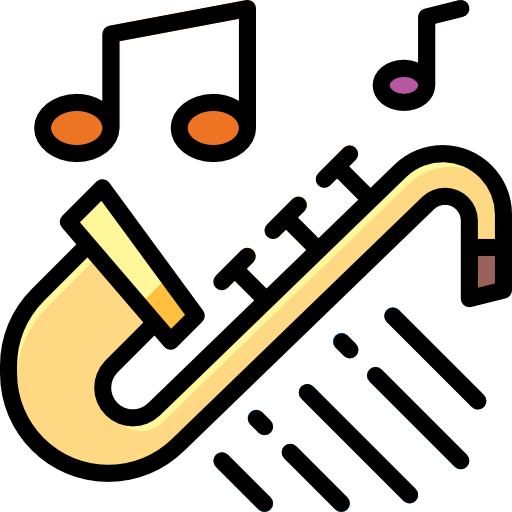 Ernie is also part of the Van Lingle Mungo Song Tour – Go to the Next Stop
---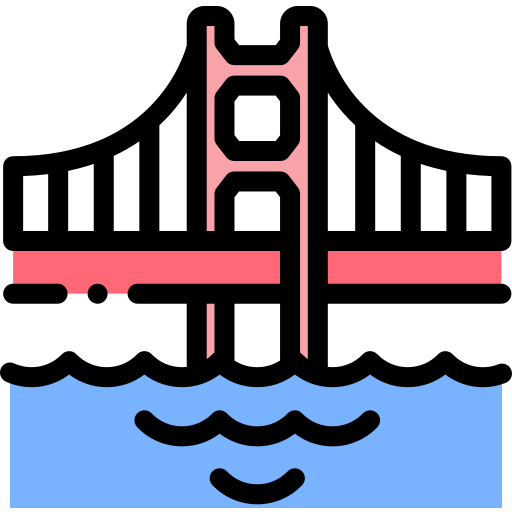 Lombardi is also part of the Born in San Fran/Oakland/Sacramento Tour – Go to the Next Stop
---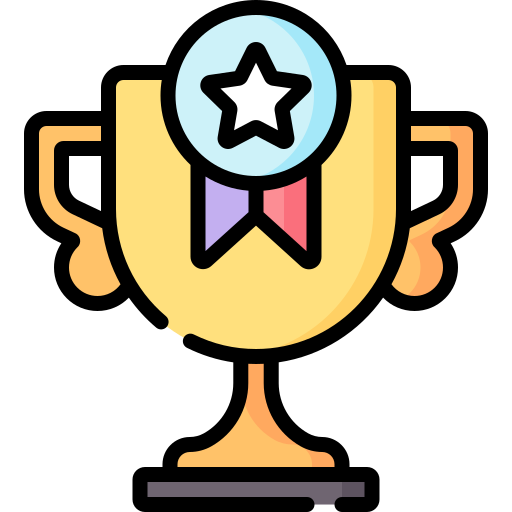 Ernie is also part of the MVP/Cy Young Tour – Go To The Next Stop
---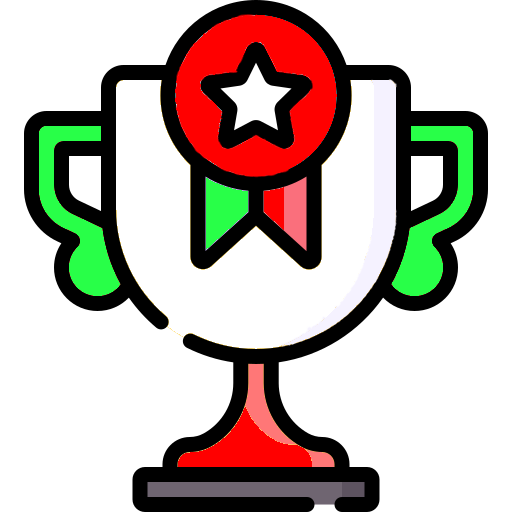 Lombardi is also part of the Italian American Sports Hall of Fame Tour – Go to the Next Stop
---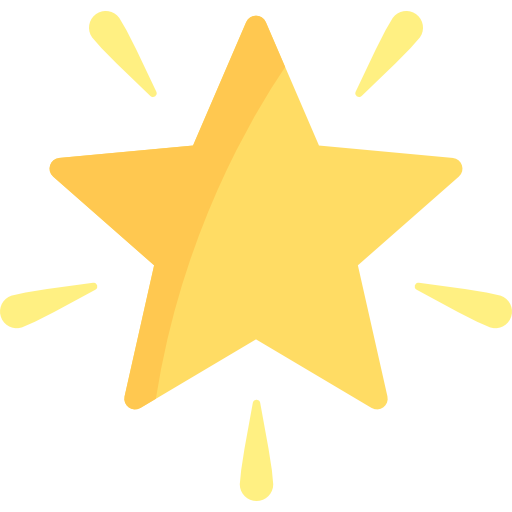 Ernie is part of the All-Star Player Tour – Go to the Next Stop
---

Ernie is also part of the Pacific Coast League Hall of Fame Tour – Go to the Next Stop
---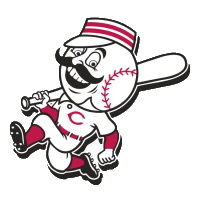 Ernie is also part of the Cincinnati Reds Player Tour – Go to the Next Stop
---

Ernie is also part of the Braves Players Tour – Go To the Next Stop
---
See all Ernie's baseball cards at TCDB
---
---
randomplayer
Visit a random Italian American MLB player: