Jump to: player bio | view more cards | tour stops | view random player
(click the card to view the next player in the series)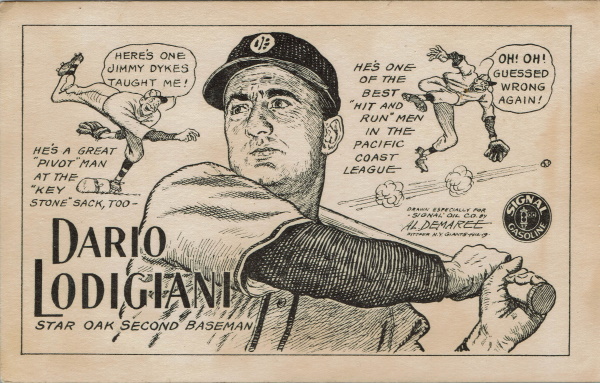 Player:Click Name to Visit Player's Baseball Reference Page Lodigiani, Dario
Card: 1947 Signal Gas & Oil
Position: 3B/2B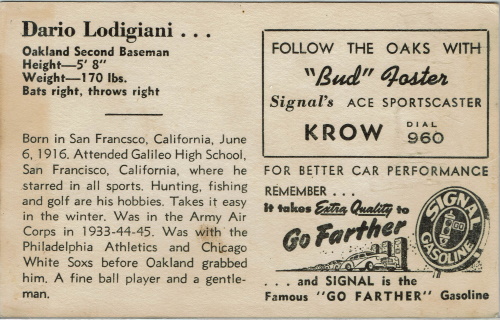 playerbio
Dario was an infielder in Major League Baseball who played for two different teams between 1938 and 1946. He was born in San Francisco, California. He enjoyed a 17-year baseball career (1935–1954), playing parts of six seasons in the majors (1938–42, 1946) and 14 in the minor leagues (1935–40; 1947–54), losing three years while serving in the military (1943–45).
During his high-school days, Lodigiani acquired the nickname "Dempsey". He won the Catholic Youth Organization boxing championship in his weight division. When the neighborhood bully interfered in their baseball game, Dario decked him, and earned the nickname in reference to noted boxer Jack Dempsey. Old-time North Beach natives called him Dempsey until his death.
As a high school second baseman, he shared double play duties with SS Joe DiMaggio and was friends with all three DiMaggio brothers.
After his playing days, Dario returned to the PCL as a player/manager. In 1954 Lodigiani left his job as a player-manager to become a scout for the Chicago White Sox until 1959, when his old friend Joe Gordon asked him to be an instructor in spring training for the Cleveland Indians. When Gordon moved on to the Kansas City Athletics in 1961, Lodigiani went with him, coaching two years with the Athletics. He rejoined the White Sox in 1963, scouting in Northern California. Lodigiani scouted for the White Sox for more than 40 years.
(excerpted from SABR, BR Bullpen, and Wikipedia)
morecards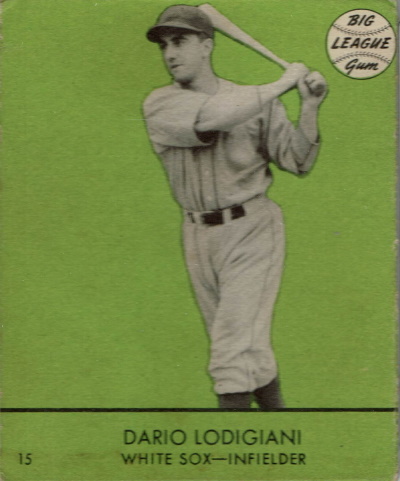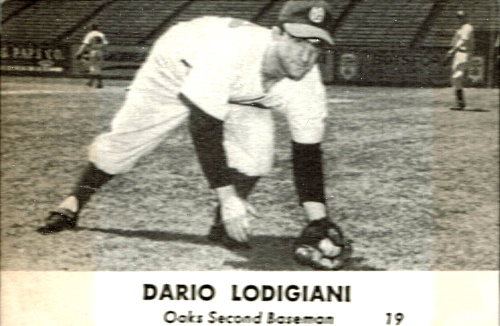 tourstops
---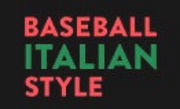 Listen to Larry Baldassaro's interview with Dario Lodigiani here – or view the Next Stop on the Baseball Italian Style Tour
---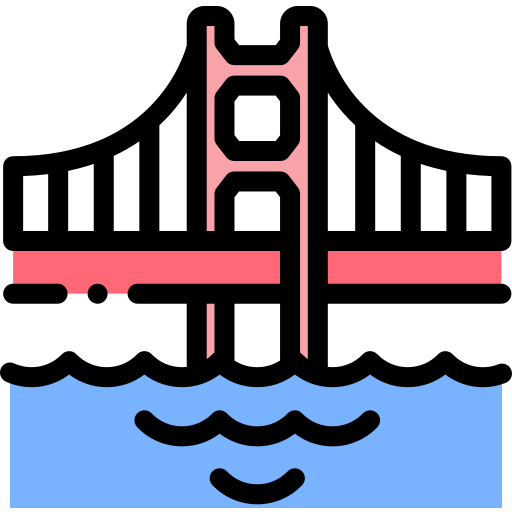 Dario is part of the Born in San Fran/Oakland/Sacramento Tour – Go to the Next Stop
---

Dario is also part of the Pacific Coast League Hall of Fame Tour – Go to the Next Stop
---

Dario is also part of the Military Service during Wartime Tour – go to the Next Stop
---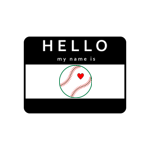 "Dempsey" is part of the Great Italian American Player Nicknames Tour – Go to the Next Stop
---

Dario is also part of the Athletics Player Tour – Go To the Next Stop
---
See Dario's baseball cards at TCDB
---
---
randomplayer
Visit a random Italian American MLB player: