Jump to: player bio | view more cards | tour stops | view random player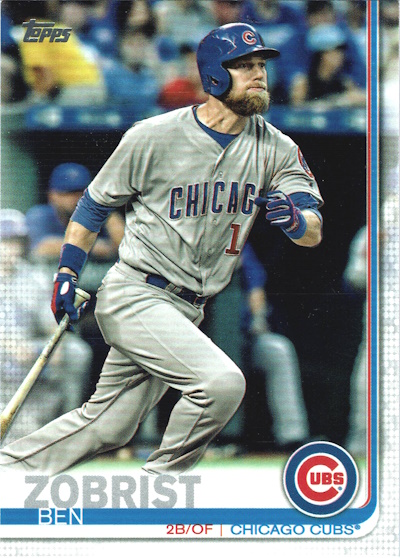 Player:Click Player's Name to Visit their Baseball Reference Page Zobrist, Ben
Card: 2019 Topps #9
Position: 2B/SS/OF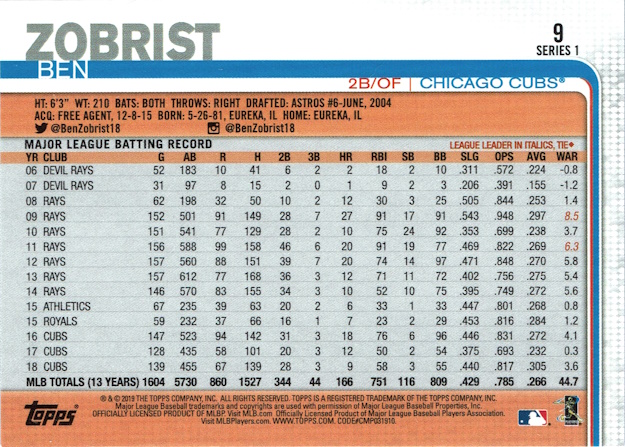 playerbio
"I definitely like anywhere I can get on the field. I just want to be in that lineup. If I'm playing somewhere I'm not used to playing on a regular basis, I just try to do the best I can at that position. I feel like, defensively, wherever they stick me, I can help the team." - Zobrist, Ben. Zorilla drawing comparisons to other super-utility players. Sio, Cheng. MLB Staff Writer. 18 June 2019.
Benjamin Thomas Zobrist (born May 26, 1981 in Eureka, IL), is a former professional baseball second baseman and outfielder. He played in Major League Baseball (MLB) for the Tampa Bay Devil Rays/Rays, Oakland Athletics, Kansas City Royals, and Chicago Cubs. Zobrist played in three World Series and won the last two, becoming a two-time World Series champion in consecutive seasons of 2015 with the Royals and 2016 with the Cubs, and was the World Series MVP in the latter. His nickname, "Zorilla," was given to him by his manager Joe Maddon while playing for the Rays in 2009.
Zobrist was born and raised in Eureka, Illinois, by his parents Cynthia "Cindi" (née Cali) and Tom Zobrist, senior pastor of Liberty Bible Church in Eureka. Ben's maternal grandfather is Andrew Cali III (the son of Andrew Cali II and Dorothy White). Ben's great-grandfather Andrew was the son of Andrea Cali and Antonina Canale, who were Sicilian. 
A versatile defender and a switch-hitter with a high walk rate, he played roughly half his innings at second base, and spent significant time at shortstop and various outfield positions. Thus, he has often been referred to as a "super utility player," with subsequent players who also filled this role often being compared to Zobrist.
Zobrist played baseball starting when he was eight years old; he and his friends built their own wiffle ball field behind his house. Zobrist attended Eureka High School, graduating in 1999. After no professional scouts or college recruiters considered him by the time he graduated, Zobrist thought baseball was over for him. However, he continued to play baseball: he played for the Twin City Stars of the Central Illinois Collegiate League (Now Prospect League) in 2002 and then in Wausau, Wisconsin, for the Wisconsin Woodchucks of the Summer Collegiate Northwoods League in 2003. He was voted team MVP and led his team to the League Championship.
Ben was drafted by the Houston Astros as a shortstop in the sixth round of the 2004 MLB draft. With right-handed pitcher Mitch Talbot, Zobrist was traded to the Tampa Bay Rays for first baseman/designated hitter Aubrey Huff and cash on July 12, 2006.
Zobrist made his MLB debut with Tampa Bay on August 1, 2006. He exclusively played shortstop in his first two seasons with Tampa Bay. Zobrist struggled through parts of the 2006 and 2007 seasons with the Rays. One day, he met a "swing mechanic" (batting coach) looking for students. The swing coach was able to help Zobrist, and it was evident to the Rays during the 2008 season. "He added the power component", Rays executive vice president Andrew Friedman said, "He became a lot more physical.
Zobrist was placed in right field for the beginning of the 2009 season, and was made the starting second baseman after teammate Akinori Iwamura was injured. Zobrist enjoyed a breakout season, finishing fourth in the American League in on-base percentage (.405), sixth in walks (91), and seventh in slugging percentage (.543). He earned a trip to his first All-Star Game in St. Louis in 2009. The Tampa Bay Chapter of the Baseball Writers' Association of America named him MVP of the Rays for 2009. Zobrist led all hitters in the majors in 2009 for wins above replacement with 8.6, ahead of Albert Pujols' 8.4 WAR.
On April 28, 2011, Ben collected a Tampa Bay Rays record eight RBIs in a 15–3 rout of the Minnesota Twins. Another game was held during the day to make up for a previously rained out game and Zobrist drove in another two runs, making a total 10 RBIs for the day.
During the 2012 season, Ben's skills were used at multiple positions. He played 47 games at shortstop, the most since his rookie season. He was also used as an outfielder and second baseman. He finished the year with 20 home runs, accomplishing the feat for the second time in a row.
On April 8, 2013, Zobrist became the strikeout victim on a disputed call that led to Joe Nathan's 300th career save. Zobrist was named an All Star for the second time of his career. He finished the 2013 season with a .275 batting average, his highest since 2009.
On July 28, 2015, Zobrist was traded to the Kansas City Royals for Sean Manaea and Aaron Brooks. He played 59 games in the regular season for Kansas City and finished with a batting average of .284, with 7 home runs, 37 runs scored, and 23 RBIs. The Royals won the AL Central Division and played the Houston Astros for the ALDS with Zobrist starting in all five games. The Royals advanced to the World Series after defeating the Toronto Blue Jays in six games to become the American League Champions. The Royals won the 2015 World Series after defeating the New York Mets in four of the five games played. Ben played second base and batted second in every game of the 2015 Royals postseason. He hit .303 in the 2015 postseason with 66 at bats, 15 runs scored, 20 hits, 2 home runs, and 6 RBIs.
On December 8, 2015, Zobrist agreed to a four-year, $56 million contract with the Chicago Cubs, where he became a fan favorite. The signing reunited him with Joe Maddon, his manager when he was a member of the Tampa Bay Rays. In 2016, he batted .272/.386/.446 and led the major leagues in walks-per-strikeout at 1.17.
In Game 4 of the 2016 National League Division Series against the San Francisco Giants with the Cubs having a 2–1 series lead, Zobrist drove in Kris Bryant to score the first run in the top of the ninth and later scored the tying run on a two-run single by Willson Contreras. The Cubs scored another run later that inning, sending them to the National League Championship Series. Following the Cubs' Game 7 victory in the 2016 World Series, after driving in the first of two go-ahead runs in the top of the 10th inning, he was named the World Series Most Valuable Player and received his second World Series ring. He became the eighth player in Major League history to win consecutive World Series championships on different teams.
In 2018, he had a career-high batting average of .305. He was ejected for the first time in his career on August 14, 2018, by home plate umpire Phil Cuzzi. Ben was inserted in to pitch in his final game in 2019, and struck out Yadier Molina. Ben confirmed his retirement on March 6, 2020.
(parts excerpted from Baseball Almanac, BR Bullpen, and Wikipedia)
morecards
morecard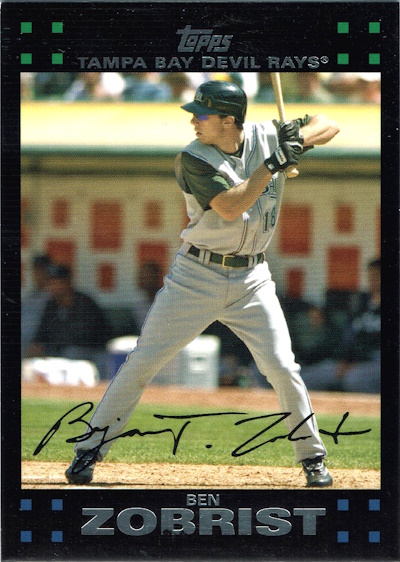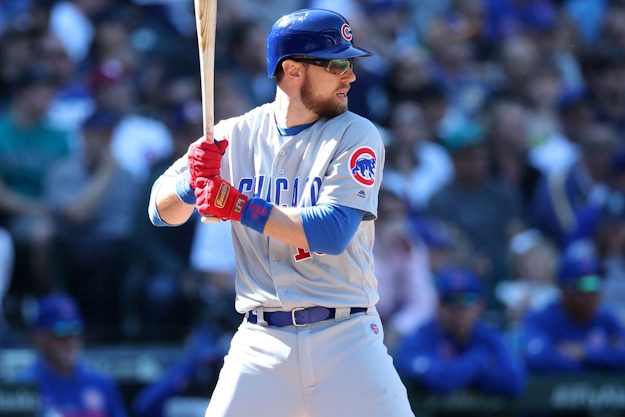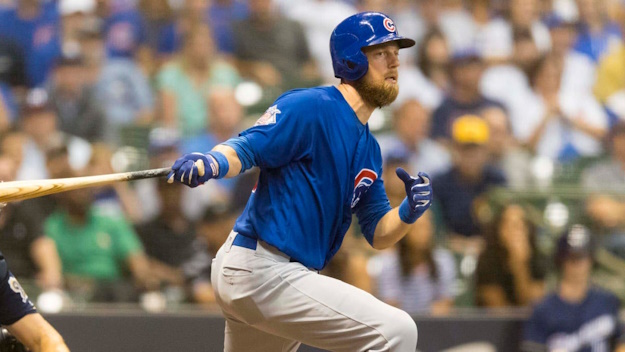 tourstops
---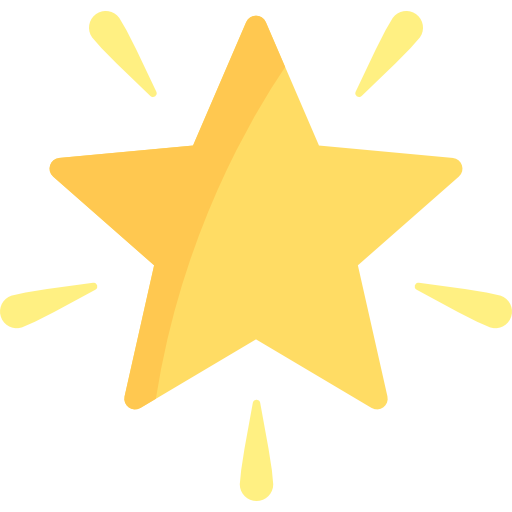 Ben Zobrist is also part of the All-Star Players Tour – Go To the Next Stop
---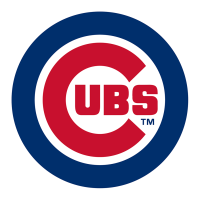 Ben is part of the Chicago Cubs Players Tour – Go To the Next Stop
---

Ben is also part of the Athletics Player Tour – Go To the Next Stop
---
See all Ben's baseball cards at TCDB
---
---
randomplayer
Visit a random Italian American MLB player: