Jump to: player bio | view more cards | tour stops | view random player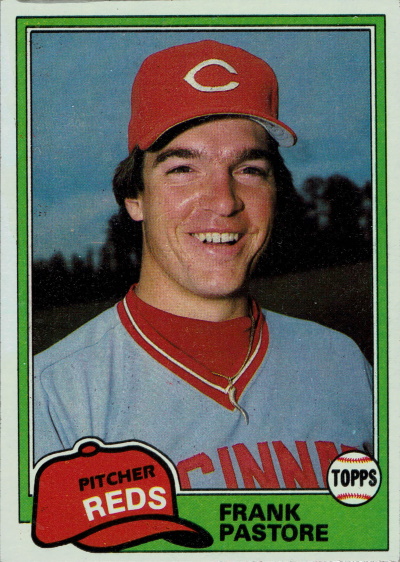 Player:Click Player's Name to Visit their Baseball Reference Page Pastore, Frank
Card: 1981 Topps #499
Position: RHP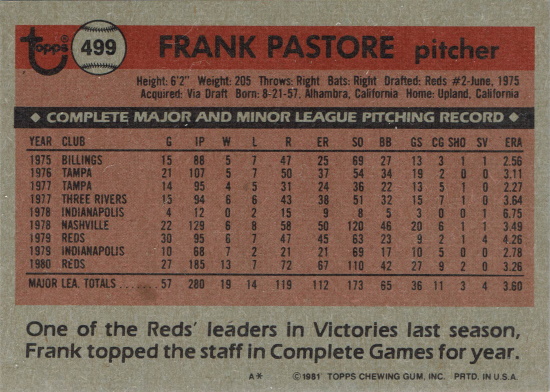 playerbio
"More than 35,000 people have taken the Big Texan's challenge (eating a 72oz steak & side dishes in under an hour), but no more than 6,000 have succeeded. Past winners include... Frank Pastore, a pitcher for the Cincinnati Reds in the early '80s, who set a speed record by downing the whole meal, side dishes included, in 9½ minutes." - Washington Post (June 21, 2003)
Frank Enrico Pastore (August 21, 1957 – December 17, 2012) was an American Major League Baseball player and radio host. He pitched for the Cincinnati Reds from 1979 until 1985 and for the Minnesota Twins in 1986, and was in the Texas Rangers organization in 1987.
Pastore was born in Alhambra, California, and was valedictorian of the 1975 class of Damien High School in La Verne, California. That year, Frank went to the Cincinnati Reds in the second round of the amateur draft. He continued to be promoted within the organization, with an impressive 3.28 ERA in the minor leagues. He made his major league debut on April 4, 1979, at Riverfront Stadium, pitching three scoreless innings in a loss to the San Francisco Giants. Used equally as a reliever and starter during his rookie season, he then moved full-time to the starting rotation in 1980.
Pastore's best statistical season came in 1980 with the Reds, as he posted a record of 13 - 7 with an ERA of 3.27 in 27 appearances. He was hit on the elbow with a batted ball on June 4, 1984. That injury caused him to appear in only 41 games in the 1984 and 1985 seasons combined. He was then released by the Reds in 1986 following spring training. However, Frank quickly signed with the Minnesota Twins, and spent the entire season coming out of the bullpen.
On January 5, 2004, Pastore (a former atheist) became the host of "The Frank Pastore Show" on KKLA-FM in Los Angeles, which became one of the largest Christian talk shows in the United States. In 2011, he authored "Shattered: Struck Down, But Not Destroyed", a book recounting how he became a born-again Christian during recovery from his 1984 pitching arm injury.
On November 19, 2012, during his radio show while discussing how his faith affects his view of death, Pastore said (00:00:22): "…you guys know I ride a motorcycle, don't you? So, at any moment, especially with the idiot people who cross the diamond lane into my lane, all right, without any blinkers -- not that I'm angry about it, but at any minute I could be spread out all over the 210 (Freeway)" .
That same day, he was critically injured on the Foothill (210) Freeway in Duarte, California, when a woman from Glendora, California, driving a Hyundai Sonata, collided with his Honda VTX 1800, throwing him off the motorcycle. He was hospitalized in critical condition with serious head injuries. Less than a month later, on December 17, 2012, He died from pneumonia and other complications of his injuries.
(excerpted from Baseball Almanac, BR Bullpen, and Wikipedia)
morecards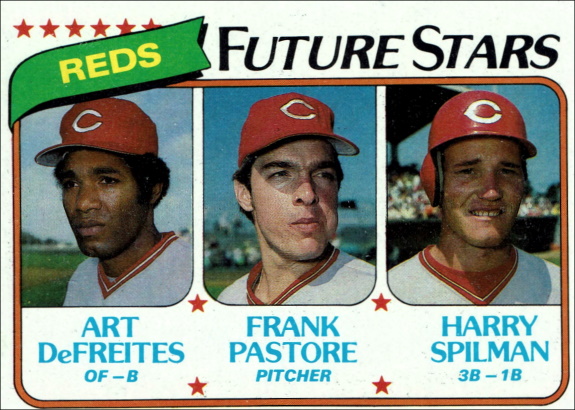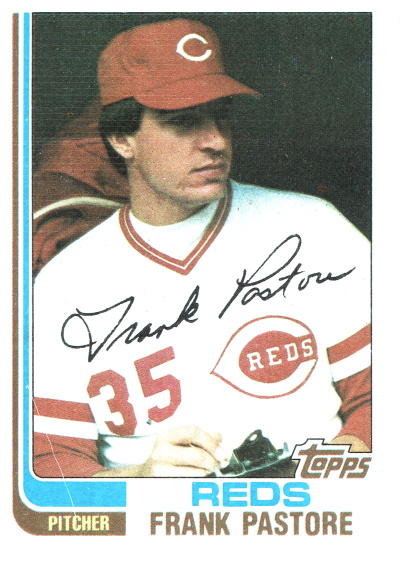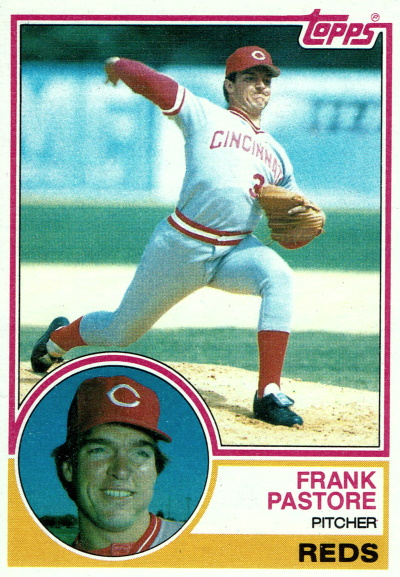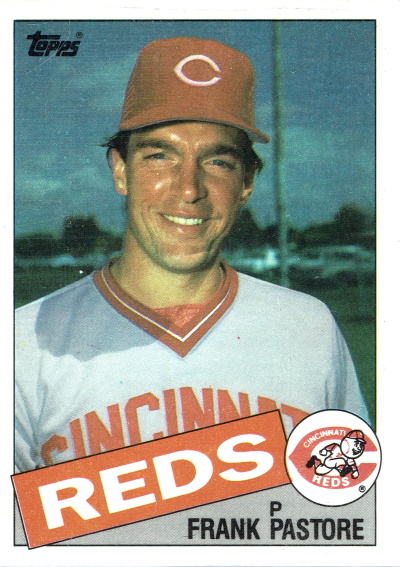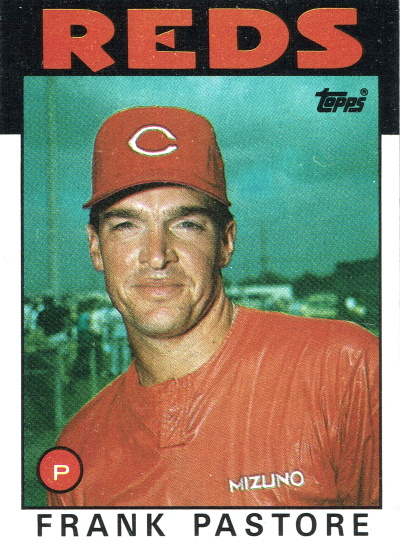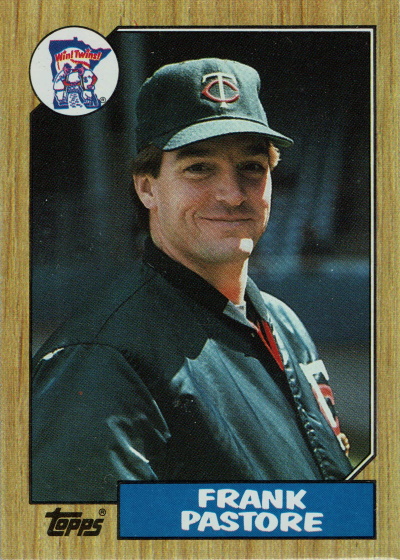 tourstops
---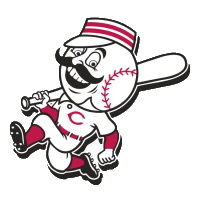 Frank is part of the Cincinnati Reds Player Tour – Go to the Next Stop
---
See all of Frank's baseball cards TCDB
---
---
randomplayer
Visit a random Italian American MLB player: