Jump to: player bio | view more cards | tour stops | view random player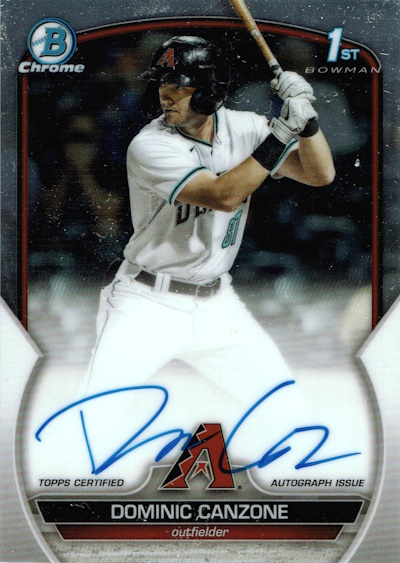 Player:Click Player's Name to Visit their Baseball Reference Page Canzone, Dominic
Card: 2023 Bowman Chrome 1st #CPA-DC (Autographed)
Position: OF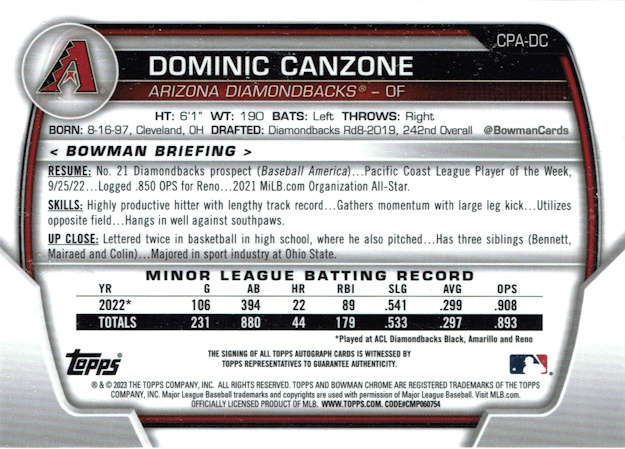 playerbio
"Canzone, in this ballpark, I'll tell ya, it's like Nintendo" (Reno Aces announcer 6/17/23 after Dom hit back-to-back HR against Las Vegas)
Dominic Gene Canzone (born August 16, 1997 in Cleveland, OH) is an American professional baseball outfielder for the Seattle Mariners of Major League Baseball (MLB). He previously played for the Arizona Diamondbacks.
As per Geneanet.org, Canzone is an Italian surname (Sicily and Naples) and is an occupational name for a singer... as a derivative of the word canzone, meaning 'song'.
Canzone attended Walsh Jesuit High School in Cuyahoga Falls, Ohio. As a sophomore in 2014, he pitched 16+1⁄3 scoreless innings and batted .434 with three home runs and 27 RBIs and earned All-Ohio honorable mention as a senior in 2016.
Unselected in the 2016 Major League Baseball draft, he enrolled at Ohio State University where he played college baseball. As a freshman in 2017, Canzone started 39 games and batted .343 with three home runs, 36 RBIs, and 13 stolen bases, earning an unanimous selection to the All-Big Ten freshman team. In 2018, Canzone started sixty games and hit .323 with four home runs, 35 RBIs, 18 doubles, and 15 stolen bases. After the season, he played collegiate summer baseball with the Brewster Whitecaps of the Cape Cod Baseball League, where he was named a league all-star. As a junior in 2019, Canzone started 63 games in which he batted .345 with 16 home runs and 43 RBIs.
Dom was selected by the Arizona Diamondbacks in the eighth round with the 242nd overall pick of the 2019 Major League Baseball draft and made his professional debut with the Missoula Osprey of the Rookie Advanced Pioneer League. He was later promoted to the Hillsboro Hops of the Class A-Short Season Northwoods League. Over 46 games between the two clubs, he batted .281 with eight home runs, 38 RBIs, and 19 doubles.
He did not play a minor league game in 2020 due to the cancellation of the season caused by the COVID-19 pandemic and missed time throughout the 2021 season due to injury. However, he still appeared in 79 games between Hillsboro (now members of the High-A West) and the Amarillo Sod Poodles of the Double-A Central, slashing .302/.375/.522 with 14 home runs, 52 RBIs, and 19 stolen bases.
He was selected to play in the Arizona Fall League for the Salt River Rafters after the season. He returned to Amarillo to begin the 2022 season. After 11 games, he was promoted to the Reno Aces of the Triple-A Pacific Coast League. Over 106 games for the season, he slashed .299/.367/.541 with 22 home runs, 89 RBIs, 25 doubles, and 15 stolen bases.
To open the 2023 season, Canzone was assigned to Reno. In 71 games, he batted .354/.431/.634 with 16 home runs and 71 RBI. On July 7, 2023, after tearing up the Minor Leagues, Canzone was selected to the 40-man roster and promoted to the major leagues with the Diamondbacks for the first time. In his first game, he went 0-3 with a walk and a run scored. He was traded with two others to the Seattle Mariners on 7/31/23 for RHP Paul Sewald.
(parts excerpted from Baseball Almanac, BR Bullpen, and Wikipedia)
morecards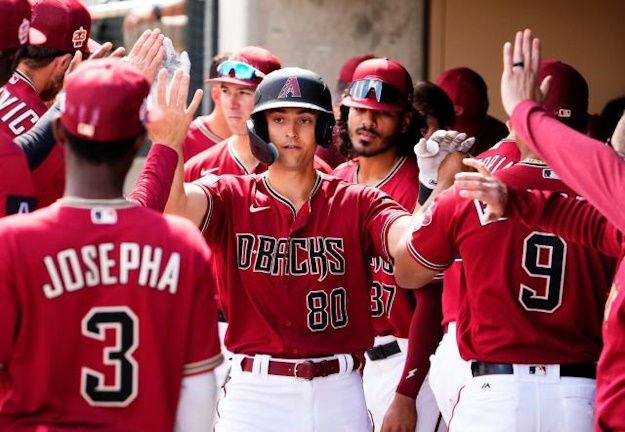 tourstops
---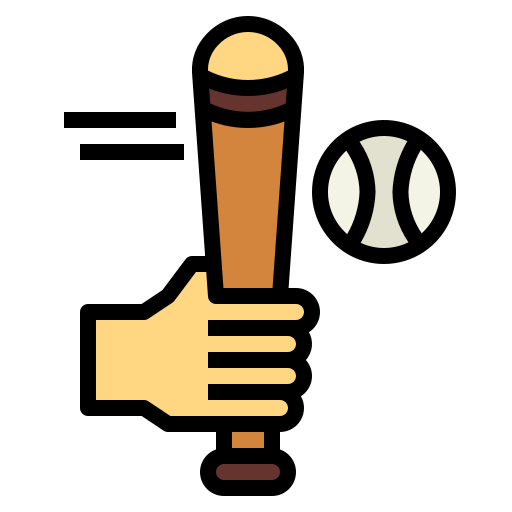 Dominic Canzone is part of the MLB Current Players Tour – Go to the Next Stop
---
See all Dominic's baseball cards at TCDB
---
---
randomplayer
Visit a random Italian American MLB player: