Jump to: player bio | view more cards | tour stops | view random player
(click the card to view the next player in the series)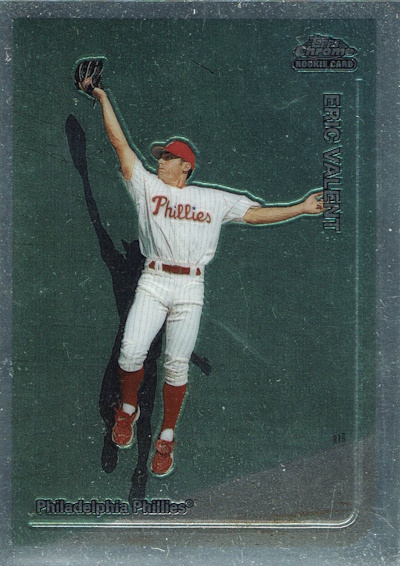 Player:Click Name to Visit Player's Baseball Reference Page Valent, Eric
Card: 1999 Topps Chrome Traded #45
Position: OF/1B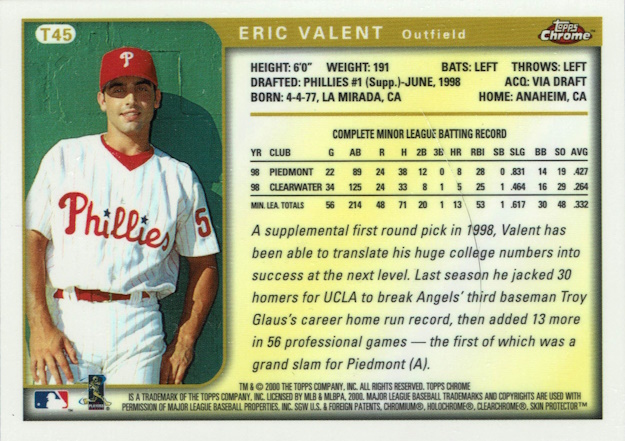 playerbio
"A triple is probably the hardest one to come by. But when I hit the ball in the corner like that, I knew I was going to third. I just wanted to hit the ball hard. It was cool. There aren't a lot of guys who can say they hit for the cycle, no matter how long they play. It's a lot of luck." - Valent, Eric. Valent hits for cycle in Montreal. MLB Press Release. 29 July 2004.
Eric Christian Valent (born April 4, 1977 in La Mirada, Ca), is an American former professional baseball outfielder, who played in Major League Baseball (MLB) for the Philadelphia Phillies, Cincinnati Reds, and New York Mets. According to Familysearch.org, the surname Valent is northern Italian (Friuli) and is a variant of the name Valente.
Valent had a standout career at UCLA, alongside teammates Troy Glaus, Eric Byrnes, Chase Utley, and Garrett Atkins. He helped lead UCLA to the 1997 College World Series. Eric has the most career home runs in Pac-10 history (69), and is the UCLA career runs batted in (RBI) leader (219), achieved in only three years of play. Valent was the Pac-10 Player of the year in 1998.
On June 2, 1998, he was selected in the first round (42nd overall) of the supplemental draft by the Phillies. In his brief playing career, Valent provided good power from the left side of the plate. A solid pinch hitter and valuable utility man, he was a competent first baseman who could play either left or right field effectively.
Most of Valent's MLB playing time was with the Mets. On July 29, 2004, he became the eighth player in Mets history to hit for the cycle, in a game against the Montreal Expos. In late August, Valent had three pinch-hit home runs. During his days with the Mets, he wore uniform number 57 (later worn by pitcher Johan Santana).
In a four-season career, Valent was a .234 hitter, with 13 home runs, and 37 RBIs, in 205 games. After being released from the Padres organization, Valent signed a one-year contract to play right field for the Tohoku Rakuten Golden Eagles in the Pacific League of Nippon Professional Baseball (NPB).
In December 2008, Valent was named the hitting coach for the Single-A Williamsport Crosscutters of the Philadelphia Phillies organization, but was reassigned to a scouting position in January 2009. He went on to become the National Cross Checker in the Miami Marlins organization.
(excerpted from Baseball Almanac, BR Bullpen & Wikipedia)
morecards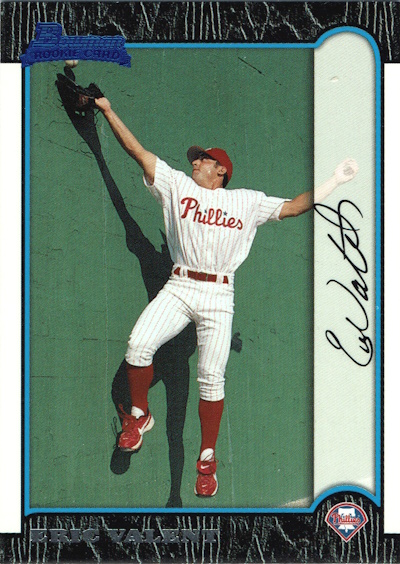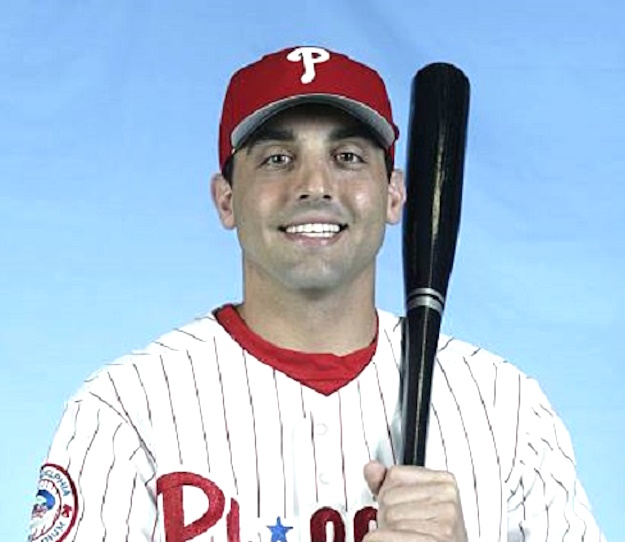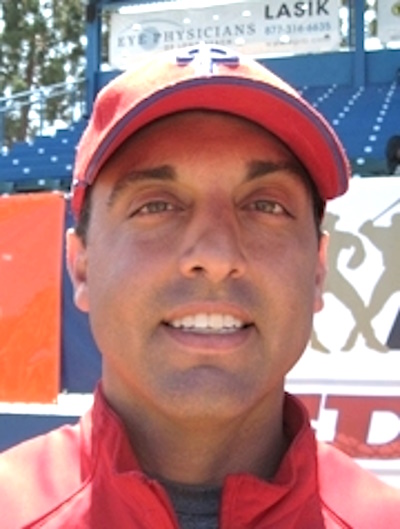 tourstops
---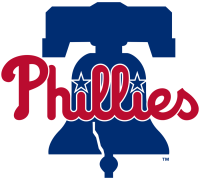 Eric Valent is part of the Philadelphia Phillies Player Tour – Go to the Next Stop
---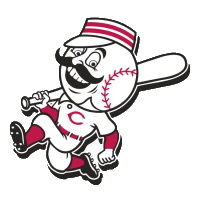 Eric is also part of the Cincinnati Reds Players Tour – Go To the Next Stop
---
See all Eric's baseball cards at TCDB
---
---
randomplayer
Visit a random Italian American MLB player: