Achievements | Story | Baseball Cards | Videos | BBAmore Home
---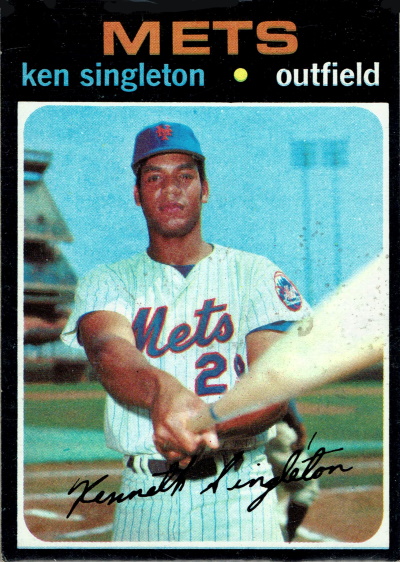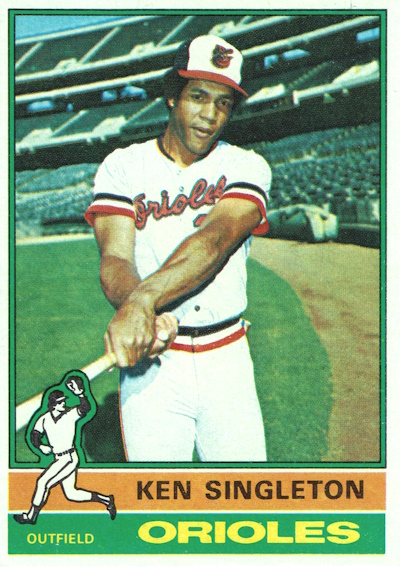 ---
3x All-Star (1977, 1979, 1981)
1982 Roberto Clemente Award
Six (6) seasons in the top 10 in Offensive WAR
Six (6) seasons in the top 10 in OPS
Led the NL in OBP in 1973 (.425)
Two (2) Seasons in the top 10 in Runs Scored (1973, 1975)
Two (2) Seasons in the top 10 in Home Runs (1979 AL, 1980 AL)
Two (2) Seasons in the top 10 in Total Bases (1975 AL, 1979 AL)
Two (2) Seasons in the top 10 in XBH (1975 AL, 1979 AL)
Led the AL in Plate appearances in 1975 (714)
Six (6) seasons in the top 10 in Runs Created (1973 NL, 1975 AL, 1977 AL, 1978 AL, 1979 AL, 1980 AL)
Five (5) seasons in the top 10 in Win Probability Added (WPA: 1975 AL, 1976 AL, 1977 AL, 1978 AL, 1980 AL)
---
Kenneth Wayne Singleton (born June 10, 1947 in New York City, NY) is an American former professional baseball player and television sports commentator. He played in Major League Baseball as an outfielder and designated hitter from 1970 to 1984, most prominently as a member of the Baltimore Orioles where, he was a three-time All-Star player and was a member of the 1983 World Series winning team. He also played for the New York Mets and the Montreal Expos. In 1982, Singleton was named the recipient of the prestigious Roberto Clemente Award and in 1986, he was inducted into the Baltimore Orioles Hall of Fame. He went on to a long career as a broadcaster, most prominently for the New York Yankees from 1997 to 2021.
Ken's parents, Joe and Lucille (Hathaway) Singleton had another son, Fred, shortly before Ken turned five. Joe worked at the General Post Office Building near Madison Square Garden until he retired, and Lucille was an insurance underwriter. The family moved from East Harlem to Stamford, Connecticut, briefly when Ken was still small before returning to the Empire State. They settled in Mount Vernon, just north of the Bronx, in a home that had previously belonged to former Dodgers' pitcher Ralph Branca's family.
Ken attended his first major league game at Ebbets Field when he was four.2 His father loved baseball. "My dad always had it on television," he recalled. "That was around the time Jackie Robinson came in the league." When Ken played his first baseball in the streets, against boys who were 12 or 13, he was a five-year-old left-handed hitter. "I saw all the other kids batting righty. I figured I was doing something wrong, so I changed." During stickball marathons in Mount Vernon, he'd usually pretend to be the Giants against his friend Joey's Dodgers. "We would go up and down the entire line-up, switching around to hit the way our favorite players batted....I always tried a little harder when I was Willie Mays." In Little League, Ken batted right-handed like his hero.
Ken, who played 15 seasons in the major leagues, was in the top three in Adjusted OPS+ in the American League each year from 1977 to 1979. His career Adjusted OPS+ ties him with Rocky Colavito, Tony Gwynn, and Mo Vaughn.
He holds the record for hits in consecutive at bats, with 10. Over the course of three games, Singleton went 4 for 4 twice for the Baltimore Orioles (on April 26 and 27, 1981) and then hit safely in his first two at bats in a third game (on April 28) before finally hitting into a double play in his third at bat against Richard Dotson of the Chicago White Sox.
In 1979, Singleton became the second switch-hitter in the AL to hit 35 homers in one season, after Mickey Mantle. Since that date, Mark Teixeira and Nick Swisher have done the same.
Singleton finished second in MVP voting in 1979 and third in 1977. He led the National League in OBP while playing for the Montreal Expos in 1973 and the AL in times on base in 1975. He never led the league in bases on balls, but was second six times (NL 1973, AL 1975, 1977-1979, 1983).
He went from the Expos to the Orioles in one of the most lopsided trades in baseball history. On December 4, 1974, the Expos traded him and pitcher Mike Torrez to the O's in return for Ps Dave McNally and Bill Kirkpatrick and OF Rich Coggins. Singleton and Torrez had a number of excellent seasons after the trade, but McNally retired after only a few games in 1975, Coggins was felled down by disease and hardly played after the trade, and Kirkpatrick never reached the majors. It was actually the second big trade of which Singleton had been a part. After playing for the New York Mets for his first two seasons in 1970 and 1971, he was one of three young players sent to the Expos just before the start of the 1972 season in return for OF Rusty Staub, who was Montreal's biggest star at the time. The other two players in that deal were SS Tim Foli and 1B Mike Jorgensen; none of the three had been regulars until them, but they would all go on to long and successful careers.
Singleton was a Montreal Expos broadcaster from 1985 to 1996 and a New York Yankees broadcaster starting in 1997, covering games on both the MSG Network and the YES Network.
Singleton's uncle, Harvey Singleton, played in the CFL with the Toronto Argonauts. Singleton is a cousin of former NBA player and Boston Celtics head coach Glenn "Doc" Rivers, and the father of minor league outfielder Justin Singleton.
(excerpted from SABR, BR Bullpen, and Wikipedia)
---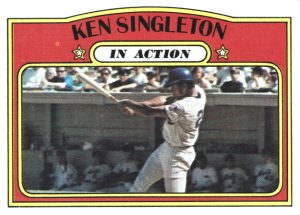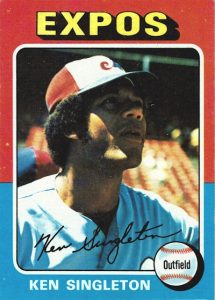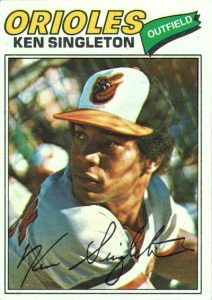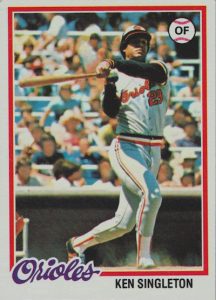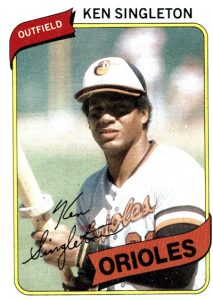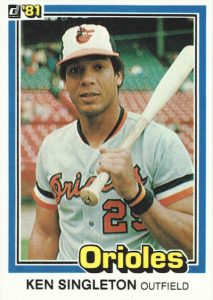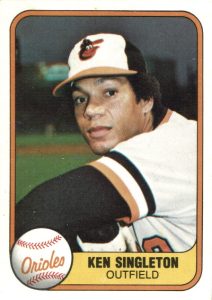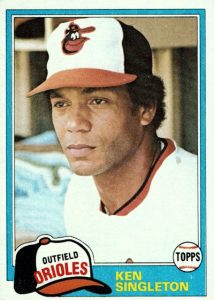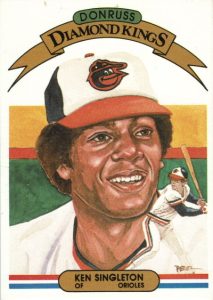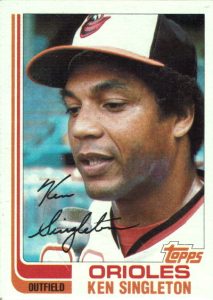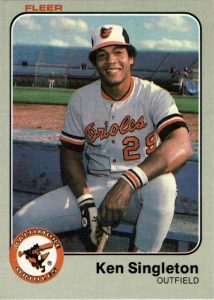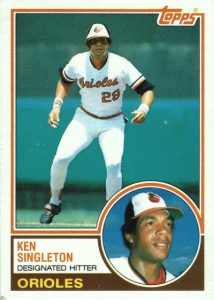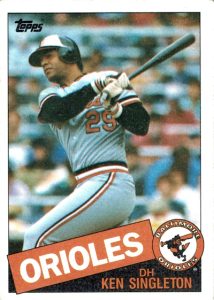 ---
Career:
Ken announces that he is retiring from broadcasting live on Yankee game:
Ken homers in the 1981 All-Star Game:
Ken's Best Yankee Broadcasting calls:
---
Baseball Amore Non-Italian Favorites:
Achievements | Story | Baseball Cards | Videos | BBAmore Home