Achievements | Story | Baseball Cards | Videos | BBAmore Home
---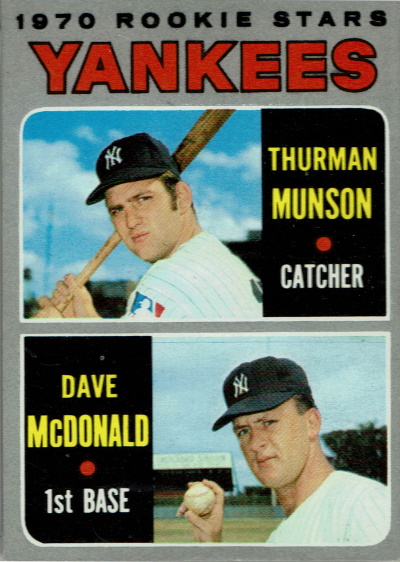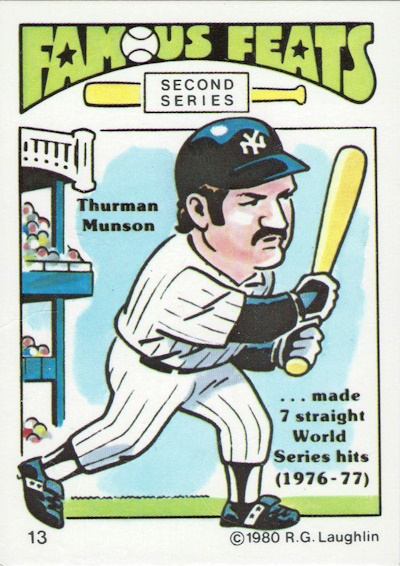 ---
1970 AL Rookie of the Year Award

1970 Topps All-Star Rookie Team

7-time AL All-Star (1971 & 1973-1978)

AL MVP (1976)

3-time AL Gold Glove Winner (1973-1975)

AL Singles Leader (1975)

20-Home Run Seasons: 1 (1973)

100 RBI Seasons: 3 (1975-1977)

Won two World Series with the New York Yankees (1977 & 1978)

See Thurman's Case for the Hall of Fame at munsonhof.com
---
Thurman Munson, perhaps the most beloved of the high-profile New York Yankees of the 1970s, was the 1970 American League Rookie of the Year and the 1976 American League MVP. Munson's career was prematurely ended by his tragic death.
A shortstop in high school, Munson only began catching because no one else on the team could handle catching future minor leaguer Jerome Pruett. As a high school junior, he attended a tryout camp for the Pittsburgh Pirates in Columbus, OH, home of their Triple A team the Columbus Jets, but was not signed.
Munson was highly recruited as a football player, getting interest from powerhouses such as Ohio State University, University of Michigan and Syracuse University but only received three offers for baseball, despite hitting .581 and being named shortstop on the All-Ohio team. Arizona State University and Ohio University offered scholarships based on him making the team, while Kent State University offered him a full ride.
He chose Kent State as a result, and attended from 1966 to 1968, playing varsity in 1967 and 1968, at the same time as Steve Stone. He won several state handball titles while in college. As a sophomore, he was named third team all-district and all-region after hitting .367 with 3 home runs and 16 RBI. He was also named to the All-Mid-American Conference team.
Following that season, he was invited to play in the Cape Cod League with the Chatham A's. Munson hit .420 for the A's and won the league's MVP Award as Chatham went on to win the league title. Returning to Kent State for his junior year in 1968, he hit .413 with 3 home runs and 30 RBI. He set school records with 38 hits, 10 doubles and 6 triples. With longer college schedules and metal bats, the records have since been broken. Munson was named a first team All-American and first team All-District IV. He was also named All-Region and All-MAC for the second straight year.
Munson was prepared to return to the Cape Cod League and the Chatham team for the 1968 summer season, where he was slated to be teammates with future big leaguers John Curtis, Bobby Valentine, Rich McKinney and KSU teammate Stone. Instead Munson, Curtis, Valentine and McKinney were all drafted and left for the pros while Stone came down with mononucleosis and missed the season.
Munson had been scouted by former outfielder Gene Woodling for the New York Yankees. On Woodling's recommendation, the Yankees drafted Munson 4th overall in the 1968 amateur draft. Munson agreed to forgo his senior year at KSU, where he would later be honored by having his #15 be retired (the only number to be retired in school history) and was named to the school's Hall of Fame in 1979.
After drafting him, the Yankees assigned Munson to the Double A Binghamton Triplets. Munson hit .301 with 6 home runs and 37 RBI with the Triplets in 1968, making him the only man to hit .300 in the Eastern League that season (the Year of the Pitcher). During the season, Munson failed a physical to join the Army Reserves, as a way to avoid being drafted during the Vietnam War. He took a second physical in the offseason that he did pass. Munson was invited to Major League spring training for the 1969 season.
The Yankees assigned Thurman to the Triple A Syracuse Chiefs, but before the season began the military assigned him to Fort Dix, NJ instead. Munson would fly up to Syracuse to join the Chiefs whenever the opportunity presented itself, but was limited to only 28 games. On August 8th, Yankees backup catcher Frank Fernandez left to do his own weekend of Reserve duty and the Yankees decided to call up Munson. In his first weekend in the majors before returning to Fort Dix, Munson went 3 for 6 with a homer and 3 RBI.
When his reserve time ended on August 30th, the Yankees sent Munson to Syracuse to help them in their playoff push. He was called back up on September 5th and never returned to the minors. After missing most of the 1969 season to military service in the Army Reserves, Munson was sent to Puerto Rico to play winter ball. He spent the 1969-70 winter season with the Cangrejeros de Santurce, where he was a teammate of the similarly-fated Roberto Clemente.
In 1970, Thurman hit .302 for the Yanks, appearing in 132 games, and was named the American League Rookie of the Year. Munson's contributions helped to the team improve by 13 wins over the previous year and finish in 2nd place in the American League East. He was quickly seen as a potential top star of the new generation of Yankees stars. In 1971 Munson ran into a bit of a sophomore jinx as his batting average dropped by 50 points. A strong season on defense saw Munson put up a .998 fielding percentage and throw out 61% of base stealers. He was also named to his first All-Star team that year.
After a solid 1972, Munson returned to his previous form for the 1973 season. He hit .301 and set new career highs in homers and RBI. He was named to his second All-Star team and won his first Gold Glove that year. In 1974 Munson and the rest of the Yankees moved over to Shea Stadium while Yankee Stadium was being remodeled.
He suffered a hand injury in spring training that damaged both his ability to hit and catch. His defense suffered enough to see Munson put up the worse defensive seasons, in 1974 and 1975, for a catcher since World War II based on fielding percentage. With his strong reputation as a catcher, Munson was still awarded the Gold Glove in both seasons. Despite the defensive problems, Munson was voted the starting catcher for the American League All-Star team both years. He also finished seventh in AL MVP voting in 1975.
In 1976, with the Yankees moving back into Yankee Stadium, Munson was named the sixth captain in team history. He proved his value to the team by hitting .302 with 17 home runs and 105 RBI and was named the American League Most Valuable Player.
The Yankees made the playoffs for the first time in 12 years, and the first of Munson's career, that year. In the ALCS against the Kansas City Royals he hit .435 with 3 RBI to help the Yankees win the pennant in 5 games. Moving on to play the Cincinnati Reds in the 1976 World Series the Yankees struggled and were swept in four games, scoring only 7 runs in the entire series against the Big Red Machine. Munson handled the pressure of the World Series well, hitting .529, second only to Series MVP Johnny Bench.
As the offseason began Munson was very vocal in encouraging Yankees owner George Steinbrenner to go out and sign top free agent Reggie Jackson. But after Jackson was brought into the fold, issues began to pop up for Munson. First, Munson was under the impression that he had a handshake agreement that he would remain the highest-paid player on the team despite any new signings. When his contract was bumped up following the signing of Jackson, it caused tension between Munson and Steinbrenner.
Then, during spring training, Jackson gave his infamous interview to Sport magazine calling himself "The straw that stirs the drink", which naturally caused tension between Jackson and Munson. Tensions between Jackson, Steinbrenner and manager Billy Martin led to Munson and Lou Piniella having a midnight meeting with Steinbrenner in a Milwaukee hotel room in order to get the owner to ease up on Martin.
The 1977 season also saw, in a episode repeated a dozen years later with another team captain, Steinbrenner's strict rules about hair cause problems. Munson grew a beard for about two weeks while the press had a field day with the story. Despite all the craziness going on/off the field the Yankees and Munson were rolling on the field. Munson hit .308 with 18 home runs and his third straight 100 RBI season.
The Yankees returned to the playoffs and once again beat the Royals in 5 games to advance to the 1977 World Series this time facing off against the Los Angeles Dodgers. Munson hit .320 with a homer and 3 RBI in the six-game victory over the Dodgers, although Jackson emerged as the biggest star with his dramatic five-homer performance.
1978 would be fairly quiet off the field for Munson as he hit .297 with 6 home runs and 71 RBI. He was named to his sixth straight All-Star team. The Yankees again won the American League East, although it took a tremendous comeback to catch the Boston Red Sox and beat them in a one-game playoff to reach the postseason.
The Yanks once again beat the Royals in the ALCS and the Dodgers in a 6-game World Series, with Munson catching the final out on a Ron Cey foul pop. In the postseason Munson hit .302 with one homer and 9 RBI. In World Series play from 1976 to 1978, he hit .373 with 12 RBI in 16 games, to go along with a .339 average, 2 homers and 10 RBI in the AL playoffs.
In 1979 Thurman Munson seemed to be on his way to another typical Munson season. He hit .288 with 3 homers and 39 RBI through 97 games. In July, Munson purchased a Cessna Citation private jet. He had only been flying since the spring of 1978. While flying that year, he had two small incidents. In a flight from Seattle, WA to Anaheim, CA, with Reggie Jackson and Graig Nettles, the emergency oxygen masks were activated even though there was no problem with oxygen supply.
Days later, he offered to fly Billy Martin to Kansas City, MO for the All-Star break on his way home to Canton. On that flight, one of the plane's engines seemed to catch fire. It was later discovered that the rotors had been installed wrong and caused the problem. On August 2nd, he was home in Canton on an off day. He went to the airport to run some touch-and-goes, landing and taking off. Two friends happened to run into him at the airport and went up with him.
On one of the landings, the plane was coming in short of the runway. Munson attempted to throttle up but the engines did not respond in time, as jet engines do not respond immediately, and the plane crashed. The two passengers attempted to free Munson from his seat but could not move him and were forced to leave him to save their own lives. Munson suffered spinal damage and a broken neck from the impact. His official cause of death was smoke inhalation; while his place of death is usually said to be Canton, his death certificate lists Green Township, in Summit County, where Akron Canton Regional Airport is officially located.
The day of his death, it was announced that the Yankees would retire his number 15 and his locker. The team would also add a plaque to Monument Park for him.
His funeral was held at the Canton Civic Center on August 6th and attended by the entire Yankee team including Steinbrenner, General Manager Cedric Tallis, broadcasters Phil Rizzuto, Fran Healy and Frank Messer, trainers Gene Monahan and Barry Weinberg, and batting practice pitcher Doug Melvin as well as Commissioner Bowie Kuhn, American League President Lee MacPhail, Cleveland Indians President Al Rosen, Indians General Manager Phil Seghi, Bob Lemon, Herb Score and Al Rosen.
Former teammates and active players at the ceremony included Bobby Bonds, Mickey Rivers, Dick Howser, Jay Johnstone, Dell Alston, Paul Blair, Sparky Lyle, Fritz Peterson, Gene Michael, Mike Heath, Dave Rajsich, Duane Kuiper, Scott McGregor, Rick Dempsey, Cliff Johnson, John Ellis, Toby Harrah, Mike Hargrove, Buddy Bell, Wayne Garland and New York Mets manager Joe Torre.
Thurman Munson was buried at Sunset Hills Burial Park in Jackson Township, OH. Munson left behind his wife Diana, two daughters and a son Michael Munson, who briefly played minor league baseball.
In 1989 the city of Canton named their new minor league ball park after him, calling it Thurman Munson Memorial Stadium. There is also a plaque honoring him behind home plate at the home park of the now Chatham Anglers as well as the Cape Cod League naming their top hitting award the Thurman Munson Batting Award.
During his career, Thurman was a seven-time All-Star, and three time Gold Glove winner. He had a well-publicized rivalry with the Boston Red Sox's catcher, Carlton Fisk, with the two both winning Rookie of the Year Awards and dominating All-Star selections and postseason awards for catchers during the 1970s.
Thurman Munson first became eligible for the Hall of Fame in 1981, under the "Roberto Clemente" rule relative to deceased players, and received 15.5% of the vote, where 75% was needed for election. He spent 15 years on the ballot and never reached that mark again. The consensus opinion was his career was simply too short to give him serious consideration. His case is now in the hands of the Veterans Committee. He was on the ballot for its 2020 election, one of ten candidates from the "Modern Baseball" period (1970-1987).
---
More Cards: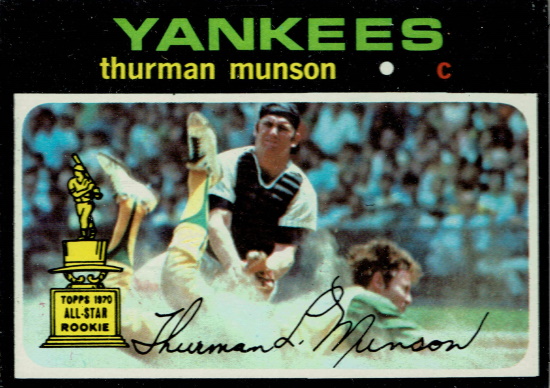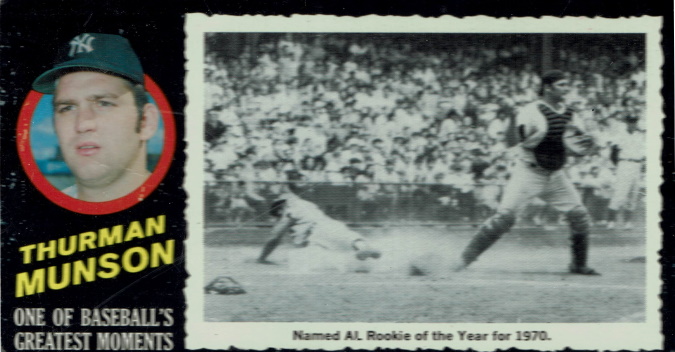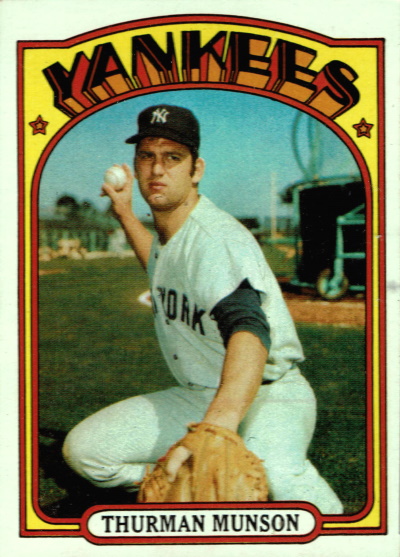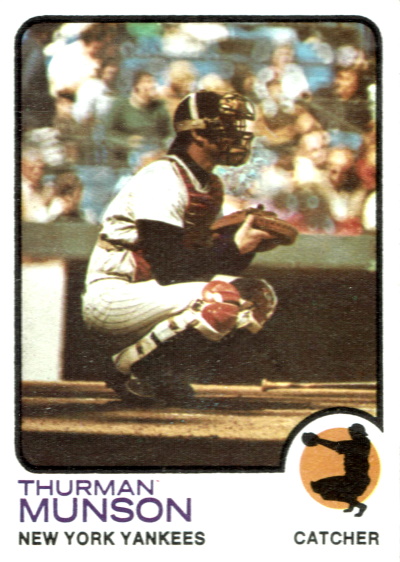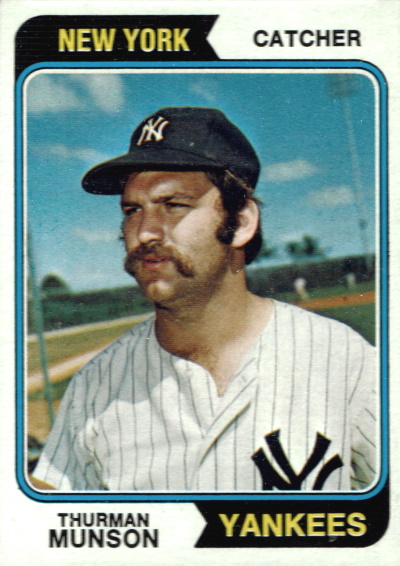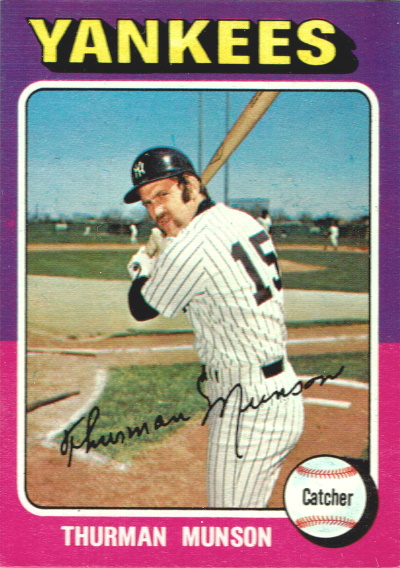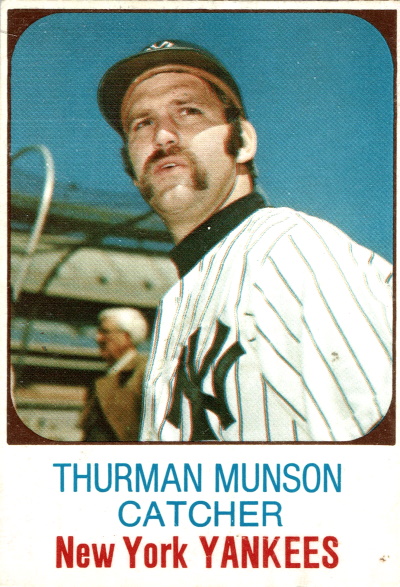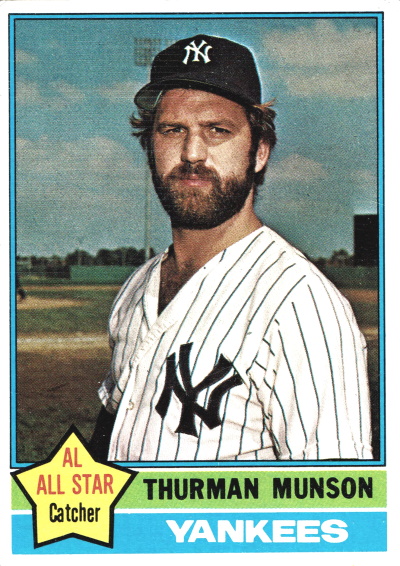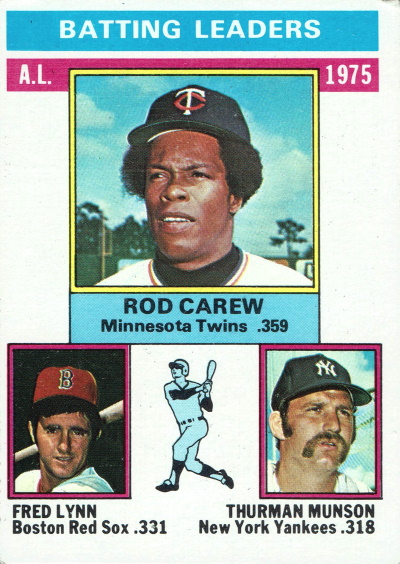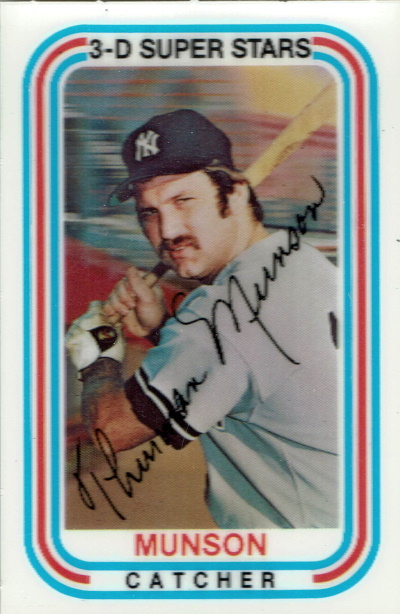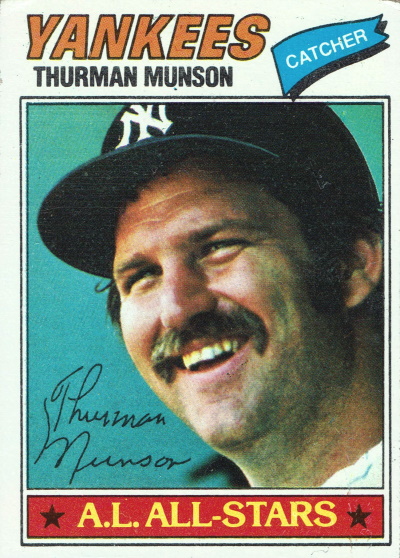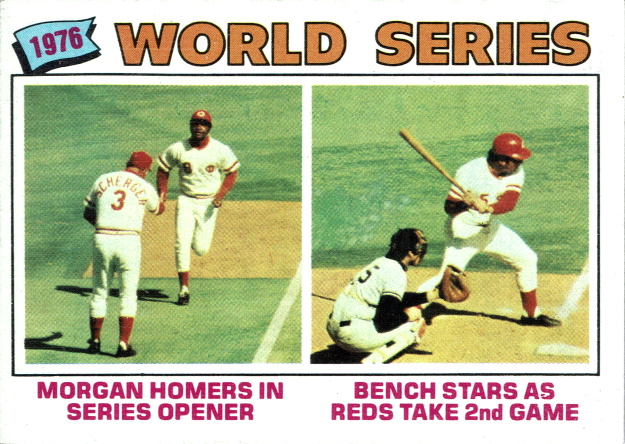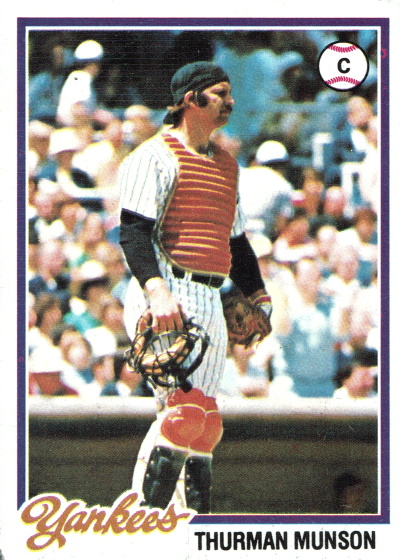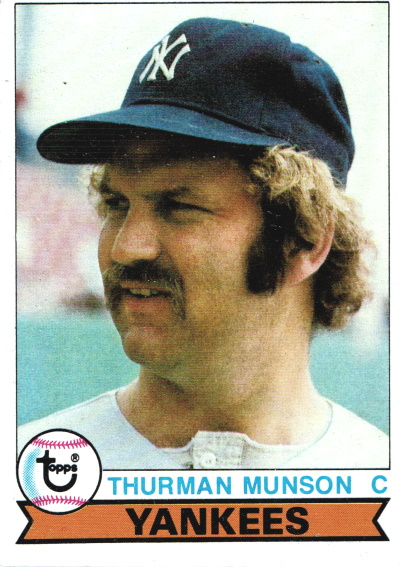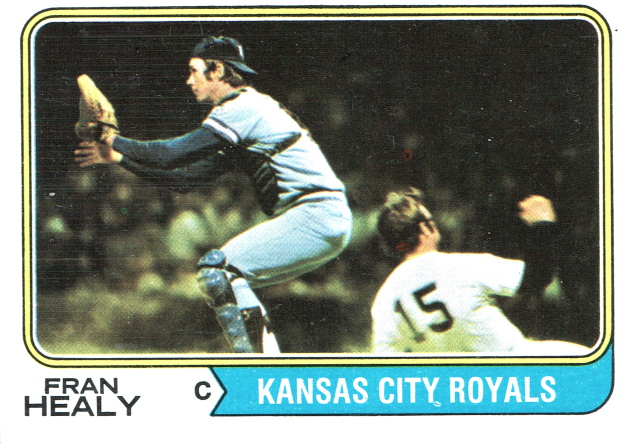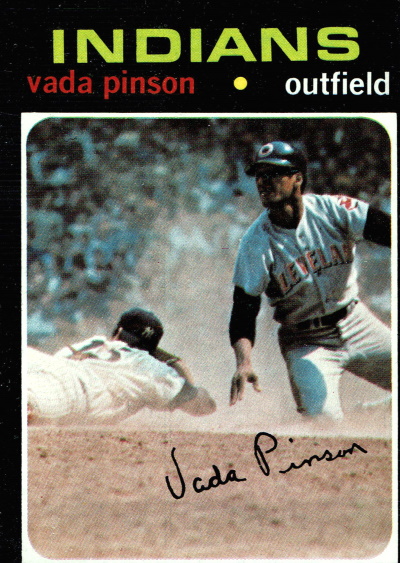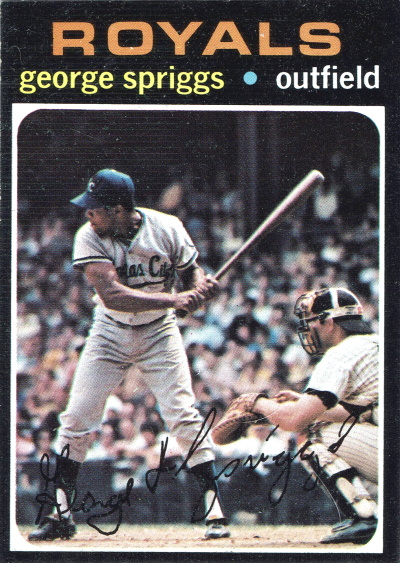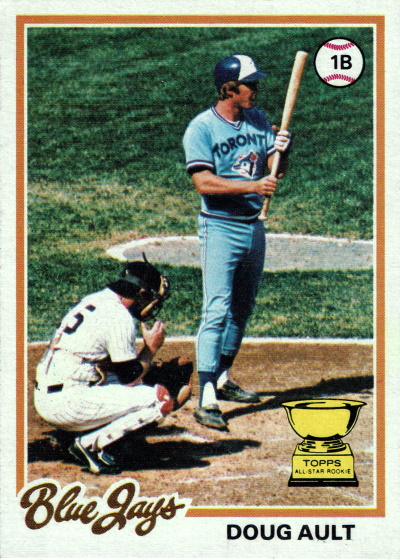 ---
---
---
Baseball Amore Non-Italian Favorites:
Achievements | Story | Baseball Cards | Videos | BBAmore Home