Achievements | Story | Baseball Cards | Videos | BBAmore Home
---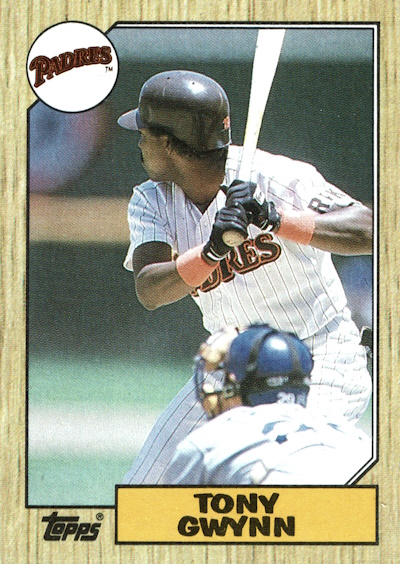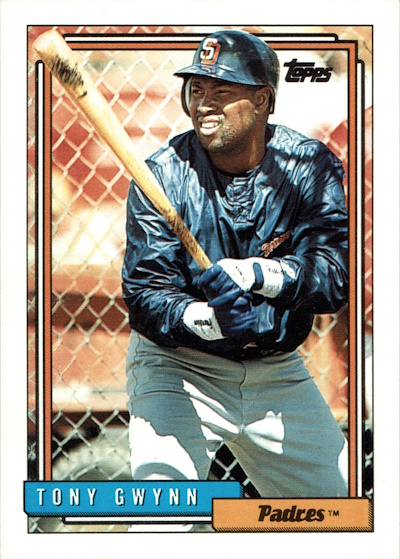 ---
1981 MVP Northwest League, Walla Walla Padres
15-time NL All-Star (1984-1987 & 1989-1999)
5-time NL Gold Glove Winner (1986, 1987 & 1989-1991)
7-time NL Silver Slugger Award Winner (1984, 1986, 1987, 1989, 1994, 1995 & 1997)
8-time NL Batting Average Leader (1984, 1987-1989 & 1994-1997)
NL On-Base Percentage Leader (1994)
NL At Bats Leader (1986)
NL Runs Scored Leader (1986)
7-time NL Hits Leader (1984, 1986, 1987, 1989, 1994, 1995 & 1997)
7-time NL Singles Leader (1984, 1986, 1987, 1989, 1994, 1995 & 1997)
100 RBI Seasons: 1 (1997)
100 Runs Scored Seasons: 2 (1986 & 1987)
200 Hits Seasons: 5 (1984, 1986, 1987, 1989 & 1997)
50 Stolen Bases Seasons: 1 (1987)
3000+ hits
Baseball Hall of Fame: Class of 2007
---
"One of the things I'm proudest about is that I played for one team. My baseball card looks awesome because it has San Diego all the way down. I grew up in an environment where that kind of stuff was important." - Gwynn, Tony. Tony Gwynn heading for the Hall of Fame. Bloom, Barry. MLB Staff Writer. 27 December 2006
"It's rare, and becoming rarer, that one man is so identified with a franchise and a city as Tony [Gwynn] is with San Diego and the Padres." - George F. Will
Anthony Keith Gwynn Sr. (b. May 9, 1960 in Los Angeles, CA – d. June 16, 2014 in Poway, CA), nicknamed "Mr. Padre", was an American professional baseball right fielder, who played 20 seasons (1982–2001) in Major League Baseball (MLB) for the San Diego Padres. The left-handed hitting Gwynn won eight batting titles in his career, tied for the most in National League (NL) history. He is one of the best and most consistent hitters in baseball history. Gwynn had a .338 career batting average, never hitting below .309 in any full season. He was a 15-time All-Star, recognized for his skills both on offense and defense with seven Silver Slugger Awards and five Gold Glove Awards. Gwynn was the rare player in his era that stayed with a single team his entire career, and he played in the only two World Series appearances in San Diego's franchise history. He was inducted into the Baseball Hall of Fame in 2007, his first year of eligibility.
Tony was the son of Charles and Vendella Gwynn; Charles was a warehouse manager and Vendella was a postal worker. Tony was the middle child between older brother Charles and younger brother Chris. The family moved to Long Beach when Tony was nine years old. To avoid breaking windows with baseballs, the brothers would use a fig off one of the trees in their yard or a homemade sockball for the ball. Growing up, the Gwynns were Dodger fans and Tony's favorite player was Willie Davis. But in the back yard, Tony and Chris would pretend to be the Cardinals and Pirates when they played "because they had all the left-handed hitters," Tony said.
Gwynn attended San Diego State University (SDSU), where he played both college baseball and basketball for the Aztecs. He was an all-conference player in both sports in the Western Athletic Conference (WAC) but was honored as an All-American in baseball. Gwynn was selected by the Padres in the third round of the 1981 MLB draft as the 58th overall pick. He made his major-league debut the next year and captured his first batting title in 1984 when San Diego advanced to its first-ever World Series. A poor fielder in college, Gwynn's work on his defense was rewarded in 1986 when he received his first Gold Glove. The following year, he won the first of three consecutive batting titles. Beginning in 1990, Gwynn endured four straight injury-shortened seasons. However, he experienced a resurgence with four consecutive batting titles starting in 1994, when he batted a career-high .394 in a strike-shortened season. Gwynn played in his second World Series in 1998 before reaching the 3,000-hit milestone the following year. He played two more seasons, hampered by injuries in both, and retired after the 2001 season with 3,141 career hits.
A contact hitter, Gwynn excelled at hitting the ball to the opposite field. After meeting Hall of Famer Ted Williams in 1992, Gwynn became more adept at pulling the ball and using the entire field, as well as hitting for more power. In his early career years, he was also a threat to steal bases. Widely considered the greatest player in Padres history, Gwynn regularly accepted less money to remain with the small-market team. After he retired from playing, the Padres retired his No. 19 in 2004. Gwynn became the head baseball coach at his alma mater and also spent time as a baseball analyst. He died of salivary gland cancer in 2014 at the age of 54.
(excerpted from Baseball Almanac, BR Bullpen, SABR & Wikipedia)
---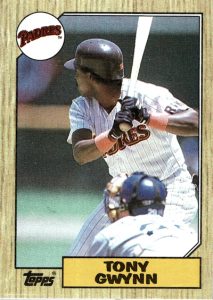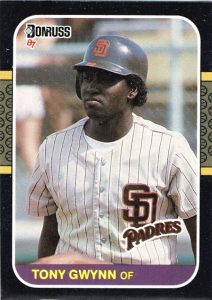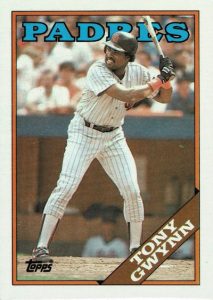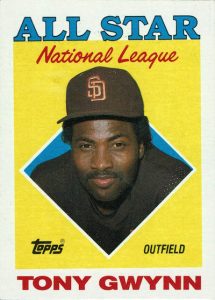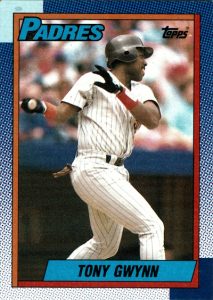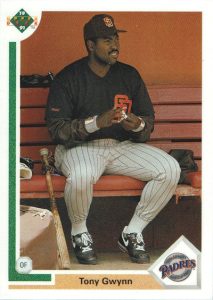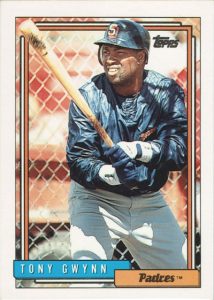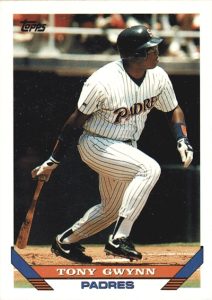 ---
There will never be another Tony Gwynn:
Tony Gwynn Career Highlights:
Tony hits a double in his final MLB at-bat:
---
Other Baseball Amore Non-Italian Favorites:
Achievements | Story | Baseball Cards | Videos | BBAmore Home