Jump to: player bio | view more cards | tour stops | view random player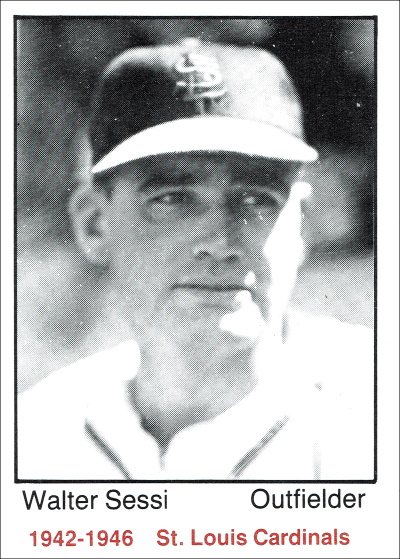 Player:Click Player's Name to Visit their Baseball Reference Page Sessi, Walter
Card: 1983 TCMA #38
Position: OF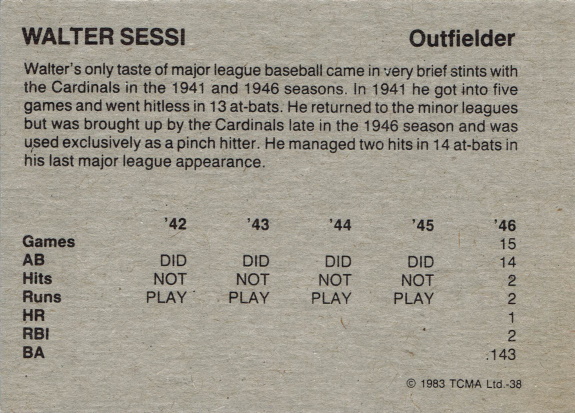 playerbio
Walter Anthony Sessi (b. July 23, 1918 in Finleyville, PA – d. April 18, 1998 in Mobile, AL), nicknamed "Watsie", was an American Major League Baseball outfielder. He served in the US Army during World War II from 1942 to 1945. He was stationed at Fort Eustis, Virginia, and then served in the European Theater.
The powerful but slow-footed outfielder played before and after World War II for the St. Louis Cardinals, in 1941 and 1946. In 1947, he played for the Montreal Royals. Although he got only two hits in the majors, both were impactful during the Cardinals' pennant race with the Brooklyn Dodgers.
In 1946, as one reporter described, Sessi was "too slow to play outfield and too clumsy to play first base," but to be sent to the minors, he would have to pass through waivers, and another team was sure to claim him. So, Sessi stayed with the big club and was exclusively utilized as a pinch-hitter. His at-bats were infrequent; through the first 77 games of the season, he was 0-for-7 with a walk.
After starting his career 0-for-20, Sessi's first big-league hit finally came on July 13, 1946. The Cardinals hosted the New York Giants at Sportsman's Park and trailed 6-3 in the sixth inning. Sessi was called on to pinch-hit for reliever Red Barrett and singled to right field off Giants' reliever Ken Trinkle. Sessi came around to score later in the inning on an RBI hit by Musial.
The other hit was a key game-winning home run on August 28, 1946. Entering action that day, the Cardinals and Dodgers were dead even, each with a 75-47 record. That day, the Cards hosted the Giants for a double-header. After St. Louis won the opener 13-8, the second game was a pitcher's duel between the Giants' Bill Voiselle and the Cardinals' Ken Burkhart. The Giants broke a 1-1 tie in the top of the ninth inning to take the lead.
In the bottom of the ninth, Voiselle retired the first two batters before Marty Marion kept the Cards' hopes alive with a single. With relief pitcher Al Brazle due up, St. Louis manager Eddie Dyer called on Sessi to pinch-hit. As the hefty southpaw swung two bats to warm up, many of the 8,523 fans in attendance began to head for the exits. Those that stayed booed and derided Dyer's choice. "Back to Houston, ya bum," yelled one fan from the box seats. One attendee recalled that some fans littered the field with seat cushions and bottles, and the game was halted to clear the debris.
Sessi swung and missed badly on a first-pitch fastball and then watched strike two. Voiselle threw a fastball outside, but Sessi wouldn't bite, and the count was 1-2. The next pitch was fastball down and in, and as St. Louis Star and Times reporter V. Vernon Tietjen described, "Sessi unleashed his whole massive into one gigantic swing, and there was a crack like a shot from a .45."
The ball sailed on a line over the right-center field wall and, after striking an iron beam of a light standard nearly 400-feet from home plate, bounced back on to the field. A confused Sessi stopped at second base until umpires gave the home run signal. He was mobbed at home plate by his teammates. Teammate Terry Moore declared it the hardest hit ball he had ever seen. The 1941 St. Louis Cardinals won 97 games, and the 1946 team won 98 games, going on to win the 1946 World Series, though Walter did not appear in the Series.
In 1952, he caught on with the Brownsville (Texas) Charros, an independent club in the Class B Gulf Coast League. Walter turned 33 years old during the season but played as if he found the fountain of youth. His statistics were eye-popping. In 552 at-bats, he accumulated 207 hits for a .375 average, blasted 45 home runs, and drove in 179 runs. He led his league in home runs, RBIs, and runs scored. He reached base in half of his plate appearances and had an OPS of 1.188.
Feeling well physically and playing at a slimmer 220 pounds, he attributed some of his struggles earlier in his career to appendicitis, which was treated surgically in 1950. "I never worry about how I'm hitting anymore," he said during the standout season. "I just try to hit the way the wind's blowing and take what comes." The league's official scorers voted him to the All-Star team, and he was selected as the circuit's Most Valuable Player. He was never able to replicate that success, however.
Following his baseball career, Walter lived in Mobile and owned a floor-finishing business.
(excerpted from SABR, Baseball Almanac, BR Bullpen & Wikipedia)
morecards
tourstops
---

Walter is part of the Military Service during Wartime Tour – go to the Next Stop
---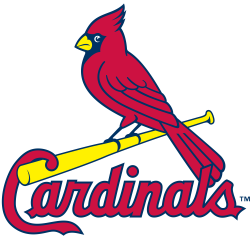 Walter is also part of the St. Louis Cardinals Players Tour – Go to the Next Stop
---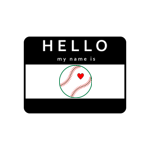 "Watsie" is part of the Great Italian American Player Nicknames Tour – Go to the Next Stop
---
All Walter's baseball cards can be seen at TCDB
---
---
randomplayer
Visit a random Italian American MLB player: