Jump to: player bio | view more cards | tour stops | view random player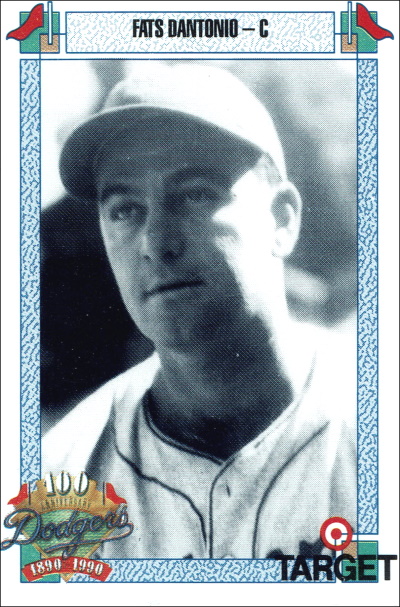 Player:Click Player's Name to Visit their Baseball Reference Page Dantonio, Fats
Card: 1990 Target Dodgers 100 yr #921
Position: C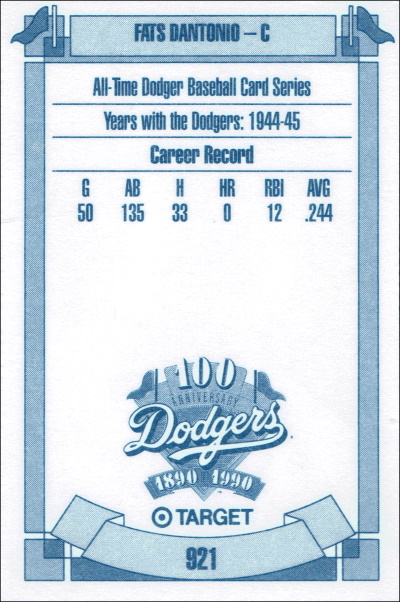 playerbio
John James "Fats" Dantonio (b. December 31, 1918 in New Orleans, LA – d. May 28, 1993 New Orleans, LA) was a Major League Baseball catcher for the Brooklyn Dodgers in 1944 and 1945. Fats also played four years for the New Orleans Pelicans as part of an eleven-year professional career. His parents, John James D'Antonio and Louise Bourda D'Antonio, were of Italian descent. Dantonio later altered the spelling of his last name, removing the apostrophe.
John got his nickname as a boy. A childhood friend, Russell Gildig, had a wiry, thin frame, so to contrast him with Gildig, Dantonio's other friends started referring to him as "Fats," even though he was not, by any reckoning, fat. Later, as a player, Dantonio was listed as 5-feet-8 and 165 pounds, not at all overweight. However, the nickname stuck with him for the rest of his life.
Dantonio attended Jesuit High School in New Orleans, where he was a member of the 1936 Louisiana state championship team. As a junior, Dantonio hit for a .444 average. The team finished 11-0 and defeated Ouachita for the title, the fifth of Jesuit's seven consecutive state championships.3 His teammates included future major leaguers Connie Ryan and Charlie Gilbert, as well as Jesse Danna, who played in the minor leagues. This Jesuit squad was later rated the best high-school team of all time in New Orleans.
His professional career started when he signed as a 19-year-old amateur free agent with the St. Louis Cardinals in 1938. The young catcher hit .324 in 349 at-bats in 1938 with the Taft Cardinals of the class D Texas Valley League and came right back in 1939, hitting .355 in a split season affair between the Caruthersville Pilots and New Iberia Cardinals in 111 games.
While playing for Springfield in 1939, Fats met Stan Musial, with whom he maintained a personal relationship after his playing days. Musial, who was 20 years old at the time, was Dantonio's best friend on the team. They both brought their families to Springfield, where they shared an apartment to limit their living expenses. Musial and Dantonio went fishing together in the nearby White River on off days.
The Cardinals sent Fats to the Brooklyn Dodgers organization in 1943 and he appeared in 107 games for his home-town New Orleans Pelicans of the Southern Association, hitting .299 along the way. Dantonio made a good showing for his Pelicans fans in 1944, hitting .327 in 110 games.
He made his debut with the Dodgers on September 18th, 1944, appearing in three contests and picking up one base hit in seven at-bats. Fats was back with the Dodgers in 1945, appearing in 47 games and managing 33 base-hits in 135 at-bats for a .244 average. This finalized his big league career and he rounded out the season in 9 games with the St. Paul Saints of the American Association. Another native New Orleanian, Putsy Caballero, also made his MLB debut with the Phillies in 1944 as Wartime players.
Fats spent the next two seasons, 1946 and 1947 with the St. Paul club, hitting .306 the first year and .270 in the second. 1948 was his last season in professional baseball and he finished out his eleven-year minor league career in front of his home-town friends. He wound up appearing in 855 games with 2,962 at-bats and 889 base-hits for an even .300 minor league career average.
After his baseball career, Dantonio became a local celebrity in New Orleans, operating two New Orleans neighborhood restaurants and bars for more than 44 years. He remained a popular baseball figure in the Crescent City, where he stayed active in local baseball circles by playing in charity games for more than 20 years. He assisted in running NORD baseball leagues and coaching numerous youth teams. He started the Babe Ruth League in New Orleans for 13-15-year-olds.
He died from congestive heart failure on May 19, 1993 in New Orleans. Fats was recognized with local athletic honors. He was inducted into the Jesuit High School Hall of Fame and the Diamond Club of New Orleans, as well as the Louisiana American Italian Sports Hall of Fame.
(excerpted from SABR, Baseball Almanac, BR Bullpen & Wikipedia)
morecards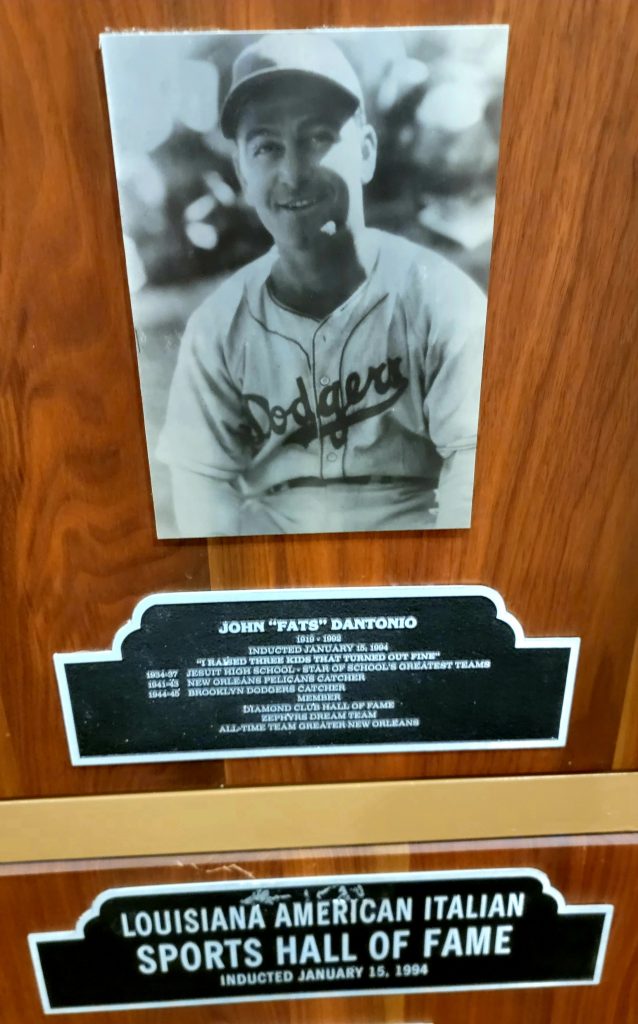 tourstops
---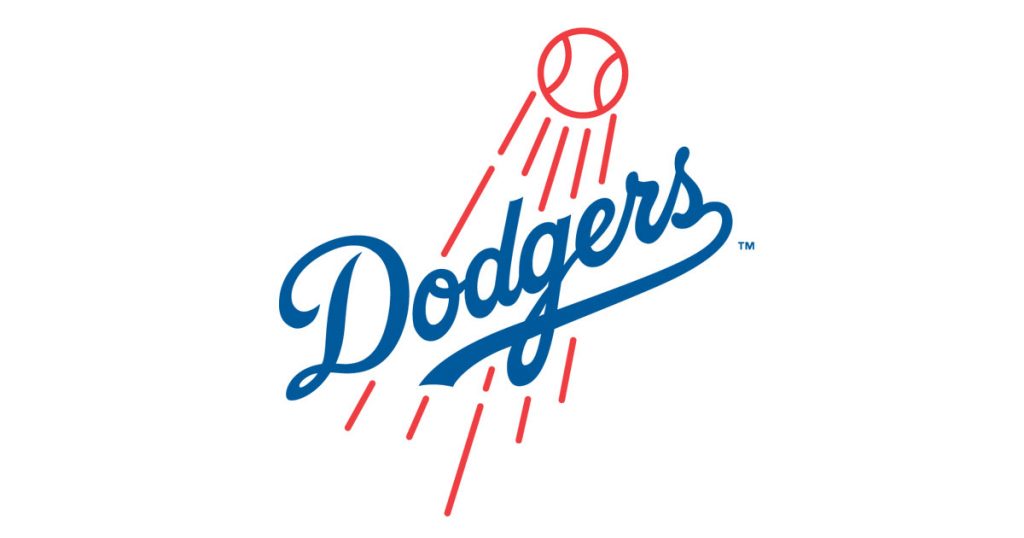 John DAntonio is also part of the LA/Brooklyn Dodgers Player Tour – Go to the Next Stop
---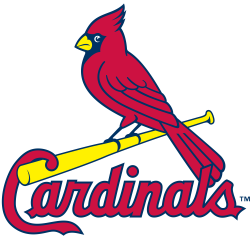 John is also part of the St. Louis Cardinals Players Tour – Go to the Next Stop
---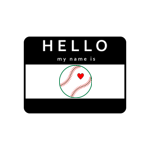 "Fats" is part of the Great Italian American Player Nicknames Tour – Go to the Next Stop
---
See all of John's baseball cards at TCDB
---
---
randomplayer
Visit a random Italian American MLB player: