Jump to: player bio | view more cards | tour stops | view random player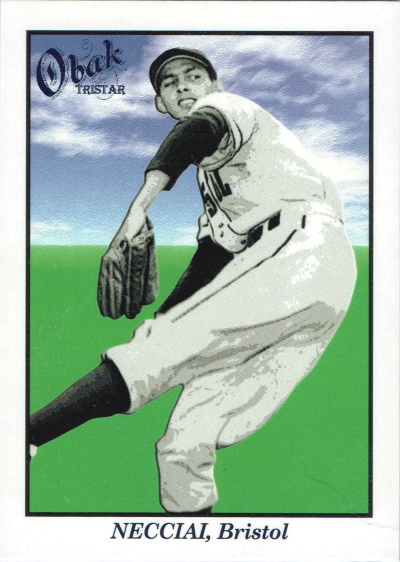 Player:Click Player's Name to Visit their Baseball Reference Page Necciai, Ron
Card: 2009 Tristar Obak #58
Position: RHP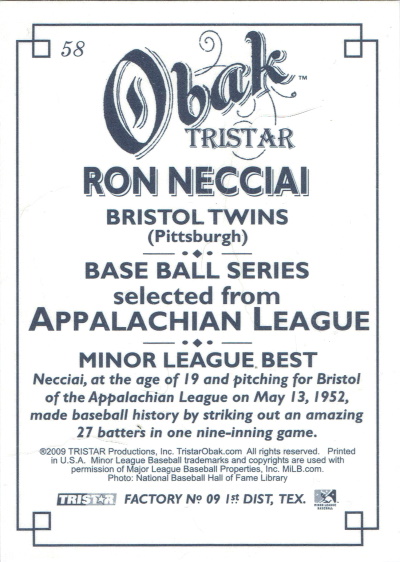 playerbio
Pirates GM Branch Rickey said: "There have only been two young pitchers I was certain were destined for greatness, simply because they had the meanest fastball a batter can face. One of those boys was Dizzy Dean. The other is Necciai. And Necciai is harder to hit."
Ronald Andrew Necciai (born June 18, 1932 in Gallatin, Pennsylvania), is a former Major League Baseball starting pitcher who played with the Pittsburgh Pirates in the 1952 season. He was the third of four children of the former Anna Gondoly and Attilio Necciai (pronounced NETCH-eye), both first-generation Americans from Italy. After Attilio, a steel mill worker, died of pneumonia at 31, Anna struggled to provide for her family. She worked in a mill and cleaned houses, and the children got after-school jobs. Ron caddied at a country club and swept up in local stores. "My mother, she was my hero," he said.
Ron earned his brief major league appearance after completing one of the most improbable pitching feats in the history of professional baseball. On May 13, 1952, while pitching for the Bristol Twins in the Appalachian League, he threw a complete game no-hitter that featured 27 strikeouts (he had previously had games where he struck out 20 and 19 in back-to-back appearances).
Through 8 2/3 innings, Necciai had "only" 25 strikeouts, but his catcher dropped strike three for what would have been the last out of the game, giving him an opportunity to face one more batter, who he struck out for number 27. For the game, only two batters put the ball in play. Bob Ganung grounded out to first base in the 2nd inning and Whitehead reached on an error in the 9th.
The National Association of Professional Baseball Leagues, the governing body of the minors, called it "the greatest individual performance in the history of baseball. Reporters from all over the country called, clamoring to interview the new strikeout king. The Ed Sullivan Show, CBS-TV's Sunday night variety extravaganza, invited him to appear, but the Pirates said no. Necciai didn't want to go, anyway. People who met him in Bristol remembered him as a polite boy who handled the sudden onslaught of fame with grace.
Necciai followed up this performance with a 24-strikeout day on May 21st before being promoted, giving him final career numbers in Bristol of 4-0 with 109 Ks in 43 innings. His ERA for Bristol was 0.42.
After dominating the Appalachian League, Necciai was promoted to the Burlington-Graham Pirates of the class B Carolina League. He dominated there as well, posting an ERA of 1.57 and striking out 172 in 136 innings, allowing only 73 hits. Burlington was the worst team in the league and had the least productive offense, so Necciai only went 7-9 for the team.
The great work in the minors earned him a call-up to the Pittsburgh Pirates, in the midst of their worst season of the 20th century. He went 1-6 with an ERA of 7.08 for the Pirates. In 54 2/3 innings, he had 32 strikeouts and gave up 33 walks. The next season he suffered an arm injury, causing him to retire one year after his record performance.
He was in the Army in 1953, spending much time in the hospital due to his bleeding ulcers. His sore arm, perhaps caused by trying to get into form too quickly after being in the Army, cost him his job with the Pirates in the spring of 1953, and while he tried comebacks in the minors in 1953 and 1955, that was it. After baseball, he became a partner in Hays, Necciai & Associates, a hunting and fishing equipment supplier, for many years.
"I was 23 years old, and it was over." said Necciai, talking about his rotator cuff injury.
(excerpted from SABR, Baseball Almanac, BR Bullpen, and Wikipedia)
morecards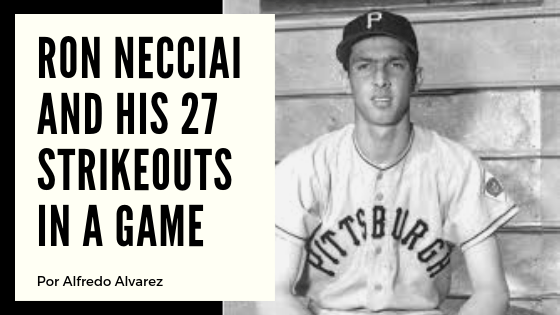 tourstops
---

Ron is part of the Pittsburgh Pirates Players Tour – Go To the Next Stop
---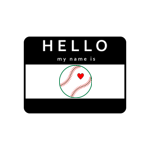 "Rocket Ron" is part of the Great Italian American Player Nicknames Tour – Go to the Next Stop
---
See Ron's baseball cards at TCDB
---
---
randomplayer
Visit a random Italian American MLB player: