Jump to: player bio | view more cards | tour stops | view random player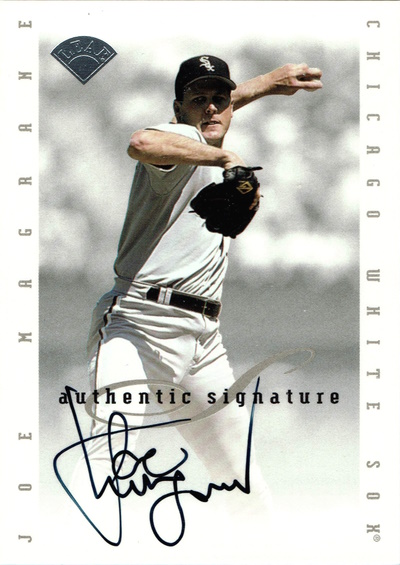 Player:Click Player's Name to Visit their Baseball Reference Page Magrane, Joe
Card: 1996 Leaf Signature Extended #NA (autographed)
Position: LHP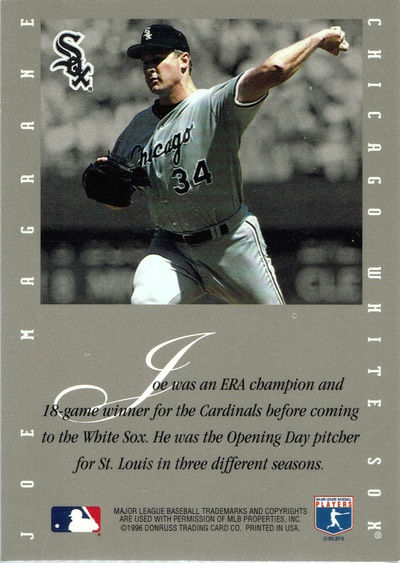 playerbio
"I know I was in trouble when they started clocking my fastball with a sun dial." - Joe Magrane from Here Are Some New Names for Humor Hall of Fame (Glenn Liebman, Baseball Digest, March 1992)
Joseph David Magrane (born July 2, 1964 in Des Moines, IA) is an American former Major League Baseball (MLB) pitcher who played for the St. Louis Cardinals, California Angels, and Chicago White Sox between 1987 and 1996, and and as a color commentary broadcaster for the MLB Network.
'Quotable Joe' grew up as a Phillie's fan, idolizing Steve Carlton. He was signed as a 1st round pick in the 1985 amateur draft by the St. Louis Cardinals, scouting supervisor Marty Keough, and scout Thornton Lee.
During his rookie season he helped the Cardinals win the 1987 National League pennant, starting Game 1 and Game 7 (the first pitcher to do so with no starts between those two games), taking the loss in Game 1. He also led the National League in fewest HR per 9 innings pitched ratio, and also in hit batsmen, with 10.
He led the National League in ERA (2.18) and ERA+ in 1988, despite winning only five games (losing nine). He holds the distinction of the fewest wins by an ERA leader, excluding strike seasons. In 1989, Joe finished 4th in voting for the 1989 NL Cy Young with an 18-9 win–loss record, a 2.91 ERA and surrendered only 5 home runs in 2342⁄3 innings, leading the league in HR/9.
An injured elbow in 1990 cost him almost all of the next two seasons and most of his effectiveness, and he never regained his early form. He won 11 games between the St. Louis and California ball clubs in 1993, but could not muster more than 2 wins or 74 innings pitched in any other season until his retirement in 1996 at the relatively early age of 32.
In August 1987, Joe stole home against the LA Dodgers, as other runners tried to advance, freezing Steve Sax - a feat for a pitcher that had never been done before. Technically Joe didn't get credit, as the game was subsequently rained out.
Prior to joining the MLB Network, Magrane was teamed with play-by-play announcer Dewayne Staats from 1998 to 2008 as part of the Tampa Bay Rays television team and also served as an analyst for NBC Sports' coverage of baseball at the 2008 Summer Olympics.
In 2009, Joe was elected to the Cape Cod Baseball League Hall of Fame, with the following write-up: "This left-handed pitcher out of the University of Arizona led Harwich to a league-best 27-15 record in 1984 as he tied for the CCBL lead in wins (6), complete games (6) and shutouts (2), while finishing third in innings pitched (80.1) and strikeouts (77) and fourth in ERA (2.46). Magrane was the starting pitcher in the All-Star Game vs. the Atlantic Collegiate Baseball League played at Philadelphia's Veterans Stadium and was credited with the win for pitching two shutout innings while giving up a hit and one walk and striking out one in the CCBL's 7-3 victory. "
Interestingly, Joe was introduced as a pitcher who had appeared in the World Series when his 15 year old daughter Shannon appeared on American Idol in 2012. During the banter, Joe asked Steven Tyler. 'How are things….?', to which Tyler replied: 'Hot, humid and happenin', just like your daughter'
The world seemingly came to a stop as Joe gave Tyler a look that would have killed any non-rock star. You can actually see the wheels spinning in Magrane's head as he debates whether he should end his daughter's chance of making the show and just deck Tyler right away. He didn't.
(excerpted from Wikipedia, Baseball Almanac, and BR Bullpen)
morecards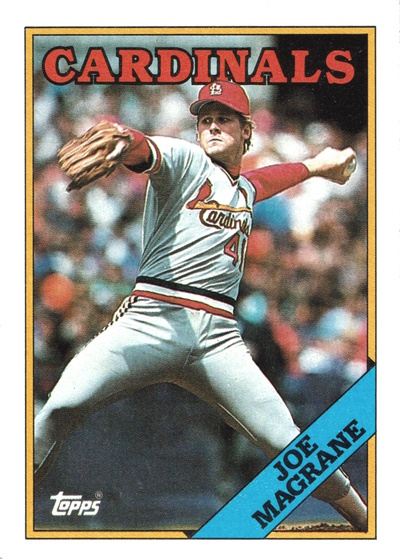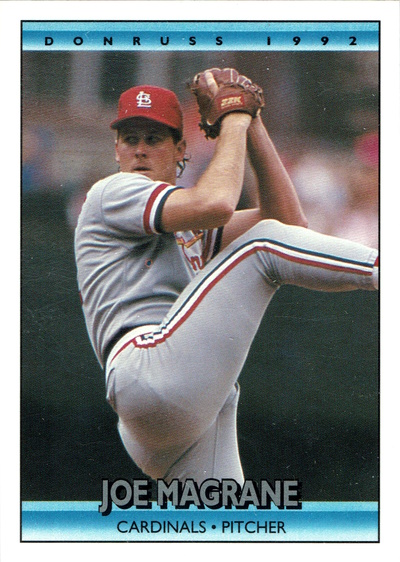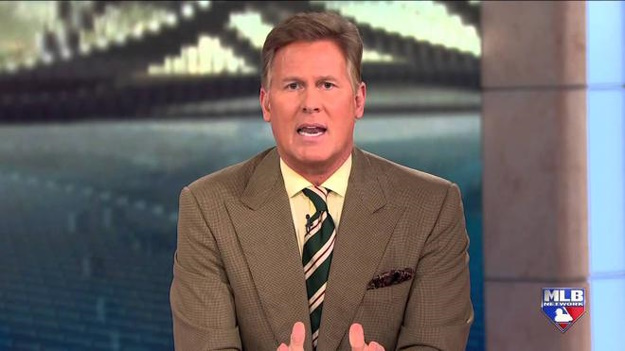 tourstops
---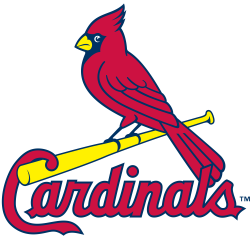 Joe Magrane is part of the St. Louis Cardinals Players Tour – Go to the Next Stop
---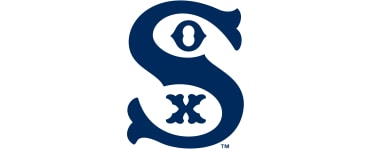 Joe is part of the Chicago White Sox Players Tour – Go To the Next Stop
---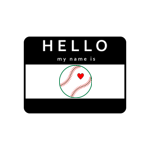 "Quotable Joe" is the last stop on the Great Italian American Player Nicknames Tour – Go Home
---
See all Joe's baseball cards at TCDB
---
---
randomplayer
Visit a random Italian American MLB player: