Jump to: player bio | view more cards | tour stops | view random player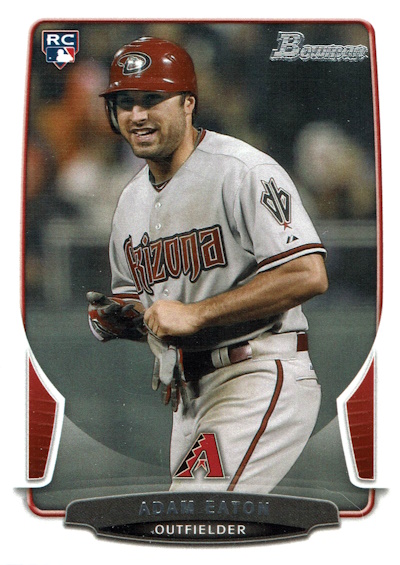 Player:Click Player's Name to Visit their Baseball Reference Page Eaton, Adam
Card: 2013 Bowman #40
Position: OF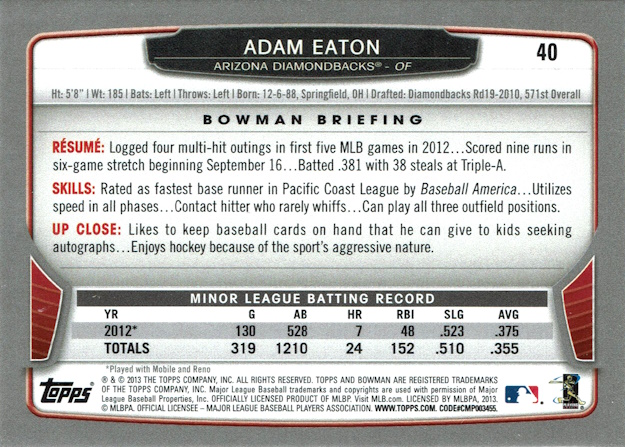 playerbio
Adam Cory Eaton (born December 6, 1988 in Springfield, Ohio) is an American former professional baseball outfielder. He previously played in Major League Baseball (MLB) for the Arizona Diamondbacks, Chicago White Sox, Washington Nationals, and Los Angeles Angels.
From Ethnicelebs.com, Adam's likely paternal grandmother was Italian: Pasqualine M. Travaglia (the daughter of Michael Travaglia).
Eaton played college baseball for Miami University before the Diamondbacks selected him in the 19th round of the 2010 MLB draft. He made his MLB debut in 2012 with the Diamondbacks, and played with them through the 2013 season, when they traded him to the White Sox. He played for the White Sox from 2014 to 2016 and the Nationals from 2017 to 2020. He was also a member of the Nationals' 2019 World Series champion team. Adam was the 2012 MVP Pacific Coast League Reno Aces.
Coming up through the minor leagues, Eaton had gained a reputation for annoying opposing teams (and here) . During a game in Reno in 2012, he bunted to the right side of the infield three consecutive times. In Eaton's next at-bat, the opposing pitcher threw one to the backstop. In spring training of 2013, he collided with Kansas City Royals third baseman Mike Moustakas on an attempt to steal third, starting a dust-up and causing Moustakas to comment after the game that Eaton was "just a guy not knowing the game, that's all it is." For his part, Manager Kirk Gibson defended his player, saying that he appreciated the fact that he plays hard.
In May of 2019, he was involved in a very public feud with 3B Todd Frazier of the New York Mets. With both teams playing well below expectations, the two exchanged barbs over a couple of days. Apparently, there was bad blood between them from the time they had been teammates with the White Sox a few years earlier. He went on to have his best season in years, playing 151 games and batting .279 with 15 homers and 49 RBIs. Most impressive was his career-high 103 runs scored and he contributed to the Nationals' remarkable turnaround, as they made it to the postseason in spite of their awful start. It was his first postseason action, and after being blanked in the Wild Card Game, his batting average improved in every round to reach .320 by the time the Nats were facing the Houston Astros in the World Series. He contributed 8 hits, 5 runs and 6 RBIs to Washington's win in 7 games.
Adam has been confused with former Major League Baseball (MLB) pitcher Adam Eaton (no Italian ancestry). In one instance, he received six licensing checks from MLB worth $20,000 each, and has received fan mail meant for the other MLB veteran.  Eaton is married to former Miami RedHawks softball player Katie Osburn Eaton. He joined Michigan State University as Director of Player Development in 2023.
(excerpted from Wikipedia, BR Bullpen, and Baseball Almanac)
morecards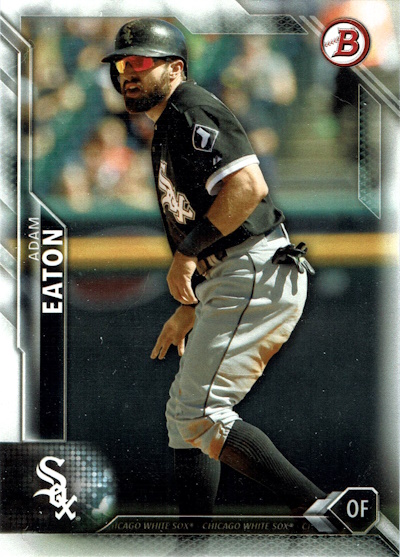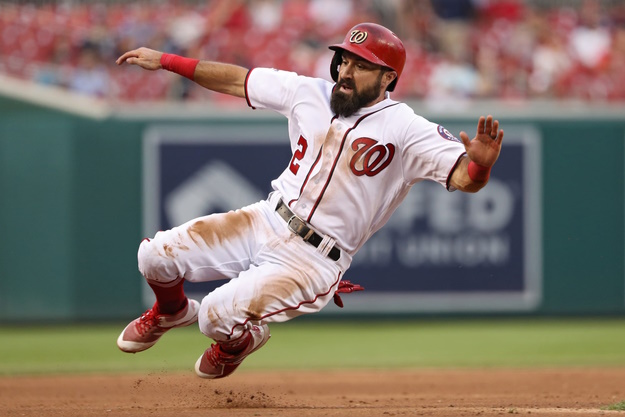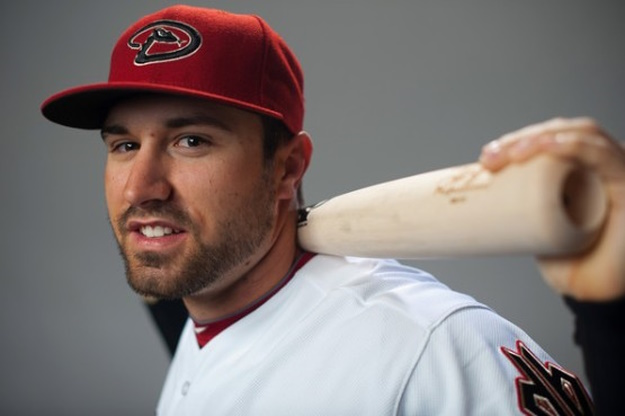 tourstops
---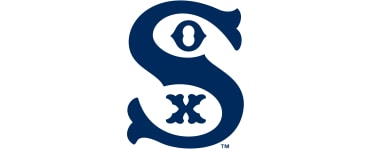 Adam is part of the Chicago White Sox Players Tour – Go To the Next Stop
---
See all Adam's baseball cards at TCDB
---
---
randomplayer
Visit a random Italian American MLB player: