Jump to: player bio | view more cards | tour stops | view random player
Player:Click Player's Name to Visit their Baseball Reference Page Salerno, Al
Card: NO CARD AVAILABLE
Position: Umpire
playerbio
Alexander Joseph Salerno (b. March 19, 1931 in Utica, NY – d. August 5, 2007 in Utica, NY) was a professional baseball umpire who worked in the American League from 1961 to 1968. Salerno worked as the right field umpire in the 1964 Major League Baseball All-Star Game. In his career, he umpired 1,110 Major League games.
Although known as Al during his professional umpiring career, in his lifelong home of Utica, he would always be "Bobey." Before his umpiring career, he was a pitcher in the Boston Red Sox organization. He was drafted out of high school, being able to throw a 95 mph fastball. He only had one loss in his high school career, which resulted when he threw a no-hitter. He played for the Marion Red Sox of the Ohio–Indiana League in 1950. He was drafted into the army and by the Boston Red Sox a couple of days apart.
Unfortunately, he broke both his arms after falling out of a jeep during military service and was unable to pitch again. After his relatively short-lived playing career, he spent time as both a New York State Trooper and a motor vehicle licensing examiner based out of Troy. In the meantime he began umpiring local softball and baseball games. His interest kindled, in the winter of 1957 he enrolled in Al Somers Umpire School in Daytona Beach. "It started out to be more of a vacation trip," Salerno recalled. Instead, Al graduated at the top of his class, and decided to become a professional umpire.
Interestingly, future MLB umpire John Kibler entered the profession" in a similar way as Al. John was 27 years old and also a state trooper in New York when he walked into Al Salerno's room and noticed a brochure on the table for Al Somers's umpiring school in Daytona Beach, Fla. "Where did you get that?" he asked Salerno. Within two years both men had quit their jobs with the state police and enrolled in Somers's school.
After spending time in various levels of the minor leagues, Salerno joined the American League staff in September 1961 at the age of 30. Salerno was the third base umpire when Roger Maris hit his record-breaking 61st home run in Yankee Stadium.
Salerno's life changed on the morning of September 16, 1968. He was lying awake in a hotel room in Cleveland, having umpired the Indians game the day before. He received a call from American League president Joe Cronin, the boss of the umpiring staff. Cronin told Salerno that he, along with crewmate Bill Valentine were fired effective immediately. They were bad umpires, Cronin told them, and he soon told the press the same thing.
Another story soon emerged. It turned out that Salerno and Valentine had been working behind the scenes to organize the AL umpires. The NL staff had formed a union a few years earlier, and the two arbiters were trying to get their colleagues to join up to form a single union of major league umpires. The NL officials made considerably more money and received greater benefits than their AL counterparts, a case Salerno and Valentine were slowly making with their cohorts. Salerno had attended a meeting just three days earlier in Chicago and had sent notes to his fellow umpires reporting what he had heard.
Most of the press rallied to the umpires' cause, as no one really believed Cronin's explanation for the dismissals. Both umpires had received regular raises and good performance reviews. Salerno had received an unscheduled bonus just one year earlier. The two were assigned to same crew, an unlikely pairing if they were truly incompetent umpires. Many AL managers, some of whom had had on-field squabbles with the umpires, came to their defense.
Bill Kunkel, a former Major League pitcher, and Jake O'Donnell, who was already a referee in the NBA, were called up to replace Salerno and Valentine.
After the season, the remaining AL umpires joined up with their NL counterparts to form the Major League Umpires Association, just as Salerno had wanted. In January 1969 the union filed an unfair-labor-practice claim with the National Labor Relations Board (NLRB), and later that year the Salerno and Valentine filed a $4 million lawsuit in federal court against Major League Baseball and the American League, alleging defamation of character and federal antitrust violations.
Before the NRLB hearing in June 1970, the American League tried to reach a settlement with the two umpires. Valentine wanted to settle, but Salerno's lawyer convinced him that he could win a big settlement. At one point the AL offered them full reinstatement, back pay, and $20,000 in salary (thanks to the union, the new going rate for their service level). In what was seen as a face saving gesture by Cronin, the umps would have to spend time in the minors in order to "improve" their skills.
Valentine got in his car and drove from Little Rock to Utica to try to convince Salerno to take the deal. Salerno wouldn't budge, and the league wouldn't settle without both umpires agreeing. The umpires ultimately lost both cases, mainly because they were unable to prove that Cronin knew that they were organizing. Neither man ever umpired again.
Valentine managed to find work again in baseball, becoming a highly-respected minor league executive, but things did not go as well for Salerno. He suffered a heart attack at age 48, then underwent six follow-up operations over the years. He was employed only sporadically, and his marriage fell apart in the 1980s.
He remained convinced that he had done the right thing in turning down the settlement offer, because he considered that Cronin would have made sure the two reinstated umpires never made it back to the major leagues. A bitter and defeated man, he considered that the legal system had wronged him and was still hoping from some sort of relief at the time of his death in 2007. He died in Utica on August 5, 2007.
Al was inducted into the Greater Utica Sports Hall of Fame in 2008.
(excerpted from SABR, Baseball Almanac, BR Bullpen & Wikipedia)
morecards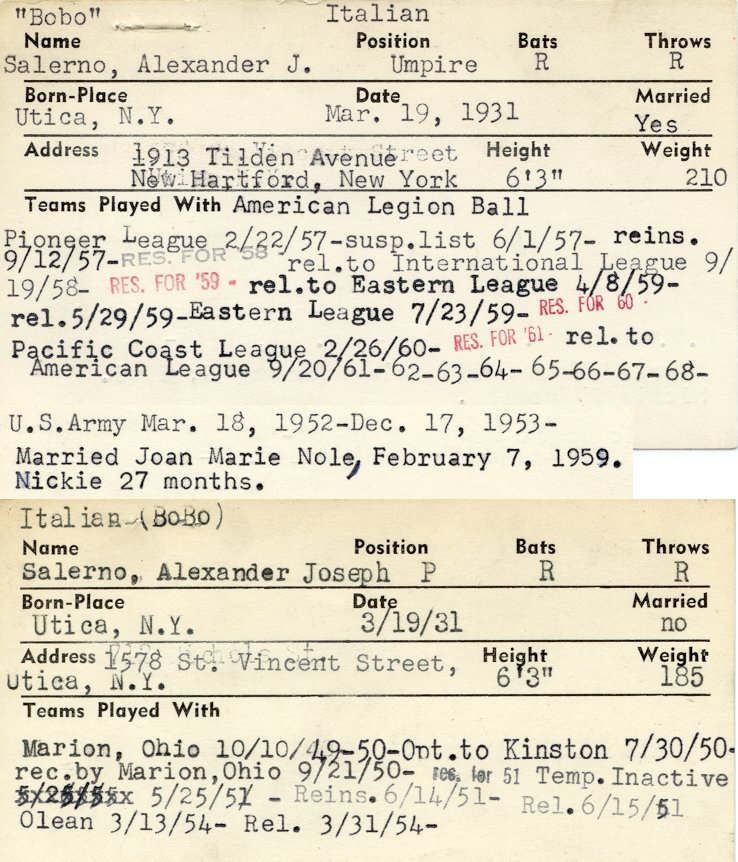 tourstops
---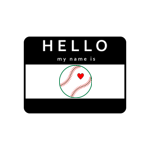 "Bobey" is part of the Great Italian American Player Nicknames Tour – Go to the Next Stop
---
Al has NO baseball cards at TCDB
---
---
randomplayer
Visit a random Italian American MLB player: