Jump to: player bio | view more cards | tour stops | view random player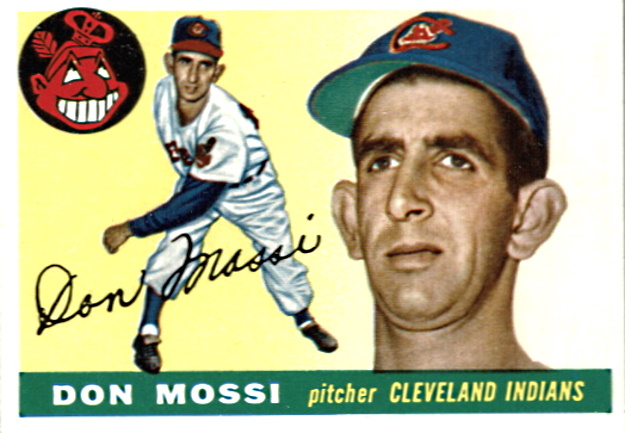 Player:Click Player's Name to Visit their Baseball Reference Page Mossi, Don
Card: 1955 Topps #85
Position: LHP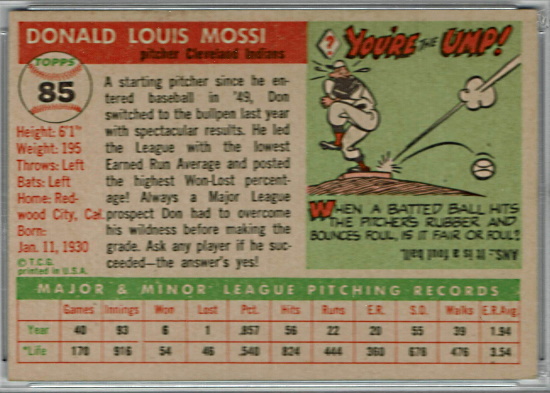 playerbio
Donald Louis Mossi (January 11, 1929 – July 19, 2019) Mossi was born in St. Helena, California, the son of Patience (Woodworth) and Louis Mossi. He grew up in Daly City and at Jefferson High he was a star football player, twice earning all-Peninsula Athletic League honors as a quarterback.
Don was a pitcher from 1954 to 1965 for the Cleveland Indians and the Detroit Tigers. He was a left-handed control pitcher whose strikeout-to-walk ratio was regularly among the league leaders. In fact, Don led the league in 1961 in both SO/W ratio and lowest BB per 9 innings. He retired with 101 wins, 50 saves, and a career earned run average of 3.43. He was voted to the AL All-Star team in 1957, and got MVP votes in 1955.
In the 1954 World Series, despite the Indians being swept by the underdog NY Giants in four innings, Mossi held the Giants scoreless in his three appearances.
Unfortunately, despite a very successful and lengthy career for a pitcher, people seem more fascinated with his looks than his talent. His baseball cards are highly desired, and folks have even gone as far as to sculpt 3D models of Don.
Even Bill James got in on the action: "Don Mossi was the complete, five-tool ugly player. He could run ugly, hit ugly, throw ugly, field ugly, and ugly for power. He was ugly to all fields. He could ugly behind the runner as well as anybody, and you talk about pressure… man, you never saw a player who was uglier in the clutch." - Baseball Historian Bill James in The New Bill James Historical Baseball Abstract (Free Press Publishing, 06/13/2003, Page 245).
In Ball Four, Jim Bouton had Don on the "All-Ugly Nine". Referring to Mossi's protruding ears, Bouton says Mossi "looked like a cab going down the street with its doors open."
In his Letters from Home Plate response, Don lists Ted Williams as the toughest batter he ever faced, and Yankee Stadium as his favorite park to play in.
(excerpted from SABR, BR Bullpen, Baseball Almanac and Wikipedia)
morecards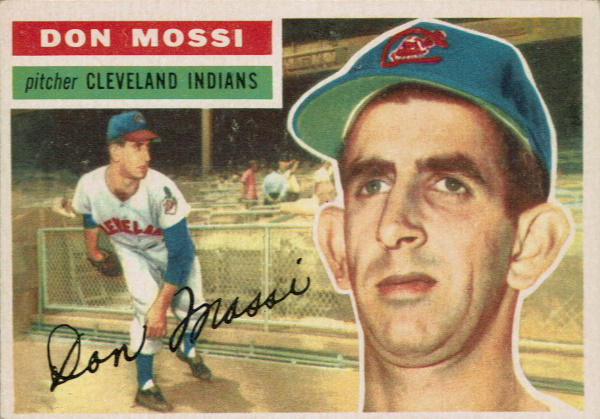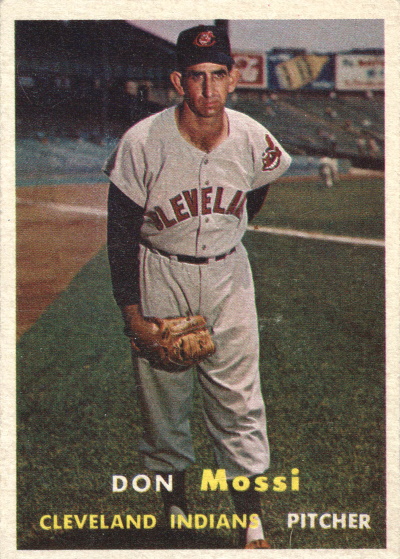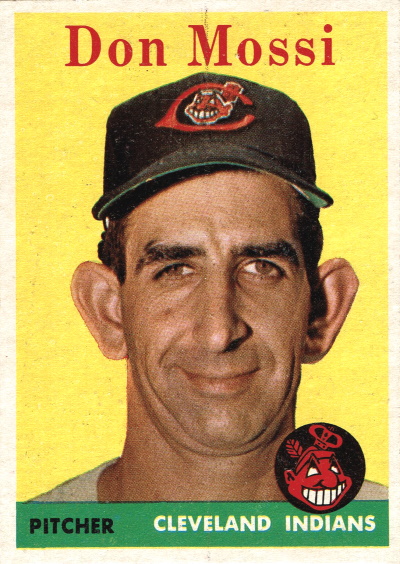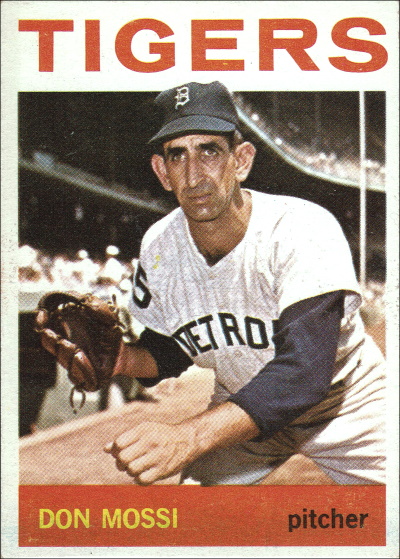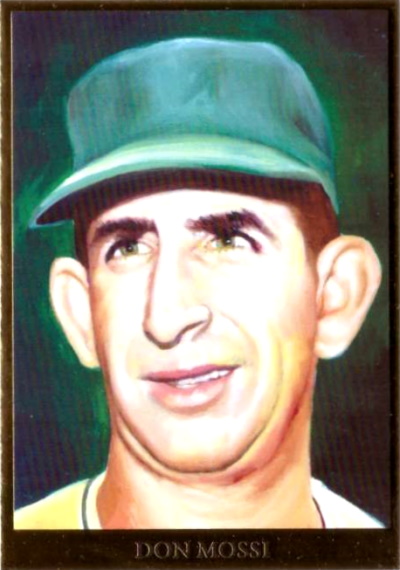 tourstops
---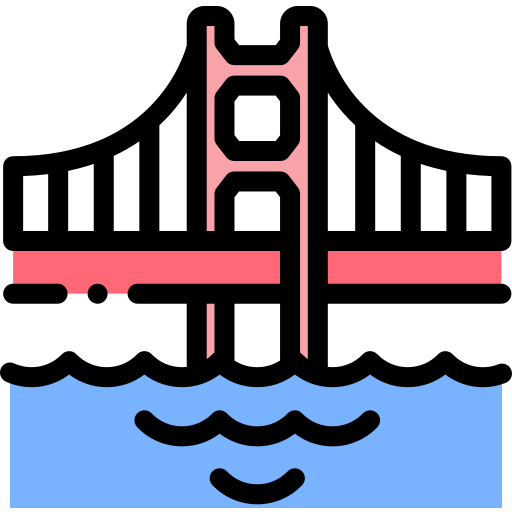 Don Mossi is the last stop on the Born in San Fran/Oakland/Sacramento Tour – Go Home
---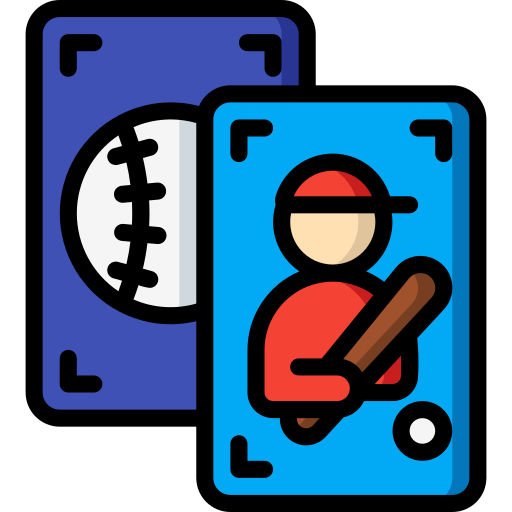 Don is part of the Topps Card Tour – 1955 Topps – Go to the Next Stop
---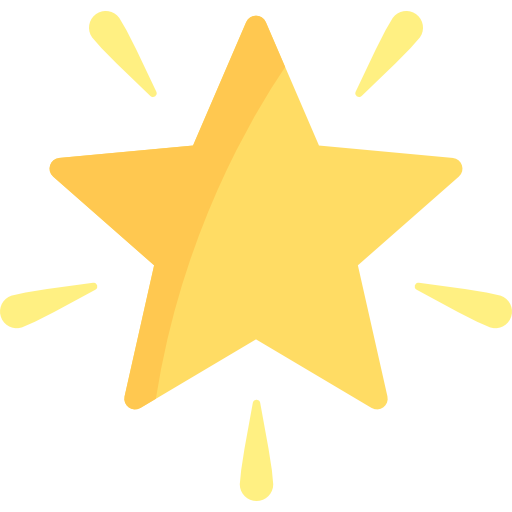 Don is part of the All-Star Player Tour – Go to the Next Stop
---

Don is also part of the Cleveland Indians Player Tour – Go to the Next Stop
---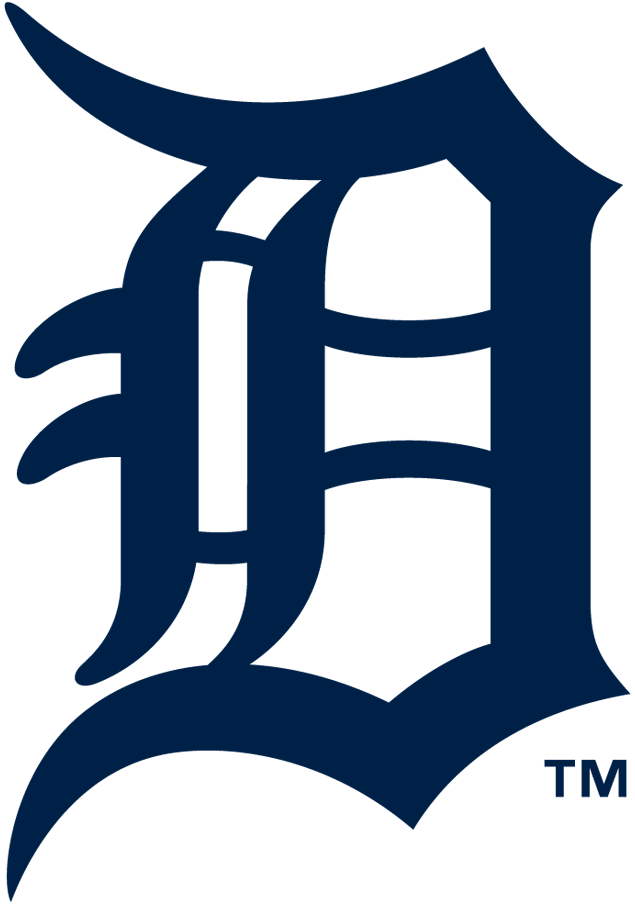 Don is also part of the Detroit Tigers Player Tour – Go to the Next Stop
---

Don is also part of the Athletics Player Tour – Go To the Next Stop
---
See all Don's baseball cards at TCDB
---
---
randomplayer
Visit a random Italian American MLB player: