Jump to: player bio | view more cards | tour stops | view random player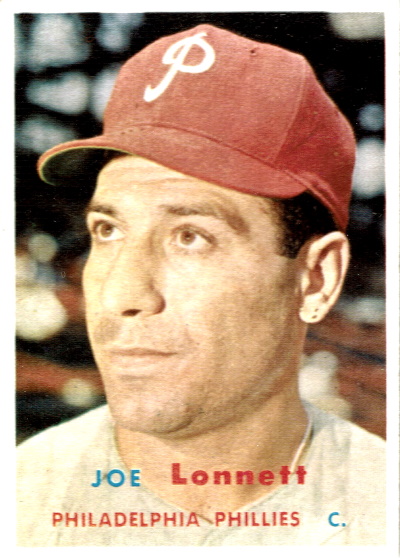 Player:Click Name to Visit Player's Baseball Reference Page Lonnett, Joe
Card:1957 Topps #241
Position: C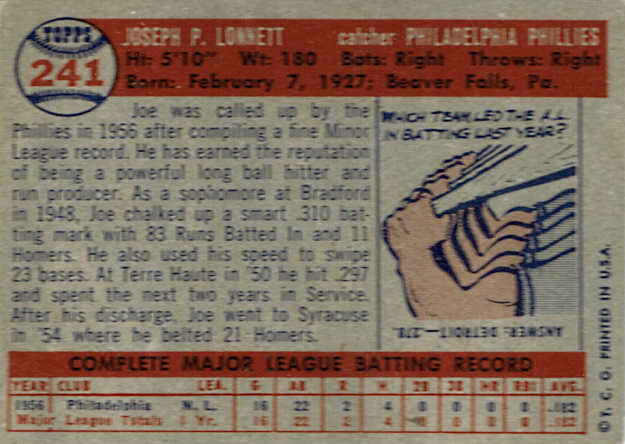 playerbio
"Joe Lonnett was a confident, enthusiastic, and modest man who considered himself one of the luckiest people in the field of professional sports. He was third base coach and catching coach for the Pittsburgh Pirates, when they winning world championships. His long experience and keen judgment helped him preside over the vital running game of the Bucs. And his experience as a catcher in both the major and minor leagues has helped in the development of the Pirates' two outstanding young catchers, Ed Ott and Steve Nicosia." - Beaver County Sports Hall of Fame (Alex Scassa, 'Class of 1980')
Joseph Paul Lonnett (b. February 7, 1927 in Beaver Falls, PA – d. December 5, 2011 in Beaver Falls, PA) was a professional baseball catcher, and coach, who played in Major League Baseball (MLB) for the Philadelphia Phillies. Joe put in nearly 50 years in professional baseball, losing two seasons while serving in the United States Navy in World War II and the Korean War. Joe was one of seven children born to Frank Rocco Lonnett (pronounced \lon-ETT) and his wife, Rose (Barberio) Lonnett. Around 1910 the Lonnetts (a family of three at the time including Joseph's oldest sister) immigrated to the United States from Italy. Frank found employment in the steel mills while Rose was a stay-at-home mother.
An avid fan of the Pie Traynor/Frankie Frisch-led Pirates who played less than 50 miles from his boyhood home, he manned the third-base coaching box during the franchise's famous "We Are Family" 1979 Pirate's championship season. A devoted family man, Lonnett was nicknamed "Fred Flintstone" for his uncanny resemblance to the cartoon character.
Lonnett graduated from Beaver Falls High School in 1944, and joined the US Navy, serving on the battleship Arkansas. He signed with the Phillies in 1948, and spent much of his career with the Phillies as a Minor League Baseball (MiLB) catcher and manager, and MLB catcher and scout. Joe spent four MLB seasons a second-string receiver, appearing in 143 games, while batting .166, with six home runs (HR) and 27 runs batted in (RBI) — never once cracking the .200 level for a season.
Fellow Western Pennsylvania native Chuck Tanner had promised Lonnett that he would be one of his coaches if he ever became an MLB manager. Tanner honored his word when he named Lonnett and Al Monchak third- and first-base coaches respectively with the Chicago White Sox on October 2, 1970. All three would serve in similar capacities together with the White Sox (1971–75), Oakland Athletics (1976) and Pittsburgh Pirates (1977–84).
When Tanner was traded to the Pirates for Manny Sanguillén — only the second trade in MLB history to involve a manager — Joe followed him to Pittsburgh. He wore Sanguillén's No. 35 jersey until the Pirates re-acquired Sanguillén a year later; after which, he wore No. 32. Eventually, he served as third-base coach on the Pirates' 1979 world championship team. In 1980, he was a member of the National League All-Star team coaching staff (00:09:16).
In 1987, he was named the manager of the St. Catharines Blue Jays of the Short-Season 'A' affiliate of the Toronto Blue Jays in the New York–Penn League, which finished at 41–36, 4th in the NY–P Western Division. He retired in 1992, and in 2004, he attended the 25th anniversary celebration of the 1979 World's Champs, at PNC Park.
Former pitcher Kent Tekulve said of Lonnett, "He was that universal personality in the clubhouse who would make you happy just looking at him. You would be happy about being a Pittsburgh Pirate. You would be happy about being part of this team and you would be happy about getting to work with Joe Lonnett." Former pitcher and later Pirates broadcaster Jim Rooker said, "There are people with big hearts, but Joe he had a mega-heart. … He was such a wonderful person."
Joe succumbed to Alzheimer's disease, his long-standing illness, in his home town of Beaver Falls, Pennsylvania, on December 5, 2011. He was 84.
(excerpted from SABR, FindAGrave, Baseball Almanac, BR Bullpen & Wikipedia)
morecards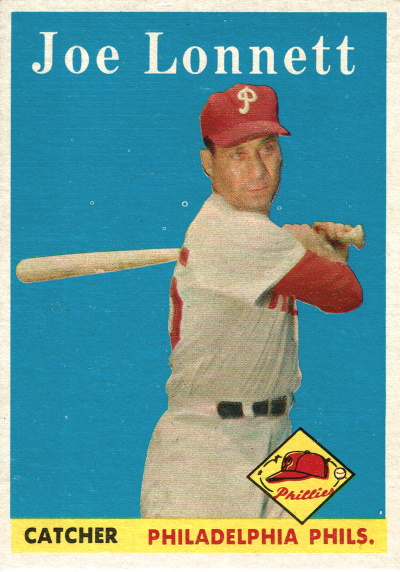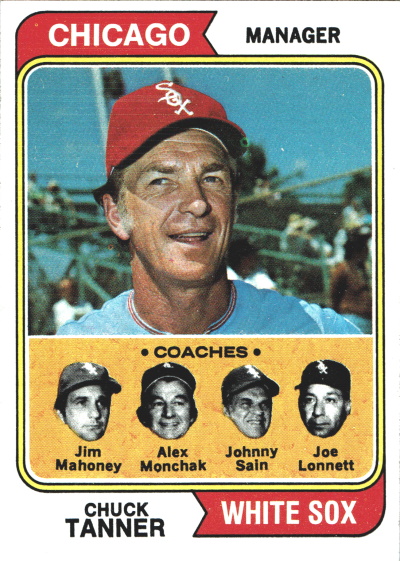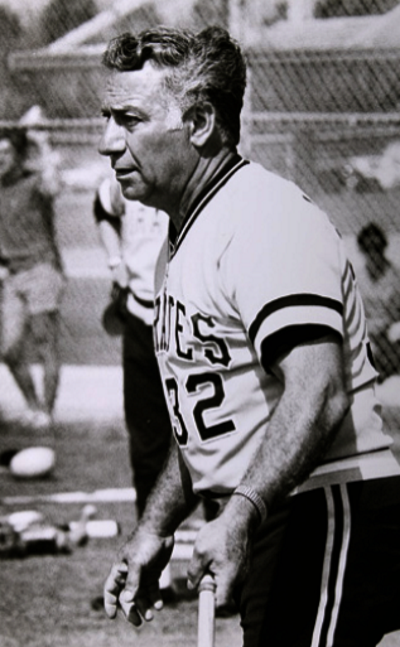 tourstops
---

Joe Lonnett is part of the Military Service during Wartime Tour – go to the Next Stop
---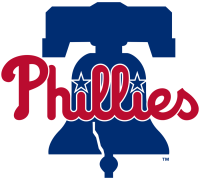 Joe is also part of the Philadelphia Phillies Player Tour – Go to the Next Stop
---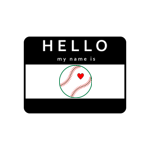 "Flintstone" is part of the Great Italian American Player Nicknames Tour – Go to the Next Stop
---
See Joe's baseball cards at TCDB
---
---
randomplayer
Visit a random Italian American MLB player: