Jump to: player bio | view more cards | tour stops | view random player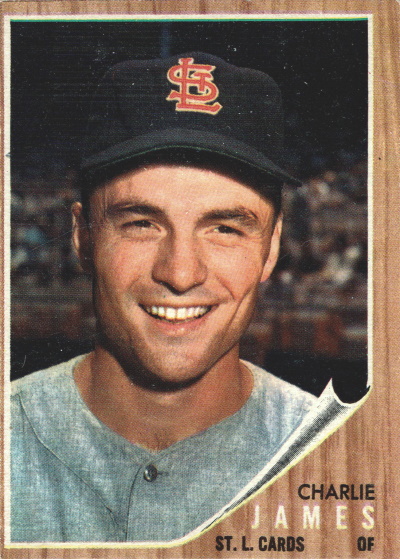 Player:Click Player's Name to Visit their Baseball Reference Page James, Charlie
Card: 1962 Topps #412
Position: OF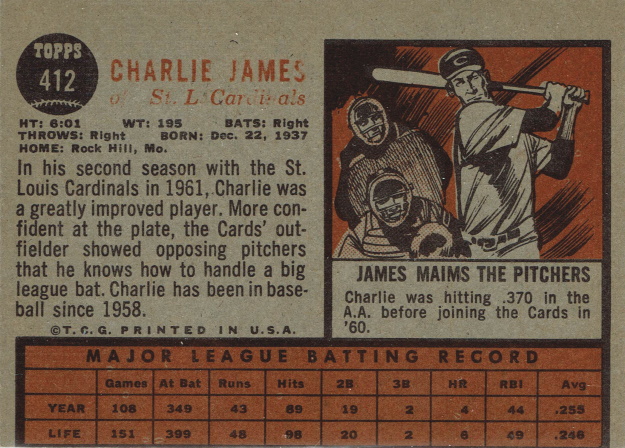 playerbio
Charles Wesley James (born December 22, 1937 in St. Louis, Mo) is a retired American professional baseball player. James was an outfielder over all or parts of six Major League Baseball seasons (1960–65) with the St. Louis Cardinals and Cincinnati Reds, appearing in 510 games.
Born in St. Louis, Missouri, he grew up in suburban Rock Hill and graduated from Webster Groves High School. Longtime baseball broadcasters Harry Caray and son Skip Caray attended high school in Webster Groves.
James was also a letterman as a football halfback for the University of Missouri Tigers in 1956 and 1957 before starting his professional baseball career. He later earned a bachelor's degree in electrical engineering at Washington University in St. Louis.
In 1960, James and Tim McCarver were promoted to the Cardinals' roster just before the July 31 trade deadline. James reported to the Cardinals on August 2 in St. Louis and suffered an embarrassing gaffe at the start of the game with the Milwaukee Braves. He looked at the dugout lineup card and saw his name on it, so he grabbed his glove and headed for right field prior to the National Anthem.
Ken Boyer looked puzzled and asked James where he thought he was going when Charlie ran just behind third base. James looked up and saw Joe Cunningham standing in right field, so he quickly put on the brakes. Later, Charlie made his major-league debut, entering the game in the ninth inning as a defensive replacement for Stan Musial, who was playing left field.
In St. Louis, the local media had tagged James with the nickname of "Chop-Down Charley". This label was due to his not walking much (10 BB in '62) while trying to make contact and not pop the ball up. James was okay with the moniker, as he explained, "You don't make big money waiting for walks, unless you get an awful lot of them." GM Devine was pleased with James by acknowledging that each year Charlie had done a bit more that he was expected to.
James had a Friday-night-performance phenomenon that proved quite newsworthy for the 1962 season. On Friday nights he batted .411 with 23 hits and six of his eight home runs (with 23 RBIs). For the season, he batted .276 with 59 RBIs and he added seven assists on the defensive side. It was also on a Friday in 1962 when Charlie hit a grand slam homer off Sandy Koufax knocking in Bill White, Curt Flood and Juilan Javier.
Charlie was part of the World Series winning St. Louis Cardinals in 1964, as the Cards defeated the Yankees in seven games, ending the long-running Yankees Dynasty of the Mantle era. The Cards had only won the pennant by one game, and though his playing time was reduced with the addition of Lou Brock, he recalls hitting a 3-run homer off of Sandy Koufax to beat the Dodgers.
Charlie was identified as having Italian American heritage by baseball historian Lawrence Baldassaro in his book "Beyond Dimaggio" (p.310)
(excerpted from SABR, Baseball Almanac, BR Bullpen & Wikipedia)
morecards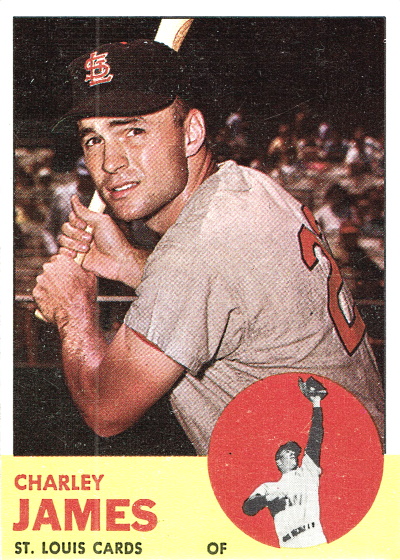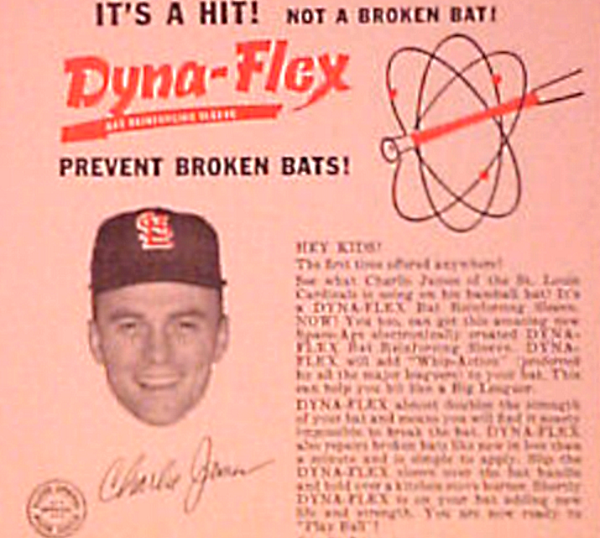 tourstops
---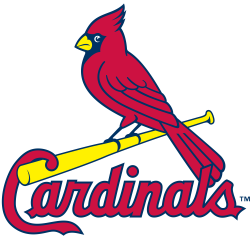 Charlie James is part of the St. Louis Cardinals Player Tour – Go to the Next Stop
---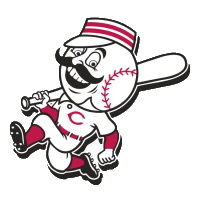 Charlie is also part of the Cincinnati Reds Players Tour – Go To the Next Stop
---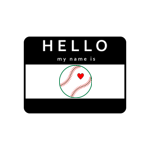 "Chop Down Charlie" is part of the Great Italian American Player Nicknames Tour – Go to the Next Stop
---
See Charlie's baseball cards at TCDB
---
---
randomplayer
Visit a random Italian American MLB player: