Jump to: player bio | view more cards | tour stops | view random player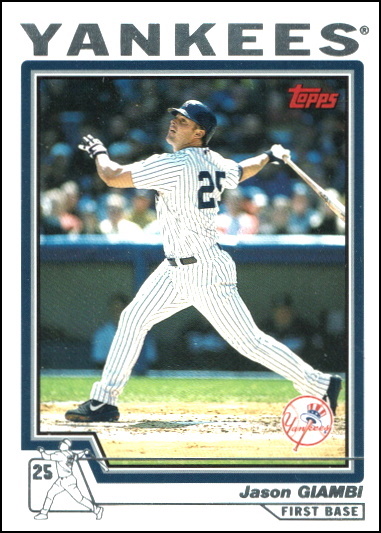 Player:Click Player's Name to Visit their Baseball Reference Page Giambi, Jason
Card: 2004 Topps #150
Position: 1B/DH/LF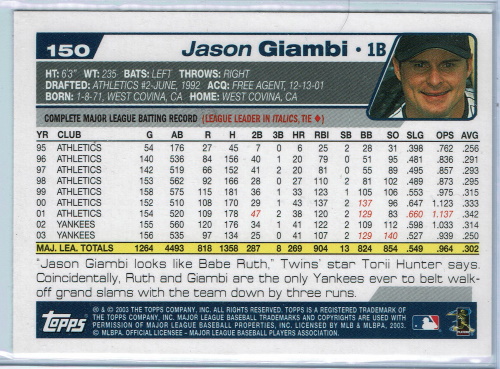 playerbio
Jason Gilbert Giambi was born in West Covina, California. He was a first baseman, left fielder and designated hitter. In his Major League Baseball (MLB) career, which began in 1995, Giambi played for the Oakland Athletics, New York Yankees, Colorado Rockies, and Cleveland Indians. Giambi not only was an elite power hitter (440 career HR), he was a consistent leader in on-base-percentage (OBP) - a rare and extremely valuable combination.
Jason was the American League (AL) MVP in 2000 (leading the league in walks, OBP and OPS+) while with the Athletics. In 2001, he finished 2nd in MVP voting in the AL, and led the league in doubles, walks, OBP, Slugging, OPS, and OPS+.
Jason is a five-time All-Star. He led the AL in walks four times; in on-base percentage three times; and in doubles and slugging percentage once each; he also won the Silver Slugger Award twice. He knocked in 100+ RBI seven separate times.
He also hit 440 home runs in the major leagues, thus putting him at #41 on the all-time list when he retired after the 2014 season. and compiled 100+ RBI seven separate times. He also drew 100+ walks in a season seven times, and his 1366 walks rank as # 32 on the all-time list. He also got on base frequently via hit-by-pitch, with 180 times lifetime. His career .399 OBP is in the top 75 of all-time.
He is the older brother of former MLB player Jeremy Giambi.
(excerpted from Baseball Almanac, BR Bullpen and Wikipedia)
morecards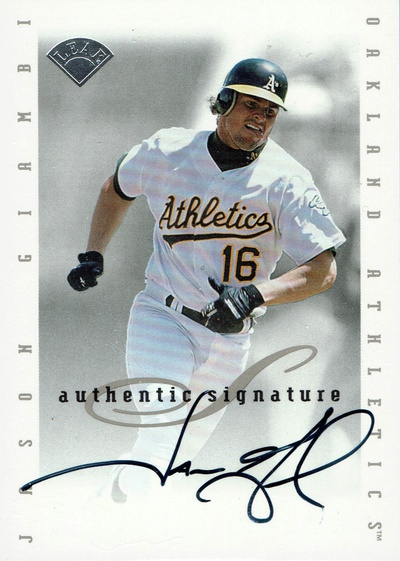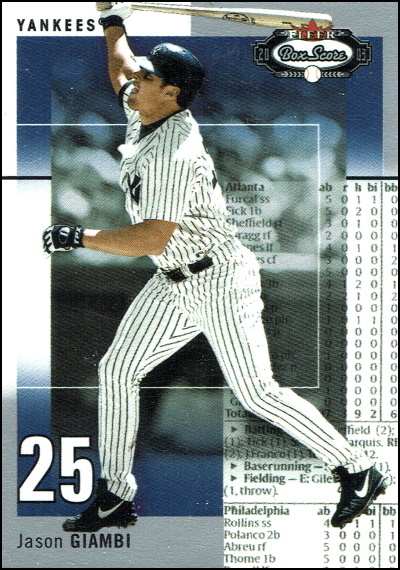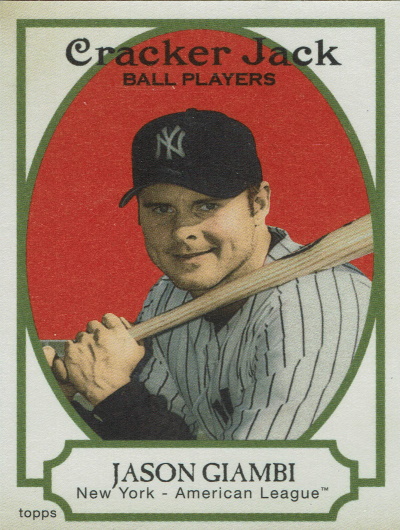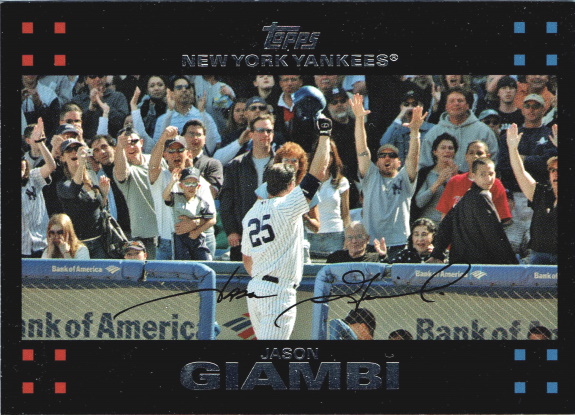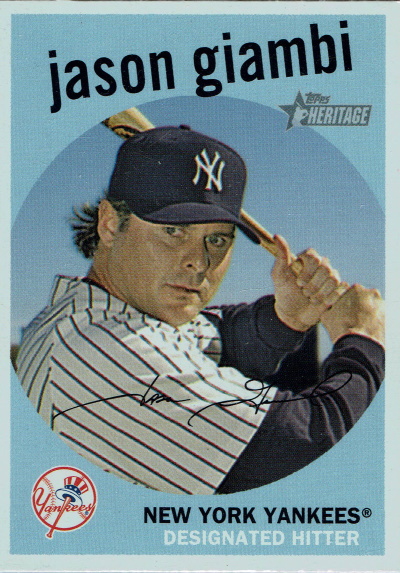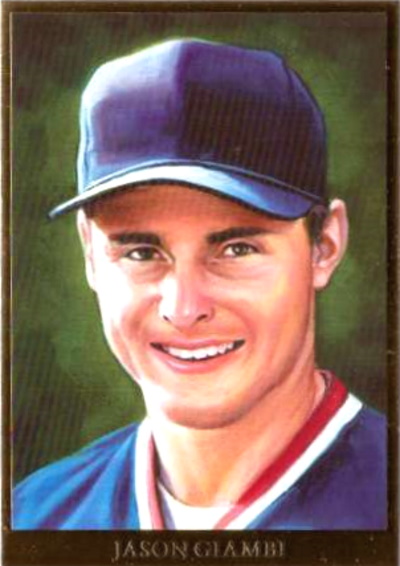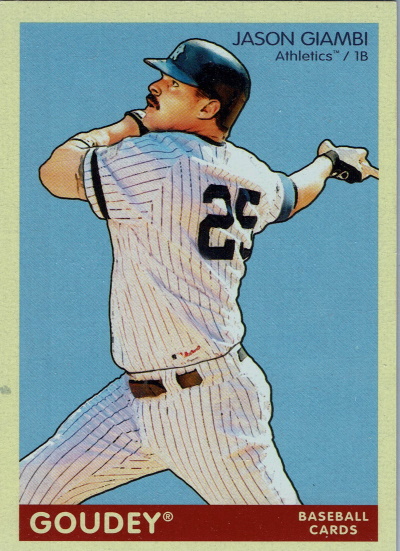 tourstops
---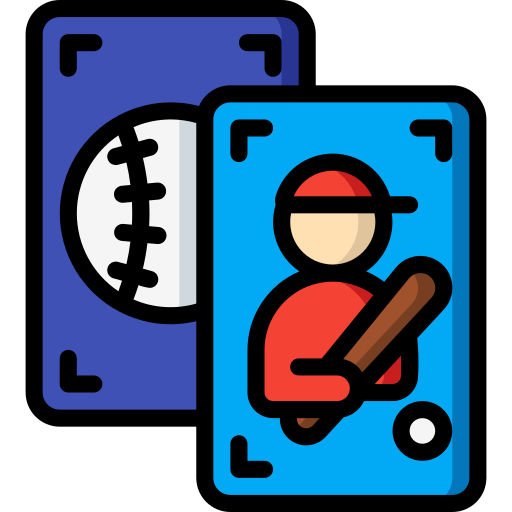 Jason Giambi is part of the Topps Card Tour – 2004 Topps – Go to the Next Stop
---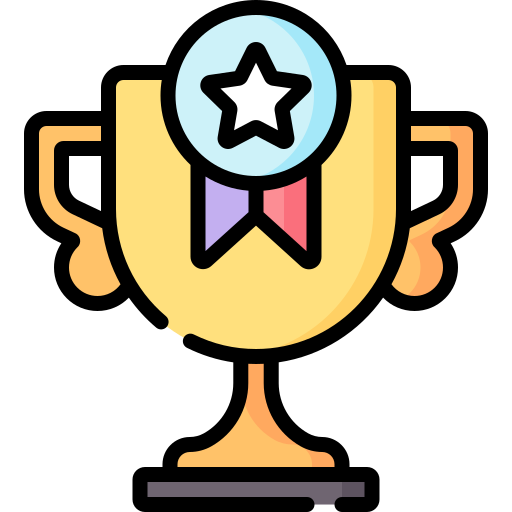 Jason is also part of the MVP/Cy Young Tour – Go To The Next Stop
---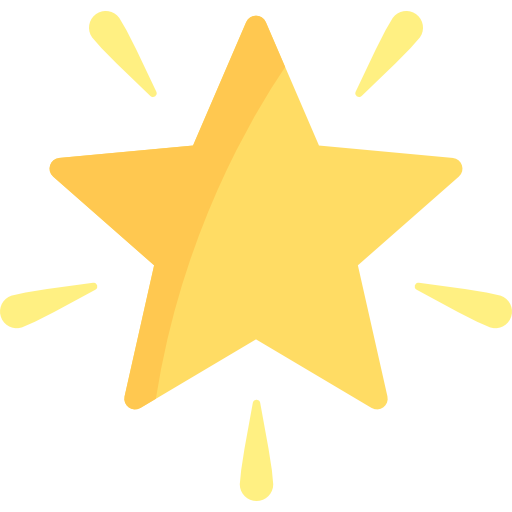 Jason is also part of the All-Star Player Tour – Go to the Next Stop
---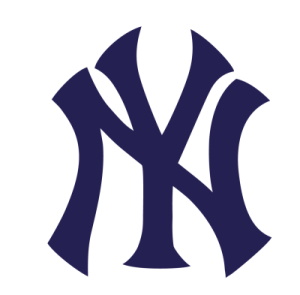 Jason is also part of the New York Yankee Players Tour – Go To the Next Stop
---

Jason is also part of the Athletics Player Tour – Go To the Next Stop
---

Jason is also part of the Cleveland Indians Player Tour – Go to the Next Stop
---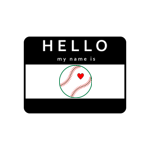 "The Giambino" is part of the Great Italian American Player Nicknames Tour – Go to the Next Stop
---
See all of Jason's baseball cards at TCDB
---
---
randomplayer
Visit a random Italian American MLB player: