Jump to: player bio | view more cards | tour stops | view random player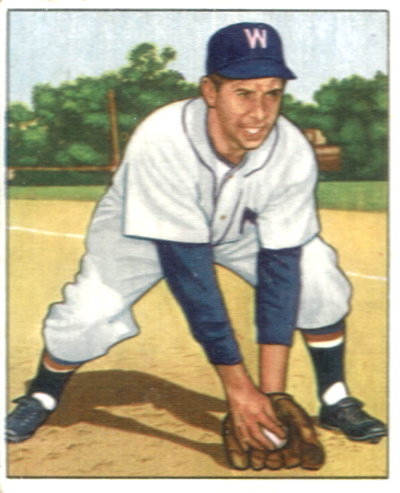 Player:Click Player's Name to Visit their Baseball Reference Page Dente, Sam
Card: 1950 Bowman #107
Position: 3B/2B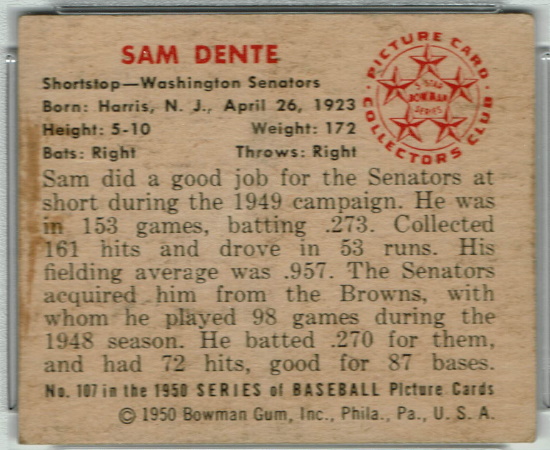 playerbio
"We'll win plenty with Dente." - Washington Senators Slogan (1950)
Harrison, NJ born Samuel Joseph Dente (April 26, 1922 – April 21, 2002) was a shortstop in Major League Baseball who played for five different teams between 1947 and 1955. He was born in Harrison, NJ. A patient hitter and very hard to strike out, he averaged one strikeout for every 24.16 at-bats (96-to-2320) during his nine year MLB career.
Dente was signed by the Boston Red Sox as a free agent in 1941, but almost immediately had to serve in the military during World War II. After discharge, he was a member of the 1946 Scranton Red Sox, a team that posted a 90–43 record in the Eastern League and ranks 90th in the Minor League Baseball all-time teams list.
He reached the majors in 1947 with the Red Sox, playing for them one year before joining the St. Louis Browns (1948), Washington Senators (1949–1951), Chicago White Sox (1952–1953) and Cleveland Indians (1954–1955). His most productive years came with Washington, hitting a career-high .273 with 24 doubles and 53 RBI in 153 games during the 1949 season.
In 1950 he posted career-numbers in games (155), runs (56), RBI (59) and extrabases (29), and was considered in the American League MVP vote.
It was during his three-year Senators tenure from 1949 through 1951 that the slogan was first seen on a sign, but the prediction didn't really come true until Dente was signed by the 1954 Cleveland Indians. His play as a utility infielder, ultimately taking over the starting shortstop job when regular George Strickland went down with a broken jaw, was a big part of the Indians' 111-win season. In three World Series games, he went 0-for-3 with one run and a walk.
After retiring, Sam was vice president for Merit Mailers Incorporated. He died April 21, 2002, at age 79 in Montclair, NJ. Sam is the grandfather of Cy Young award-winning pitcher Rick Porcello.
(excerpted from SABR, BR Bullpen & Wikipedia)
morecards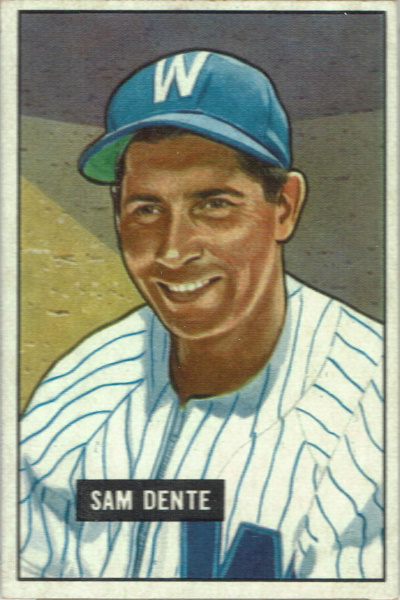 tourstops
---

Sam is also part of the Military Service during Wartime Tour – go to the Next Stop
---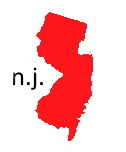 Sam is part of the Born in New Jersey Tour – go to the Next Stop
---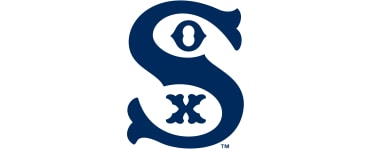 Sam is also part of the Chicago White Sox Players Tour – Go To the Next Stop
---

Sam is also part of the Cleveland Indians Players Tour – Go To the Next Stop
---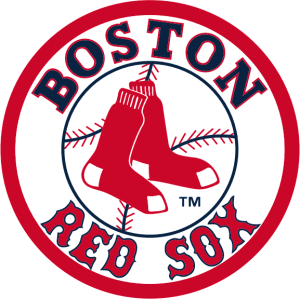 Sam is part of the Boston Red Sox Player Tour – Go to the Next Stop
---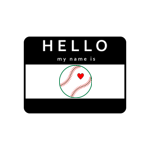 "Blackie" is part of the Great Italian American Player Nicknames Tour – Go to the Next Stop
---
See Dente's baseball cards at TCDB
---
---
randomplayer
Visit a random Italian American MLB player: