Jump to: player bio | view more cards | tour stops | view random player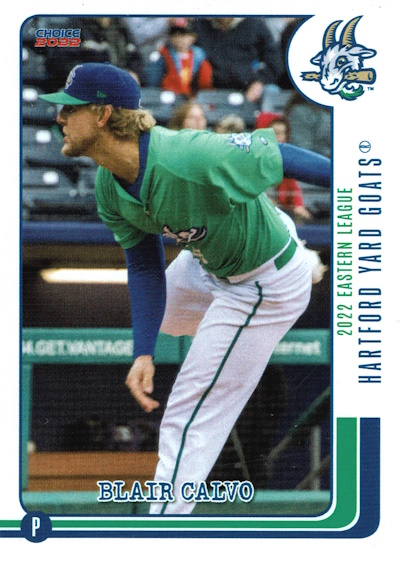 Player:Click Player's Name to Visit their Baseball Reference Page Calvo, Blair
Card: 2022 Choice Hartford Yard Goats #4
Position: RHP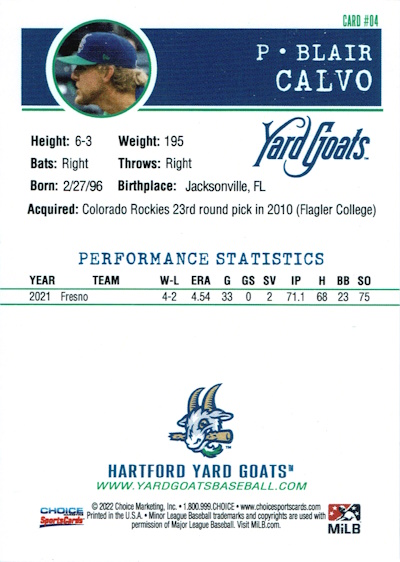 playerbio
Blair Matthew Calvo (born February 27, 1996 in Jacksonville, FL) is an American professional baseball pitcher for the Colorado Rockies of Major League Baseball (MLB). According to Geneanet.org, the Surname Calvo has its roots in Italy/Sicily/Spain/Portugal.
Blair played college baseball at Eastern Florida State College, Flagler College, and the University of Pittsburgh. He was drafted by the Texas Rangers in the 31st round of the 2016 Major League Baseball Draft, but did not sign. Calvo was then drafted by the Colorado Rockies in the 23rd round of the 2019 MLB draft and signed. He made his professional debut that year with the Grand Junction Rockies.
On May 31, 2019 in Hartford against the Reading Fightin Phils, Yard Goats catcher Willie MacIver, manager Chris Denorfia and athletic trainer Kelsey Branstetter came to the mound and saw that Calvo was in distress and unable to catch his breath. Blair was rushed to the hospital in a police car. "I was very scared," Calvo said during a phone interview from Rockies spring training in Scottsdale, Ariz. "The following day was probably the worst for me. They hadn't done any of the tests, and doctors were telling me this and that. They were telling me I might have to completely change my lifestyle. I was scared, and I was sad." With a change in diet, he has conquered the issue.
Calvo did not play in a game in 2020 due to the cancellation of the minor league season because of the COVID-19 pandemic.
On November 15, 2022, the Rockies added Calvo to their 40-man roster to protect him from the Rule 5 draft. Calvo was optioned to the Triple-A Albuquerque Isotopes to begin the 2023 season. In 20 appearances, he struggled to an 8.50 ERA with 26 strikeouts and and 3 saves in 18.0 innings pitched. On May 30, 2023, Calvo was promoted to the major leagues for the first time.
(excerpted from Baseball Almanac, BR Bullpen & Wikipedia)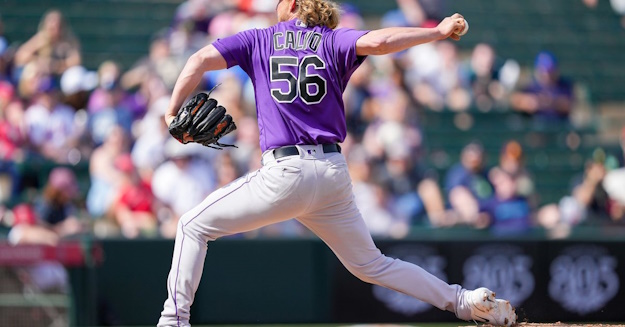 morecards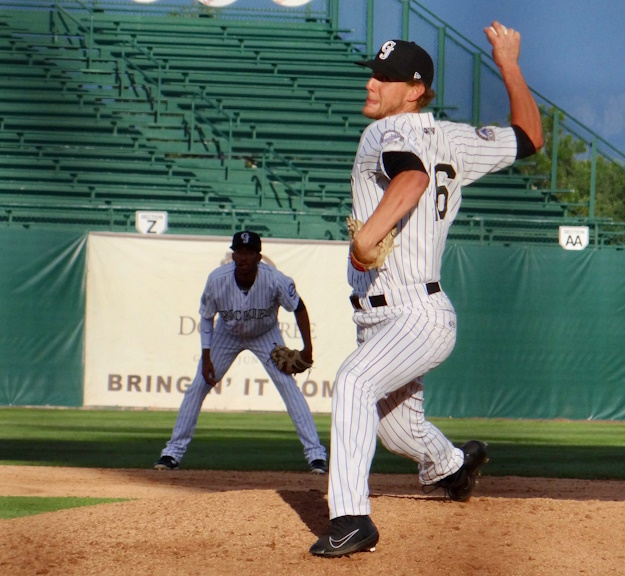 tourstops
---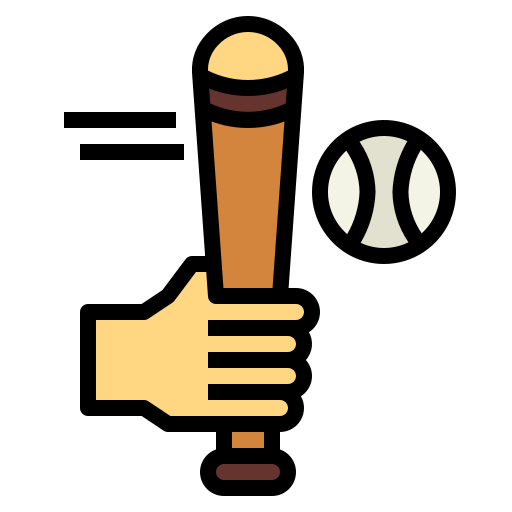 Blair Calvo is part of the MLB Current Players Tour – Go To The Next Stop
---
See all Blair's baseball cards at TCDB
---
---
randomplayer
Visit a random Italian American MLB player: