Jump to: player bio | view more cards | tour stops | view random player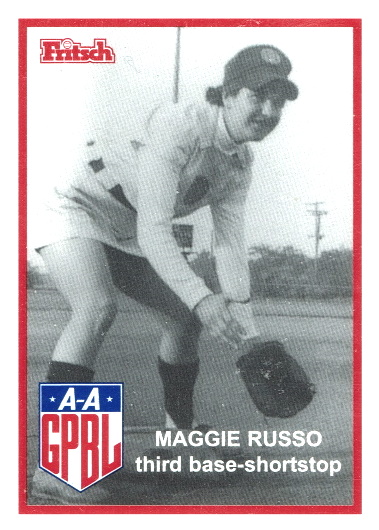 Player:Click Player's Name to Visit their Baseball Reference Page Russo, Margaret
Card: 1995 Fritsch AAGBBL #171
Position: SS/3B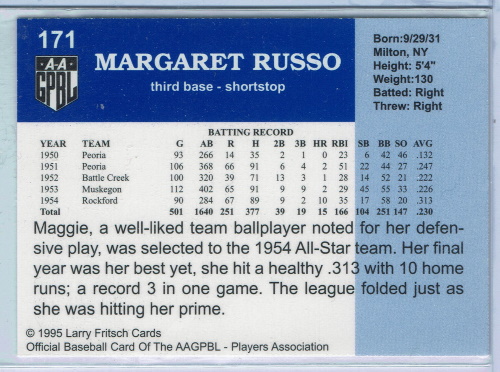 playerbio
Born in Milton, New York, Margaret "Maggie" Russo was a shortstop who played from 1950 through 1954 in the All-American Girls Professional Baseball League.
By the fall of 1942, many minor league teams disbanded due to the war. Young men, 18 years of age and over, were being drafted into the armed services. The fear that this pattern would continue and that Major League Baseball Parks across the country were in danger of collapse is what prompted Philip K. Wrigley, the chewing-gum mogul who had inherited the Chicago Cubs' Major League Baseball franchise from his father, to search for a possible solution to this dilemma.
Wrigley asked Ken Sells, assistant to the Chicago Cubs' General Manager to head a committee to come up with ideas. The committee recommended a girls' softball league be established to be prepared to go into Major League parks should attendance fall due to franchises losing too many quality players to attract crowds.
With the dedication of a group of Midwestern businessmen and the financial support of Mr. Wrigley, the All-American Girls Softball League emerged in the spring of 1943. The League was formed as a non-profit organization. A board of trustees was formed which included Philip K. Wrigley; Branch Rickey, Brooklyn Dodgers President and General Manager; Paul V. Harper, Chicago attorney and trustee for the University of Chicago and Chicago Cubs attorney; and Ken Sells, who was named President of the League.
A two-time All Star, Margaret was a consistent defensive player and a solid hitter in the AAGPBL during the final five years of its existence. She led all shortstops in the league in fielding average during two seasons, while converting 138 double plays in 497 career games. A valuable contact hitter, she was usually able to put the ball in play while working counts and seldom striking out, collecting a .332 on-base percentage and a 1.71 walk-to-strikeout ratio.
She was selected for the All-Star Team in 1953 and 1954 (the final year of the AAGPBL). During 1954, she converted 43 double plays, for the second highest single-season total in the history of the league.
Since 1988, Margaret is part of Women in Baseball, a permanent display based at the Baseball Hall of Fame and Museum in Cooperstown, New York.
morecards
tourstops
---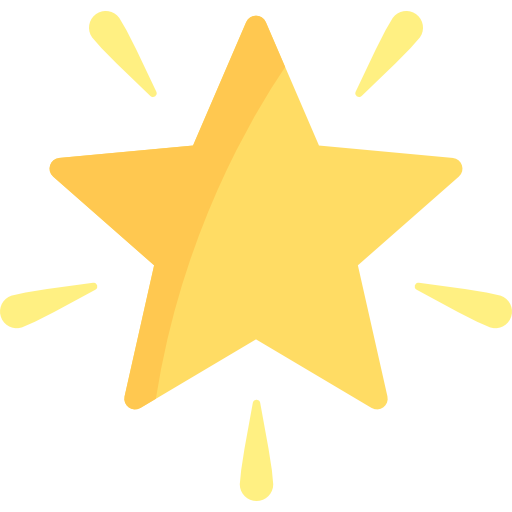 Maggie is part of the All-Star Player Tour – Go to the Next Stop
---

Maggie is part of the Women in Pro Baseball Tour – Go to the Next Stop
---
See all Maggie's baseball cards at TCDB
---
---
randomplayer
Visit a random Italian American MLB player: