Jump to: player bio | view more cards | tour stops | view random player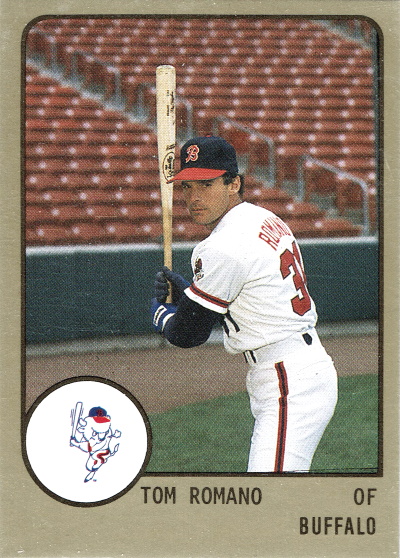 Player:Click Player's Name to Visit their Baseball Reference Page Romano, Tom
Card: 1985 ProCards #1485
Position: OF/LF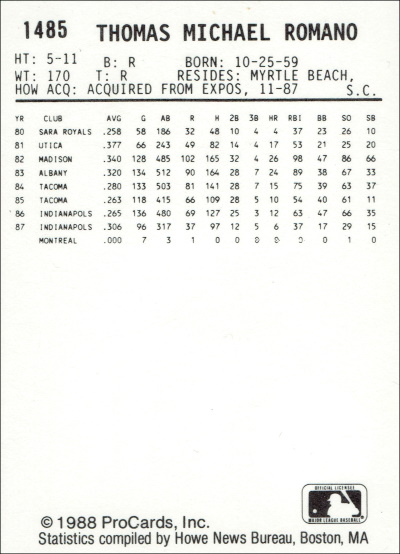 playerbio
Thomas Michael Romano (born October 25, 1958 in Syracuse, NY) is an American former Major League Baseball player. He attended Coastal Carolina University. While there he was Coastal's 2nd Major League Player (Montreal Expos, 1987), led them to the 1978 and 1980 NAIA World Series, led Chanticleers to 145 wins and three NAIA District VI championships, set CCU career HR record (48) (active until 2009), and set CCU career records in RBI's (127) - Runs (137) - Triples (7). He was inducted into Coastal's Sasser Hall of Fame.
Tom was drafted by the Kansas City Royals in the 17th round of the 1980 MLB June Amateur Draft. With the Madison Muskies in 1982, Romano hit .340 with 32 doubles, 26 home runs, and 66 stolen bases; he was named Midwest League Most Valuable Player.
Tom was a favorite of the fans, who referred to him as the "Big Cheese." In 1983 Romano hit 24 home runs with a .320 average and 89 RBIs for the Albany-Colonie A's, the AA affiliate of the Oakland Athletics. tom was ranked one of the top 10 MLB prospects in 1984 by Baseball America.
An outfielder, Romano appeared in 7 games for the Montreal Expos in 1987, going hitless in 3 at bats but scoring a run as a pinch runner.
He was in the last two seasons of his 10-year pro baseball career when he came to Buffalo in 1988. The Syracuse native would drive in 41 runs over 139 games for the Bisons, hitting .255. While in Buffalo, he happened into a bowling alley, watched the Summer All-Stars league, and was instantly hooked on the sport. He became a pro bowler after his baseball career ended in 1989.
"When I first joined the Bisons, I walked into Thruway Lanes before a game one Wednesday night and was really impressed by the league," Romano told The Buffalo News in 1991. "I said to myself, 'Jeez these guys are really good. I've got to look into this league.' I never took a lesson, just learned by observation … worked hard and practiced a lot."
(excerpted from Baseball Almanac, BR Bullpen & Wikipedia)
morecards
tourstops
---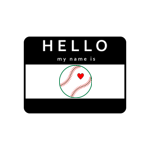 "Big Cheese" is part of the Great Italian American Player Nicknames Tour – Go to the Next Stop
---
See all of Tom's baseball cards at TCDB
---
---
randomplayer
Visit a random Italian American MLB player: