Jump to: player bio | view more cards | tour stops | view random player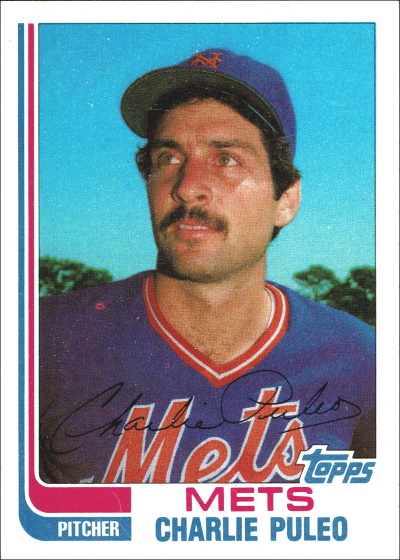 Player:Click Player's Name to Visit their Baseball Reference Page Puleo, Charlie
Card: 1982 Topps #94T
Position: RHP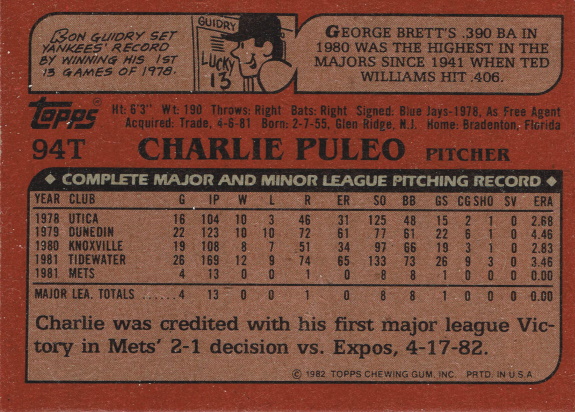 playerbio
Charles Michael Puleo (born February 7, 1955 in Glen Ridge, NJ) is a retired Major League Baseball pitcher who played from 1981 to 1989 with the New York Mets, Cincinnati Reds and Atlanta Braves. He is probably best remembered for being the pitcher the Mets traded in order to reacquire Tom Seaver before the 1983 season.
Puleo was drafted by the Detroit Tigers in 1973, but chose to attend Seton Hall, where he played in two College World Series while earning a degree in physical education. When he graduated, no team drafted him, but he contacted the Blue Jays. Toronto signed Charlie at Rick Cerone's urging. He pitched a no-hitter for the Dunedin Blue Jays in the Florida State League in 1979. He was later traded to the Mets where he broke into the big leagues.
In September 1981, Charlie was promoted to the Mets and appeared in four games, three in relief. He had no decisions, but he did not give up an earned run in 13 and one-third innings. In his major league debut, he relieved against the Philadelphia Phillies with two men on base, and retired the side. In his next two relief appearances, against the Montreal Expos, he allowed no hits in three innings. In his only start, against the Chicago Cubs, he gave up one unearned run in eight innings before leaving a tie game for a pinch-hitter.
Puleo was pitching coach of the Bluefield Orioles in 1992, Albany Polecats in 1993, and Bluefield again in 1994, 1996, and 1998-1999. He later went on to be a gym teacher at William Blount High School.
In his Letters from Home Plate response, Charlie lists all the '69 Mets as his favorite players growing up, the Houston Astros as the toughest hitters he ever faced, and Shea Stadium as his favorite park to play in.
His daughter Angela Puleo, was a college basketball star, at Vanderbilt University. Charlie resigned from coaching baseball to help follow his daughters career. She now is a Regional VP at Jackson Financial Services in Georgia.
Charlie is on LinkedIn.
(excerpted from Baseball Almanac, NY Times, Centerfield Maz, BR Bullpen & Wikipedia)
morecards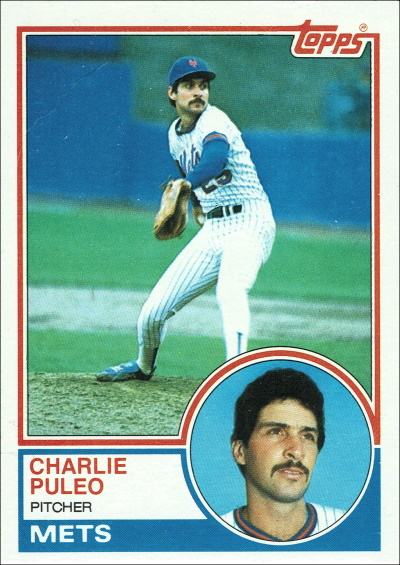 tourstops
---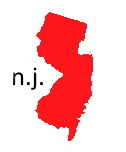 Charlie is part of the Born in New Jersey Tour – go to the Next Stop
---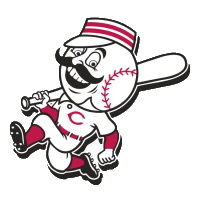 Charlie is part of the Cincinnati Reds Player Tour – Go to the Next Stop
---

Charlie is also part of the Braves Players Tour – Go To the Next Stop
---
See Puleo's baseball cards at TCDB
---
---
randomplayer
Visit a random Italian American MLB player: