Jump to: player bio | view more cards | tour stops | view random player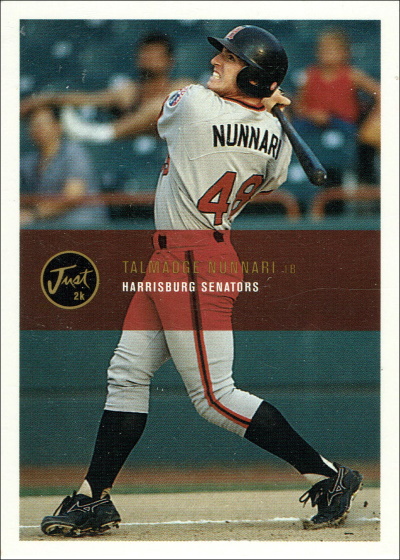 Player:Click Name to Visit Player's Baseball Reference Page Nunnari, Talmadge
Card: 2000 Just The Preview 2K Harrisburg Senators #70
Position: 1B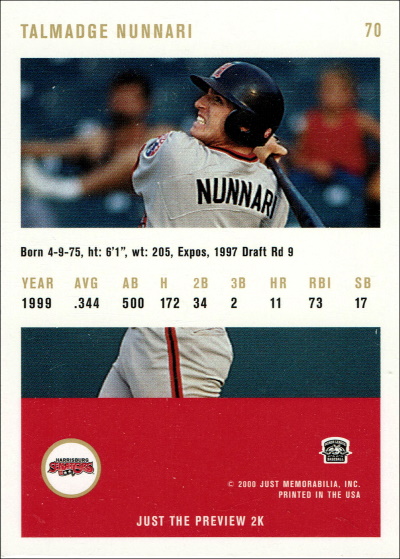 playerbio
Talmadge Raphael Nunnari (born April 9, 1975 in Pensacola, Florida) is a former Major League Baseball player. He was taken in the ninth round of the 1997 MLB draft by the Montreal Expos and played for first base and outfield for the team in 2000. He played his college ball at Jacksonville University and was an All-American and All-conference player.
His MLB career consisted of 18 games with 12 plate appearances with the Expos, resulting in 1 hit, 2 runs scored, and 1 RBI. Impressively, he walked 6 times in his 12PA, resulting in an impressive OBP of .583 in his short run.
In the 2009 and 2010 seasons, Talmadge was manager of the independent club the Pensacola Pelicans (capturing the South Division title both years) after having worked in the team's front office first as a corporate sales executive and hitting coach and then general manager since 2003. Talmadge worked with the organization's transition from the independent American Association to the affiliated AA Southern League but left to become the assistant coach for the Jacksonville University Dolphins baseball team.
Talmadge was also the National Hitting Coordinator for the Baseball Factory. He is on Instagram @tnunnari38.
(excerpted from Baseball Almanac, BR Bullpen & Wikipedia)
morecards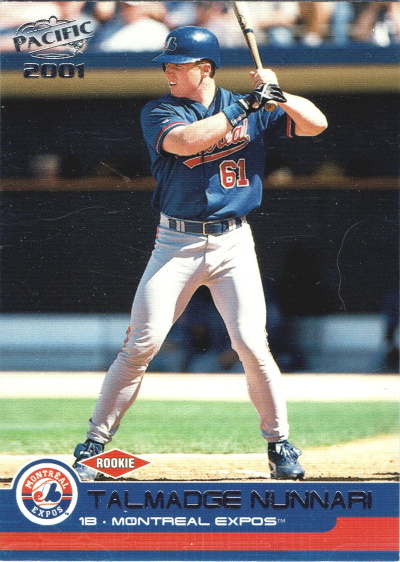 ---
tourstops
This player is not associated with any Baseball Amore Tours.
---
See all Talmadge's baseball cards at TCDB
---
---
randomplayer
Visit a random Italian American MLB player: