Jump to: player bio | view more cards | tour stops | view random player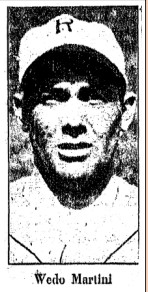 Player:Click Name to Visit Player's Baseball Reference Page Martini, Wedo
Card: NO CARD AVAILABLE
Position: RHP

playerbio
"Straight from the sandlots of Philadelphia to Shibe Park and then back again. That's the story of Guido Joe "Wedo" Martini, all within a 30-day period during the summer of 1935. On July 28, a 22-year-old Martini makes his major league debut as an reported "18-year-old" pitcher, for the lowly Philadelphia Athletics
against the visiting Boston Red Sox. Connie Mack's A's give [Wedo] a quick 2-0 lead in the second inning
but he is unable to maintain it.
The 5-foot-10, 165-pound righthander is knocked out in the fourth inning after allowing six runs (five earned) on five hits and five walks in three 1/3 innings. Relieved
by veteran Al Benton, [Wedo] leaves the field to the "shouting and jeering" of the 5,000 hometown fans.
[He]will pitch in two more games for the A's before being re- leased on August 30, and returning to the sandlots from whence he came and leaving the Athletics five available pitchers." From Diamonds In The Dusk: "Cups of Coffee: Wedo Martini."
Guido Joe "Wedo" Martini (b. July 1, 1913 in Birmingham, AL – d. October 28, 1970 in Philadelphia, PA) was a Major League Baseball pitcher who played in 1935 with the Philadelphia Athletics. He batted and threw right-handed. Also known as "Southern," he pitched three games for the 1935 Athletics shortly after he turned 22 years old. Wedo, whose name was actually "Guido", also pitched in the minors for Richmond and Hartford.
The only MLB player remembered as "Guido" was Guido Grilli who played for the 1966 Red Sox, although Wedo's birth name was Guido.
Martini passed away on October 28, 1970, at his home in Philadelphia. A delivery truck driver for the Philadelphia Inquirer at the time of his death, Martini was 57 years old.
(excerpted from Baseball Almanac, BR Bullpen & Wikipedia)
morecards
This player has no additional cards on Baseball Amore.
tourstops
---

Wedo is also part of the Athletics Player Tour – Go To the Next Stop
---
Wedo has no baseball cards on TCDB
---
---
randomplayer
Visit a random Italian American MLB player: