Jump to: player bio | view more cards | tour stops | view random player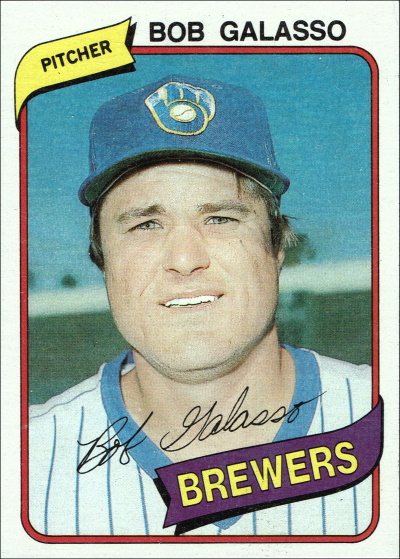 Player:Click Player's Name to Visit their Baseball Reference Page Galasso, Bob
Card: 1980 Topps #711
Position: RHP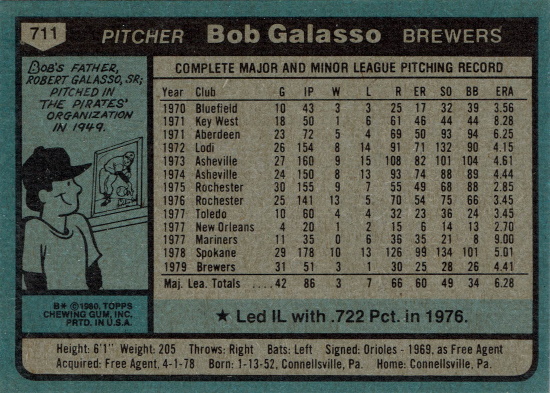 playerbio
Robert Joseph Galasso (born January 13, 1952 in Connellsville, Pennsylvania) is a former professional baseball pitcher. He pitched in three seasons in MLB between 1977 and 1981.
One highlight of Bob's brief MLB career was picking up a win in relief during a marathon 20 inning game vs the Red Sox on September 3, 1981. He pitched 3 scoreless innings (17th, 18th and 19th) to earn the victory for the Mariners. Over his career, he made 55 total appearances in the major leagues (8 starts).
Bob played in the Italian Baseball League, and led his team to the championship series, winning a dramatic game seven against another former MLB pitcher, Pete Falcone.
In his Letters from Home Plate response, Bob lists Stan Musial as his favorite player growing up, George Brett as the toughest hitter he ever faced, and Fenway Park as his favorite park to play in.
Bob's father, Bob Galasso, Sr., pitched in the Pittsburgh Pirates chain in 1949.
(excerpted from Baseball Almanac, BR Bullpen, and Wikipedia)
morecards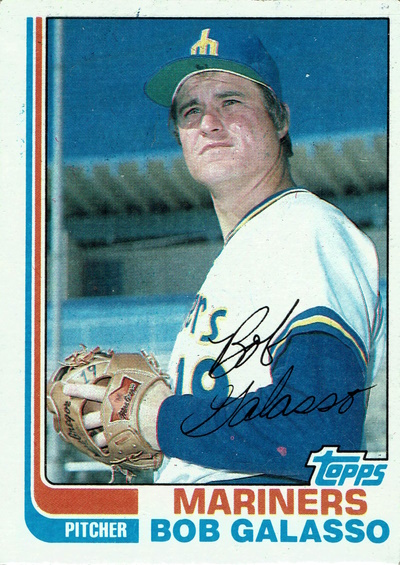 tourstops
---
This player is not associated with any Baseball Amore Tours.
---
See all Bob's baseball card at TCDB
---
---
randomplayer
Visit a random Italian American MLB player: