Jump to: player bio | view more cards | tour stops | view random player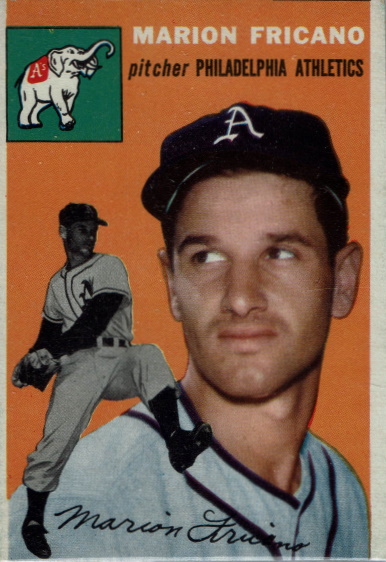 Player:Click Player's Name to Visit their Baseball Reference Page Fricano, Marion
Card: 1954 Topps #124
Position: RHP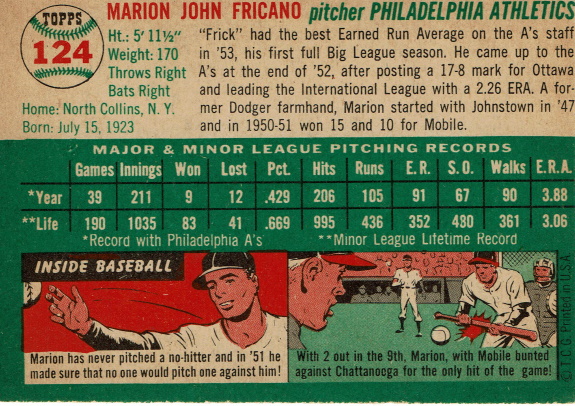 playerbio
Born in Brant, NY, Marion John Fricano (July 15, 1923 – May 18, 1976) was a pitcher for the Philadelphia and KC Athletics over a four year MLB career. Marion, sometimes called "Frick" or "Tony" enrolled at the State University of New York College at Cortland to pursue a degree in physical education. These plans were also put on hold when Fricano decided to enlist in the United States Navy during WW2, serving in an Amphibious Unit as a radio operator from 1943 to 1947.
After service in 1947, Marion signed his first pro baseball contract as an amateur free agent with the Brooklyn Dodgers organization. He was assigned to the class C Johnstown Johnnies of the of the Middle Atlantic League, appearing in 14 games, winning 5 and losing 2 with a 4.96 ERA.
Marion spent six years in the minors before getting to the major leagues. On May 12, 1952 Marion was purchased by the Philadelphia Athletics from the Dodgers. The A's assigned him to the Ottawa A's, where he went 17-8 with a league-leading 2.26 ERA and was awarded his team's Most Valuable Player Award. The Philadelphia A's manager Jimmy Dykes had Fricano called up for the final weeks of the 1952 season and he responded by going 1-0 in 2 games with a 1.80 ERA.
1953 was "Frick's" first full season in the majors and he posted a 9-12 record in 39 games for a 3.88 ERA. On August 27, 1954, the White Sox had already plated five runs in the third inning against Fricano when Cass Michaels stepped into the batter's box. Fricano's first pitch to him struck him in the head. He was carried off the field in a stretcher, and was given Roman Catholic last rites at the hospital he was rushed to in critical condition. He recovered, but the pitch impaired his vision. After collapsing during spring training 1955, Michaels retired. Two weeks later, Michaels became a scout for the White Sox in the Detroit area.
On Sunday, September 26, 1954, the closing day of the Athletics' nightmarish, 103-loss campaign, Fricano took the mound at Yankee Stadium in he sixth inning in relief of Art Ditmar; the bases were loaded, with one out, and Philadelphia was clinging to a 6–4 lead. Fricano proceeded to throw a wild pitch, bringing the Yankees to within a run. He then issued an intentional walk to Mickey Mantle to re-load the bases, but set up a double play. Facing another Baseball Hall of Famer, Yogi Berra, Fricano induced Berra to bounce into a 3–6–3 twin-killing to end the inning and preserve the Athletics' lead.
Philadelphia went on to win the contest, 8–6, with Fricano going the distance and getting credit for a save. The contest turned out to be the cash-starved Athletics' last in Philadelphia's 54-year-old American League history. A complicated process that included an 11th-hour bid by Philadelphia interests to buy the Athletics ultimately saw Connie Mack's legendary franchise sold to industrialist Arnold Johnson and moved to Kansas City, Missouri, in the autumn of 1954.
In 1955 "Frick" only appeared in 10 games that year. He was sent to the minors in 1956 and concluded his major league career with 15-23 record, appearing in 88 games with a 4.32 ERA. During his baseball career Fricano had found time to earn his bachelor's degree from SUNY-Cortland and his master's degree at the University of Buffalo, and became a school teacher in upstate New York. Marion died from complications due to cancer at age 52 while on vacation in Tijuana. The Town of North Collins, New York dedicated The Marion J. Fricano Memorial Town Park in his honor.
(excerpted from Baseball Almanac, BR Bullpen & Wikipedia)
morecards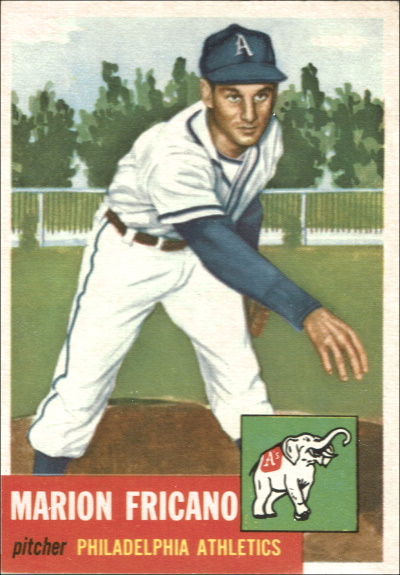 tourstops
---

Frick is also part of the Military Service during Wartime Tour – go to the Next Stop
---

Marion is also part of the Athletics Player Tour – Go To the Next Stop
---
See all of Marion's baseball cards at TCDB
---
---
randomplayer
Visit a random Italian American MLB player: