Jump to: player bio | view more cards | tour stops | view random player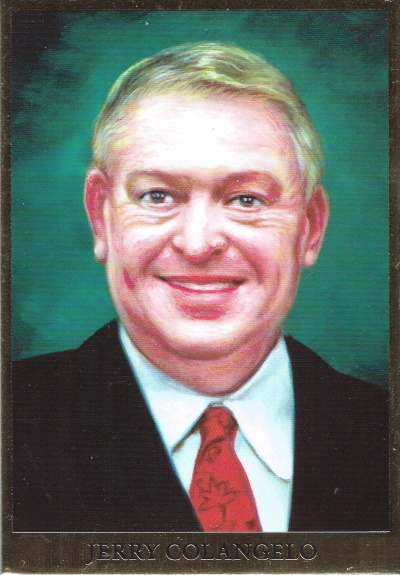 Player:Click Player's Name to Visit their Baseball Reference Page Colangelo, Jerry
Card: 2009 Italian American Baseball Heroes #28
Position: Owner/Executive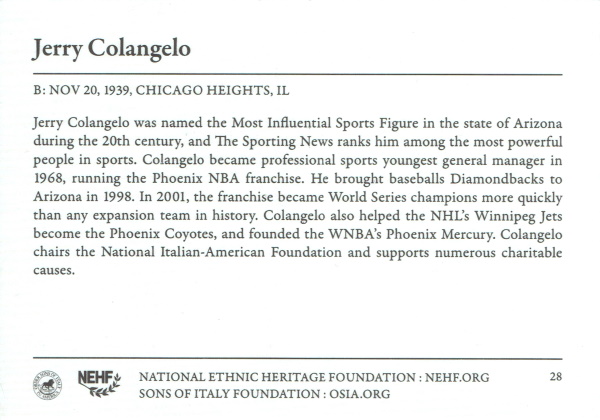 playerbio
Jerry Colangelo (born November 20, 1939 in Chicago Heights, IL) is an American businessman and sports executive.
Jerry was team president and lead owner of the MLB expansion Arizona Diamondbacks when they began play in 1998. He also worked with the city of Phoenix on the construction of Bank One Ballpark.
The Diamondbacks won the World Series in 2001, only three years after joining MLB, defeating Joe Torre's dynasty Yankees. Under his management, the Diamondbacks pursued many long-term contracts for aging players like Matt Williams and Jay Bell. Colangelo and GM Joe Garagiola repeatedly cited the players' character as a primary motivator in signing the players.
He also was a founding owner of the Phoenix Suns of the NBA, and owner of the Phoenix Mercury of the WNBA, the Arizona Sandsharks of the Continental Indoor Soccer League, and the Arizona Rattlers of the Arena Football League.
Jerry was also instrumental in the relocation of the original Winnipeg Jets team in the NHL to Phoenix to become the Phoenix Coyotes (now the Arizona Coyotes). In 2014, Grand Canyon University renamed its Christian based school of business after Jerry.
From December 2015 to April 2016, Colangelo served as Chairman of Basketball Operations for the Philadelphia 76ers, before serving as a special adviser to the team until December 2018.
Jerry was elected to the Basketball Hall of Fame in 2004.
(excerpted from Baseball Almanac, BR Bullpen & Wikipedia)
morecards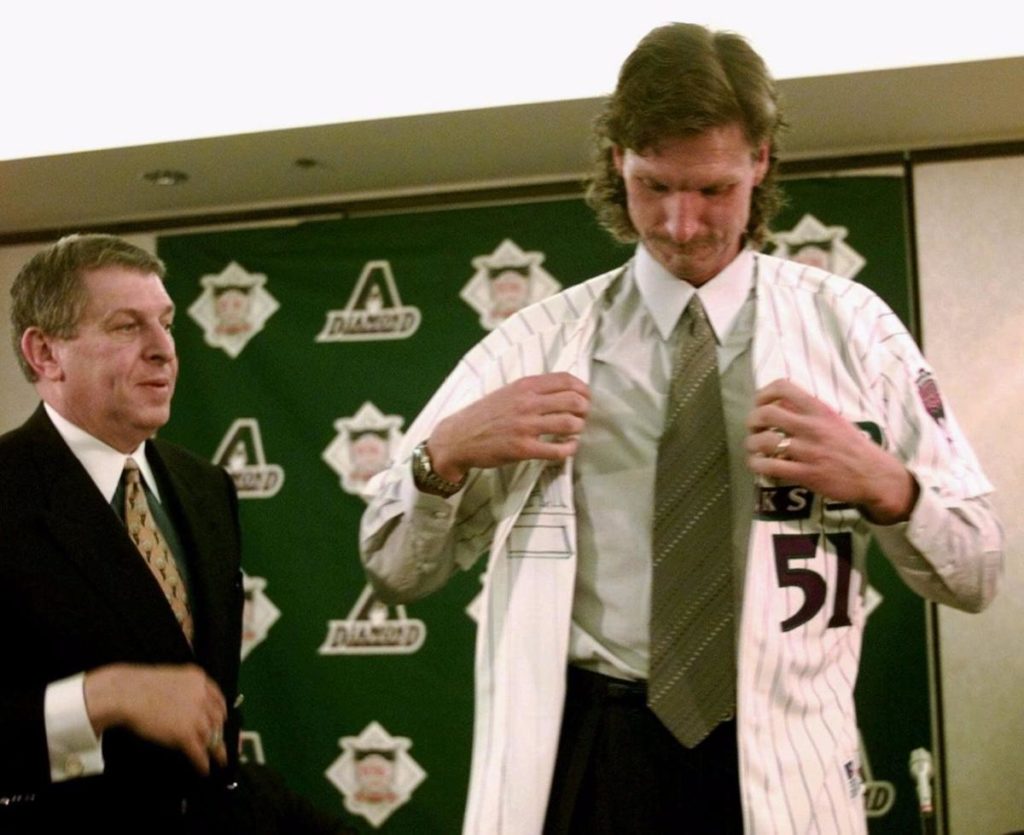 tourstops
---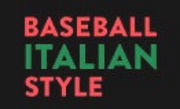 Listen to Larry Baldassaro's interview with Jerry Colangelo here – or view the Next Stop on the Baseball Italian Style Tour
---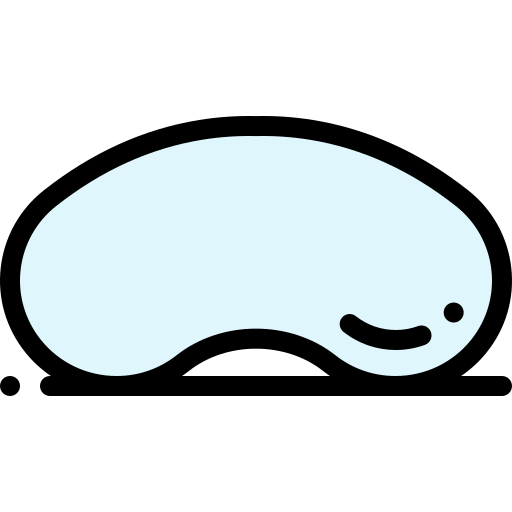 Jerry is part of the Born in Chicago Tour – Next Stop
---
See Jerry's baseball cards at TCDB
---
---
randomplayer
Visit a random Italian American MLB player: