Jump to: player bio | view more cards | tour stops | view random player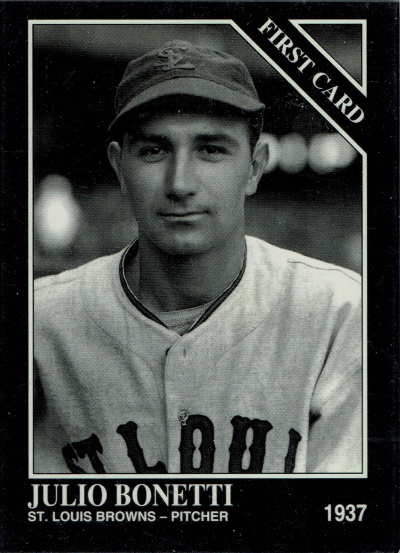 Player:Click Player's Name to Visit their Baseball Reference Page Bonetti, Julio
Card: 1993 TSN Conlon #965
Position: RHP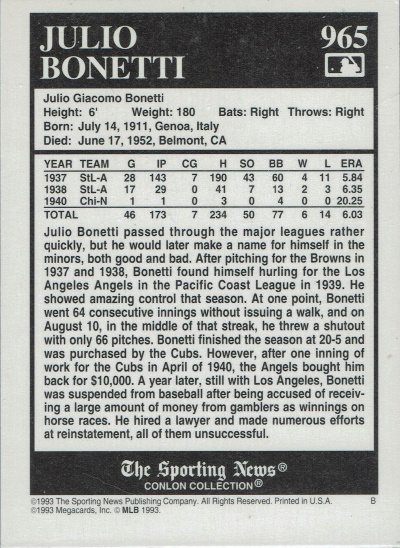 playerbio
Julio Giacomo Bonetti was born on July 14, 1911 in Vado Ligure, Genoa, Italy in the northwestern portion of the country. His father, Paolo Bonetti, a shoemaker, left Italy in October 1912 to find employment in the United States. Julio with his mother Rosa Barile Bonetti and his older brother Joseph arrived in the United States on August 12, 1914. They immediately made their way to San Francisco to meet Paolo, who had settled in the San Francisco suburb of San Mateo. The Bonettis also had a daughter, Linda, born in San Mateo in 1918. Paolo supported the family as a fruit picker and later as a carpenter.
In 1937 he made his first MLB appearance with the St. Louis Browns. The New York Times reported that he "baffled the Minneapolis batters with his sinker ball." The Sporting News noted in 1939 that Bonetti had an "ordinary fastball, but good sinker…makes batters top ball and hit on ground." He made the Browns club in 1937, becoming the second Italian-born player in major league history, the first being Lou Polli. At times he wowed with his sinkerball, but wildness kept him from establishing a lengthy career, pitching in MLB for parts of three years (1937, 38 and 40), and spending much of his pro time in the minor leagues.
In early 1941, while with Los Angeles in the Pacific Coast League, he was seen accepting money from a gambler. No one overtly charged him with game-fixing but the impropriety was enough for his expulsion from organized baseball.
Bonetti died at 40 years old on June 17, 1952, in Belmont, California, after suffering a heart attack.
(excerpted from SABR, BR Bullpen & Wikipedia)
morecards
tourstops
---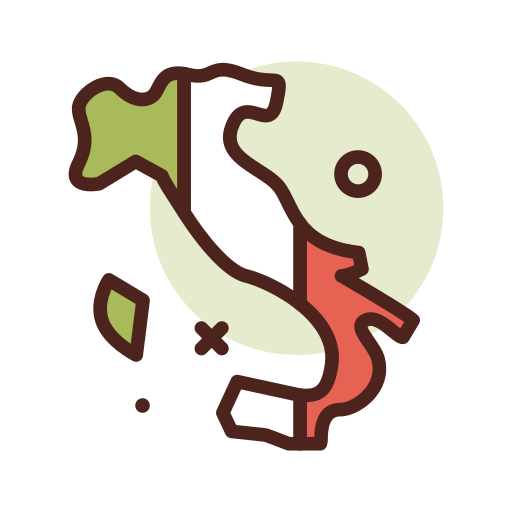 Julio is part of the Born in Italy Tour – Go to the Next Stop
---
See all Julio's baseball cards at TCDB
---
---
randomplayer
Visit a random Italian American MLB player: