Jump to: player bio | view more cards | tour stops | view random player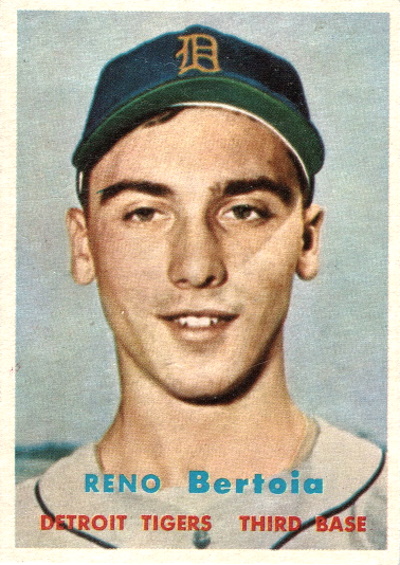 Player:Click Player's Name to Visit their Baseball Reference Page Bertoia, Reno
Card: 1957 Topps #390
Position: 3B, 2B, SS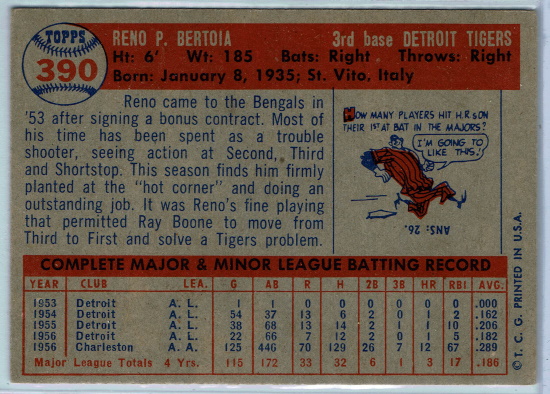 playerbio
A baseball journeyman, Reno Bertoia nevertheless held a number of distinctions. He was one of baseball's original bonus babies. Of the seven major leaguers born in Italy, he had the longest career, ten seasons. In Bertoia's big-league debut, with his hometown Detroit Tigers, the 18-year-old infielder batted against Satchel Paige (he struck out). He also happened to live next door to one of the other six Italian-born players (Hank Biasatti). And after baseball, he had a long career as a high-school teacher.
Pierino Bertoia was born to Libero and Rina Bertoia in St. Vito Udine, Italy, on January 8, 1935. It was 22 months before Reno actually saw his father. Reno's father Libero had left Italy before his son's birth to seek employment in Canada. He settled in Windsor, Ontario, across the river from Detroit, and worked as a laborer for the Ford Motor Company.
Bertoia's first MLB appearance was not a pleasant one. A lifelong shortstop, he was the starting second baseman. In top of the first, on a putout at second, he was spiked by the runner, Ed Mickelson, and threw wildly to first for an error. In spite of his injury, which later required three stitches, he batted in the bottom of the inning and struck out on three pitches. At the start of the second inning he was replaced in the field by Johnny Pesky. The twenty thousand plus crowd thought that Reno had been replaced because of the throwing error and the strikeout. They booed heavily.
It was soon announced over the PA system that he had been spiked. Watching all of this from the grandstand was Bertoia's mother, who never attended another game. In 2010 Bertoia took a dim view of all that went on: "I don't think that it was fair to do that to a young kid … to not have some grooming before you played a game of that nature."
Bertoia went on to room with Tiger's HoF player Al Kaline. Limited by the "Bonus Baby" rules that negatively impacted the careers of many players, Reno sat the bench, playing sparsely, instead of being built-up in the minors. During his 10 year career, Reno played for his hometown Detroit Tigers (twice), Washington, Minnesota and the Kansas City A's.
Al Kaline, in a statement issued after Bertoia's death, said, "Reno was a special person, and one of the nicest people to be around."
(excerpted from SABR, BR Bullpen & Wikipedia)
morecards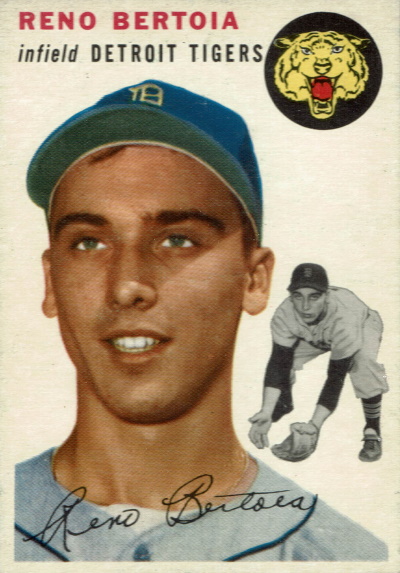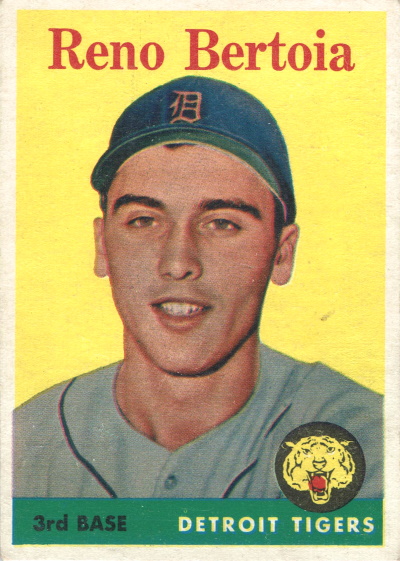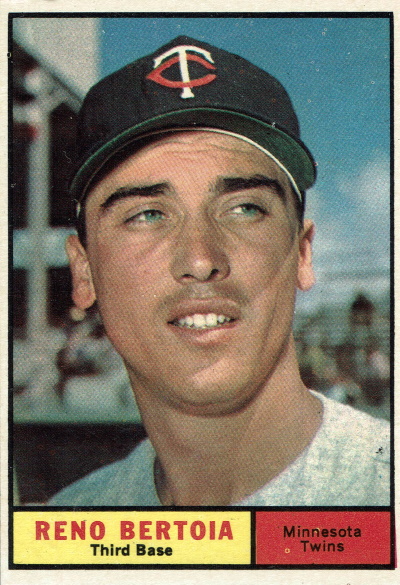 tourstops
---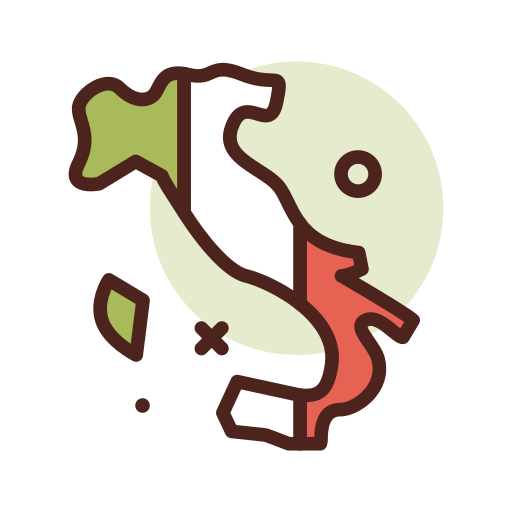 Reno Bertoia is part of the Born in Italy Tour – Go to the Next Stop
---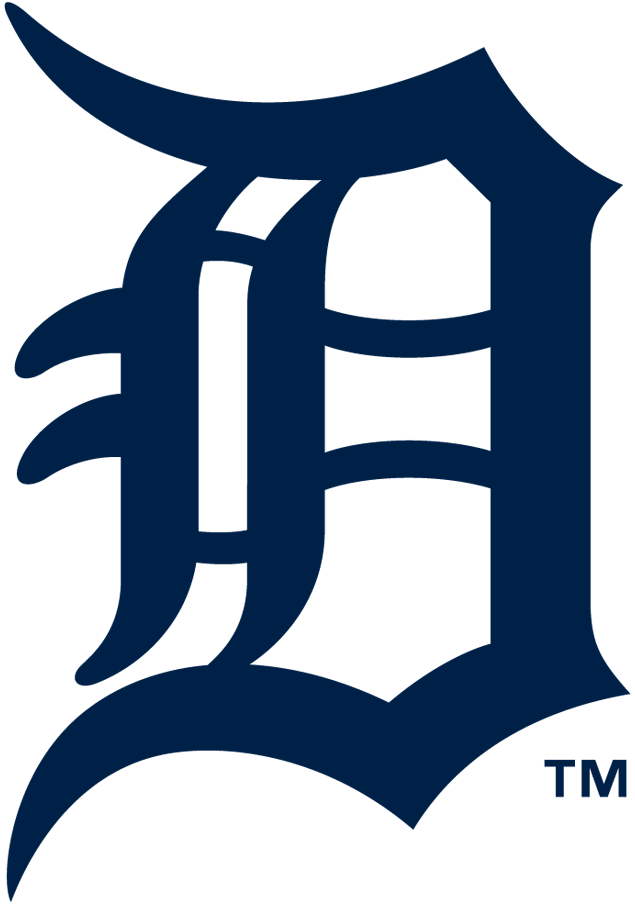 Reno is also part of the Detroit Tigers Player Tour – Go to the Next Stop
---

Reno is also part of the Athletics Player Tour – Go To the Next Stop
---
See all of Reno's baseball cards at TCDB
---
---
randomplayer
Visit a random Italian American MLB player: