Jump to: player bio | view more cards | tour stops | view random player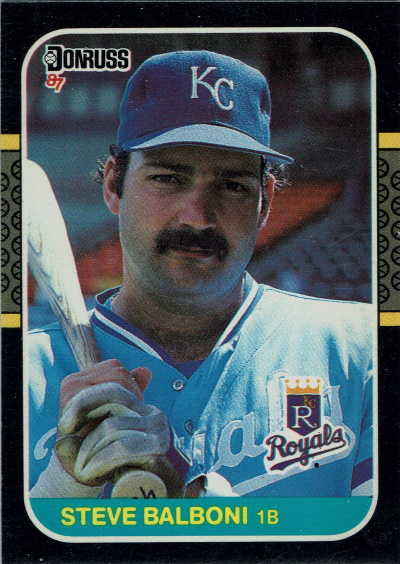 Player:Click Player's Name to Visit their Baseball Reference Page Balboni, Steve
Card: 1987 Donruss #102
Position: 1B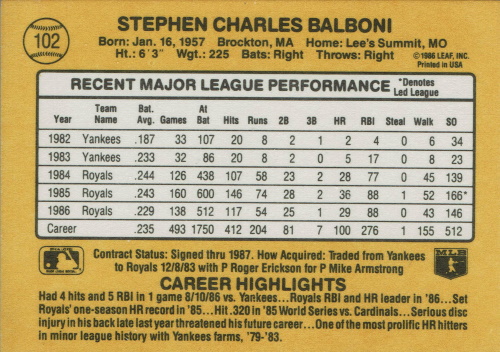 playerbio
Stephen Charles Balboni is a former first baseman and DH, who played for the New York Yankees, Seattle Mariners, Kansas City Royals, and Texas Rangers. He was a player with home run power and a tendency to strike out. He was nicknamed "Bye Bye" because of his home run hitting prowess. He was also known by the nickname "Bones", which is a malapropism for Balboni.
Born in Brockton, Massachusetts, Balboni made it to the New York Yankees in 1981. He went on to play in the big leagues through 1990 with a short comeback in 1993. He played for the Yankees (twice), Kansas City Royals and Seattle Mariners and Texas Rangers. He only played in Texas for the 1993 season.
The year 1985 turned out to be his best season for many reasons. He had career highs in games played (160), at bats (600), hits (146), runs (74), doubles (28), triples (2), homers (36) and runs batted in (88 - tied with 1986). He led American League first basemen with 1686 total chances and 1573 putouts in 1985.
He was also the Royals' starting first baseman in the 1985 World Series. Steve batted .320 with 3 RBIs in that Series that the Royals won over the St. Louis Cardinals, four games to three. He contributed a key single in the bottom of the ninth inning of Game 6, as the Royals rallied from a 1-0 deficit to win 2-1, and extend the series to seven games.
He was elected to the International League Hall of Fame in 2011, and was the 1980 Player of the Year - Southern League Nashville Sounds.
Curse of the Balboni: This alleged curse ensured that no team with a player who hit more regular-season home runs than Steve had in 1985 could win the World Series, though multiple teams have done so since then.
(excerpted from Baseball Almanac, BR Bullpen & Wikipedia)
morecards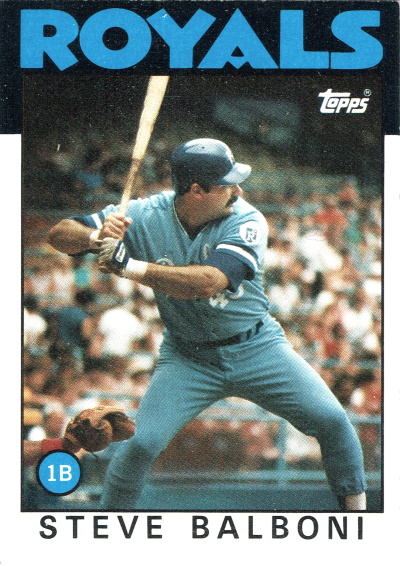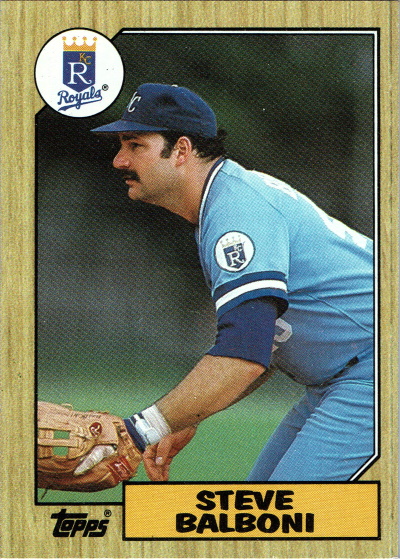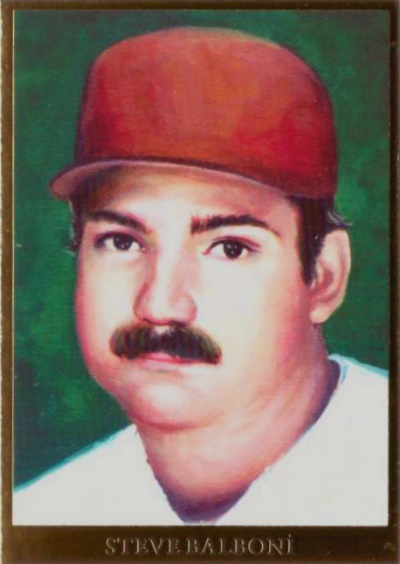 tourstops
---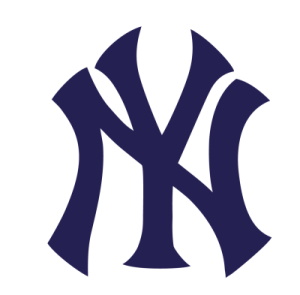 Steve is part of the New York Yankee Players Tour – Go To the Next Stop
---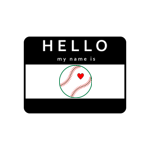 "Bye Bye" Balboni is part of the Great Italian American Player Nicknames Tour – Go to the Next Stop
---
See all Steve's baseball cards at TCDB
---
---
randomplayer
Visit a random Italian American MLB player: